Cox Engine of The Month
May-2018
Kim's
"War Dog hauls the 2M B.O.T. out of Uncle Wayne's backyard"
---
PAST WINNERS

I was out cutting the lawn yesterday with the 1978-79 Lawn-Boy 7025 when half-way through the backyard it killed. The engine shut down just as if the ignition switch was turned off. It didn't lean out as if it was running out of gas or if the carb has become blocked. Besides checking the gas tank valve and knowing that it couldn't have run out of gas, I feared the worst...a dead coil pack, which is fairly common among these old Lawn-Boys.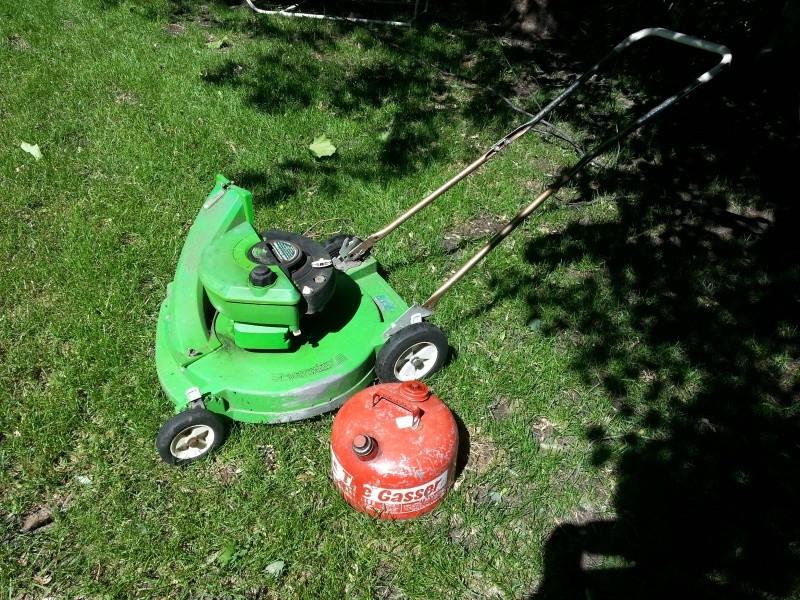 I got this mower for free when I saved it from the scrap several years ago. When I got it home, I put gas in it and it started right up. It was bone dry, so bad that gas leaked from the gas tank valve for awhile before it swelled back up. I used it as-is for a few years after getting it, it ran just fine so I left it alone. It would normally start with just one pull. I liked how light in weight and easy it was to just flip it around and maneuver. A few years ago while cutting, it suddenly opened up and surged to full speed, turned out to be the forked end of the air vane broke letting the throttle/choke plate to fall off and open right up. Parts for these old things are still surprisingly available, ran up to the hardware store and picked up a new air vane for something like $10. Throughout last year, the performance of the engine was rapidly tanking, it was losing power, easily bogged down, running too rich and the lower crank seal was leaking. Spent another $10 for a carb kit and a pair of crank seals. It probably never had its carb overhauled before. Replacing the crank seals without the *special* Lawn-Boy extraction and seating tool was fun. I had to drill a series of small holes in the casing of the old seals in order to get a grip on them. The new seals were seated using a piece of heavy PVC pipe. It was a big improvement in performance, it ran great for the rest of the summer and fall.
Signs of a bad seal. Loss of crankcase pressure and the possibility of sucking dirt up into the bearings is a good reason to get this taken care of right away.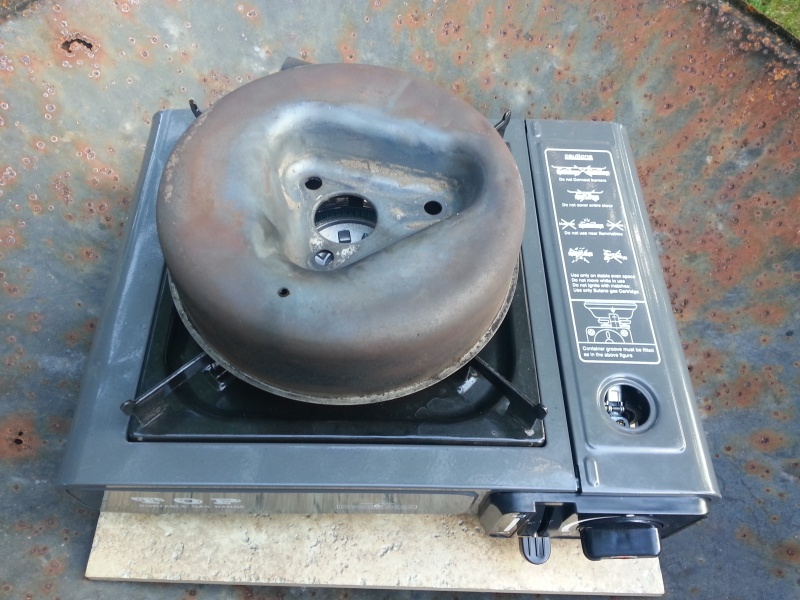 Also cooked the muffler baffle while I had it off.
Anyway, that was all last year. This year, it started right up after sitting all winter. It ran like a champ! Used it a bunch to chew up leaves pulled from the garden and clean up the yard. When it died yesterday, I checked for spark using a few tests, none showed spark. I was worried that it could be the coil pack. They're not the cheapest and the new aftermarket ones supposedly have just as high of failure rate (if not more) as the old ones. I'd probably just park the mower and wait for a parts machine to pop up somewhere/someday. These solid state coils require an additional connection to the ground in order to operate. Unlike most other engines where the switch shorts the coil to stop the engine, the switch on the Lawn-Boy has to be in the closed position for the engine to run and it stops when the switch is opened. I pulled off the shroud and started to poke around with my ohm meter, sure enough, the switch tested open. I removed the switch and took it inside to disassemble it.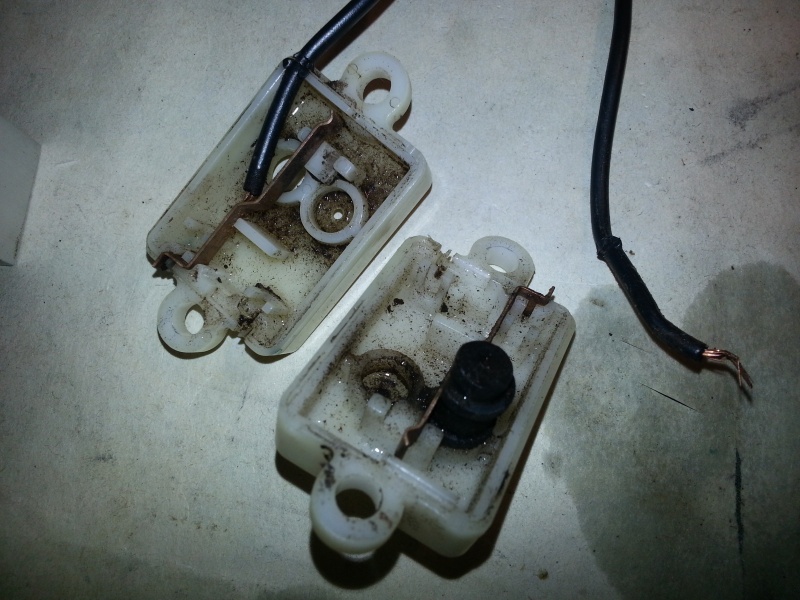 Opening it up revealed that a wire broke off of one of the contacts. The wires were basically just pressed onto the contacts, no solder or other mechanical means of attachment. Surprised the switch lasted this long.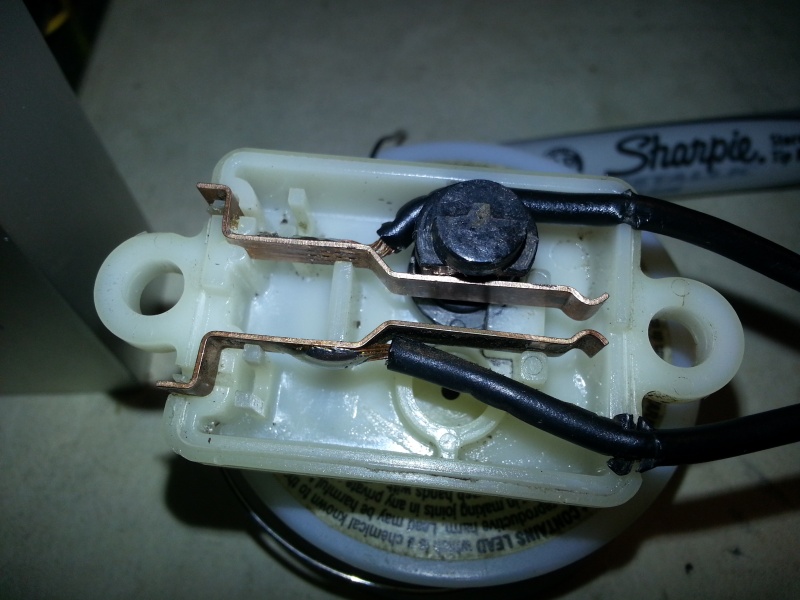 I cleaned it up inside, replaced the loose wire as the insulation was damaged and soldered the wires to the contacts. I reinstalled the switch and it started right up!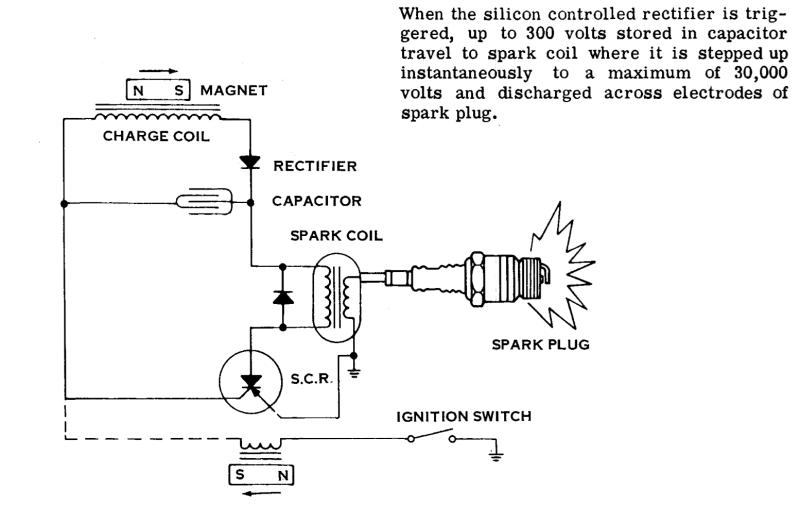 Its a fun little mower, they sure don't build them like this anymore. Some people absolutely hate Lawn-Boys and some people love them. It's not uncommon to see someone pushing a 40+ year old Lawn-Boy around their yard, these things seem to run forever (that is after sorting out these relatively simple problems). Just the other day, I saw someone using an old 60s "bricktop" Lawn-Boy.
We have a newer Craftsman self-propelled walk behind and a Craftsman tractor, so I could use those if the Lawn-Boy had to be taken out of service. I like using it though so I would probably end up finding a coil for it rather quick if that was the problem.
Last edited by Admin on Sun May 08, 2016 10:59 pm; edited 2 times in total
_________________
-Jacob
Rules
|
FAQ
|
Contact the Admin
|
Donate
|
Suggest a Feature

Administrator




Posts

: 4604


Join date

: 2010-07-27


Location

: Roseville, Minnesota



Jacob, that was pretty cool. I do stuff like that all the time. With simple diagnostics, a lot of household items can be fixed equally. I'm not a fan of two strokes, I just never got used to them. I don't care for the smell either. My grandfather swore by them and had them forever. That was his favorite brand of mower and while I didn't understand when I was younger, I do recall how that mower cut. It was a very nice machine. So many things are discarded and put aside due to a fear I believe of taking something apart or not even knowing how to take it apart. Nicely done, Ken
Diamond Member





Posts

: 2987


Join date

: 2012-03-27


Location

: pennsylvania



Five stars for you Jacob. I love it when people save old stuff in todays "throw it away" society.
Diamond Member





Posts

: 2918


Join date

: 2014-08-18


Location

: West Virginia



Good post. We had a stable of Lawn-Boy mowers here as well. I agree, not many here liked those older two stroke ones here either. Practically giving them away. Loud and high revving, but we loved them for the reasons you stated. Good easy starting, light and maneuverable. Used them all to the end. Got one left I believe at the cottage. On one of them, we mounted a small tank with petcock just above the muffler/exhaust. Filled it up with mosquito fogger juice and opened the petcock so it slowly dripped as you go! Thanks for bringing back memories.
Diamond Member





Posts

: 1405


Join date

: 2011-08-13


Age

: 39


Location

: oakbank, mb



My dad and I went to the local hardware store in 1980 and bought a used lawn boy mower. It was a return repair model and he paid much less for it.

That mower put in over 30yrs of service and was a 2 pull start after winter and a 1 pull all summer long. He got rid of it a couple years back as he was unable to use it anymore. I think I shed a tear...

Wonderful mowers and excellent quality. No problems in 30yrs, and still worked when sold 30 yrs later. We did have to replace the catcher bag several times.

Would love another one for old times sake.

Ron

Yours looks very similar to the one I pushed around in my formative years. Thanks for keeping it going and enjoy the quality.
Moderator






Posts

: 9725


Join date

: 2011-10-24


Age

: 44


Location

: Tuttle, OK



Maybe these will bring back some more memories.
Left: 1970s, Right: 1980s, and top: mid-late 2000s (last can before going to plastic bottles).
The engines are almost like the Cox engine of the lawnmower world. Mass produced, cheap but reliable, parts often interchangeable between models and its a reedie. Fun to just run LOL. This Lawn-Boy has an "F-200" engine.
I see free or cheap Lawn-Boys on Craigslist all the time, I just wish I had the room for more. Keep a watch on Craigslist, they'll pop up eventually. If you're lucky, you'll be able to pick one up for free. There is a JC Penney branded Lawn-Boy that looks very similar to mine as well.
I'd like to find one of the old ones. A few years ago I had a chance to get a nice early 50s RPM (Rotary Power Mower Company) push mower for $80, pre-OMC (Outboard Marine Corporation). Used the "Iron Horse" engine with the wrap around pull starter. I'd like to get an old pickup someday to take to the shows, would be cool to have an old Lawn-Boy sitting in the back.
_________________
-Jacob
Rules
|
FAQ
|
Contact the Admin
|
Donate
|
Suggest a Feature

Administrator




Posts

: 4604


Join date

: 2010-07-27


Location

: Roseville, Minnesota



I just looked on the OKC CL. No love...

I certainly don't need a new mower. Just miss that old Lawn Boy. You made it even worse!

Maybe I will come across another one someday. For now, I'll have to stick with my fancy pants self propelled battery start Husqvarna.

I really only use it for close quarters. Rest of the yard gets the riding mower.
Moderator






Posts

: 9725


Join date

: 2011-10-24


Age

: 44


Location

: Tuttle, OK





Similar topics
---
Permissions in this forum:
You
cannot
reply to topics in this forum