Cox Engine of The Month
November-2018
1/2A Nut's
"Speedy Teedy .020"
---
PAST WINNERS

Hi all. I have just a quick question regarding a Black Widow that should be on its way here. It is advertised as '1 Other 049 Good Condition'. To best describe it is that it has a black plastic backplate, black cross flow stunt tank, BUT, silver crankcase, and the cylinder has just 1 slot per side, NOT the newer dual slit. Is there a possibility of this being an Estes Black Widow, or just a parts engine. I know it is hard to tell without all the info, but I do not know the cylinder number on it as I did not ask. I am more a less curious if this could be a Black Widow. Thank you.
It is hard to say from your description.  It could be a parts engine or it could be an estes engine.  I am going to say that it is probably a later model estes black widow engine.  I purchased an estes Black Widow from a hobby shop in 2002, that was exactly as you described.  Estes ran out of the black crankcases and was using silver crankcases near the end of their production.  They were also using the non-dual slit cylinders on them as well.  At the very end of production they were also selling black widows with both silver crankcase and silver stunt tanks.  Andy
Last edited by anm2 on Mon Jun 06, 2016 10:40 pm; edited 1 time in total
Gold Member





Posts

: 290


Join date

: 2013-03-30



Thank you. I was pretty sure that it would be better with the cylinder information so I will just have to be patient and wait for it.
If you receive your engine, and the cylinder has a 1 stamped on it, and everything else is as you described, then I am going to say it is an estes black widow.
Gold Member





Posts

: 290


Join date

: 2013-03-30



I think some of the last Estes Black Widows used a black plastic non-stunt tank with the single nipple plastic backplate.
Diamond Member





Posts

: 2271


Join date

: 2012-06-15


Age

: 56


Location

: Victoria, Australia



Ok, so my package arrived early. It is a silver crankcase, black stunt vented tank, plastic tank back, and a #2 cylinder. Along with this purchase is a .020 PeeWee front end. I am so happy I now have a start to getting a PeeWee. I will now be taking my time searching for the rest of the PeeWee! This little thing is so awesome.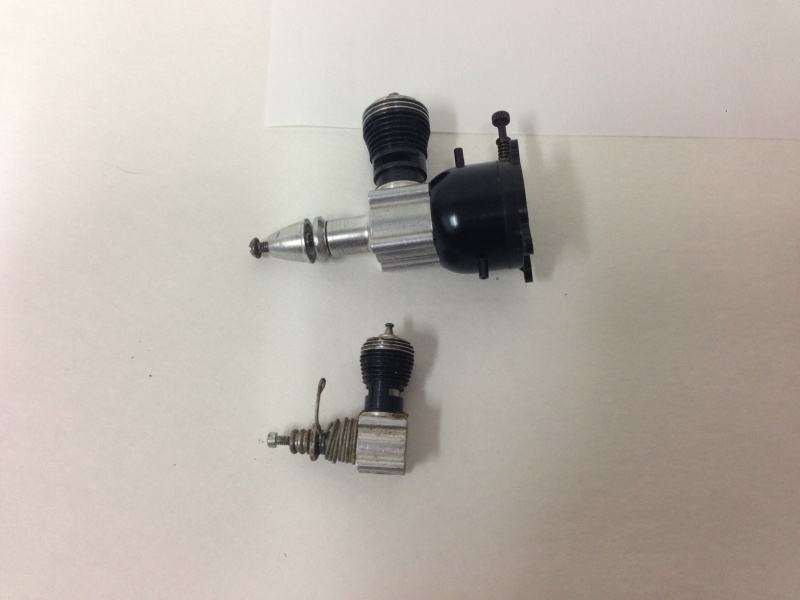 ---
Permissions in this forum:
You
cannot
reply to topics in this forum