Cox Engine of The Month
September-2017
Kim's
"Cox Conquest gets a Run-Up."
---
PAST WINNERS
I started this a couple of weeks ago but due to the demise of my camera - I lost most of the pictures.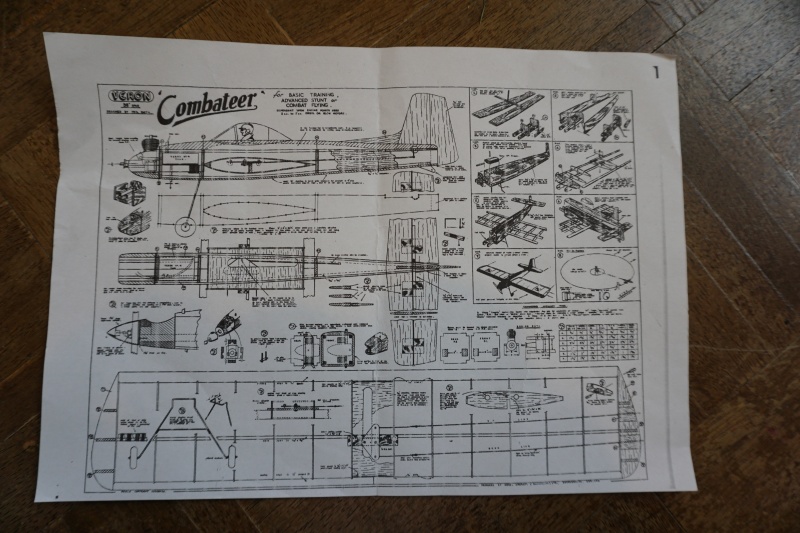 It was designed for 2 - 5cc diesels, I only have a few that match that description

, but because of my location I have to introduce it to the dark side.
So far I have built it to plan with the exception of the engine bearers. I have lowered these and pushed them back to help support the wing so that they can also support the battery.
The bearers have also been cut flush so that I can apply a motor mount to the front.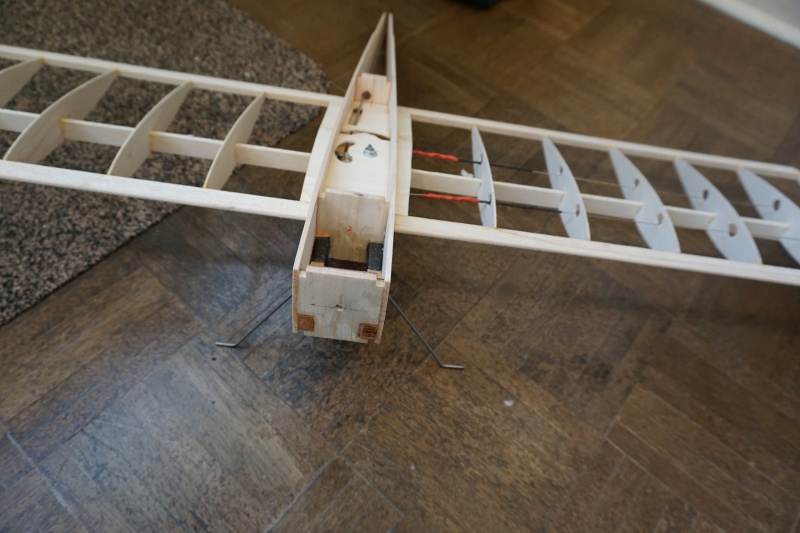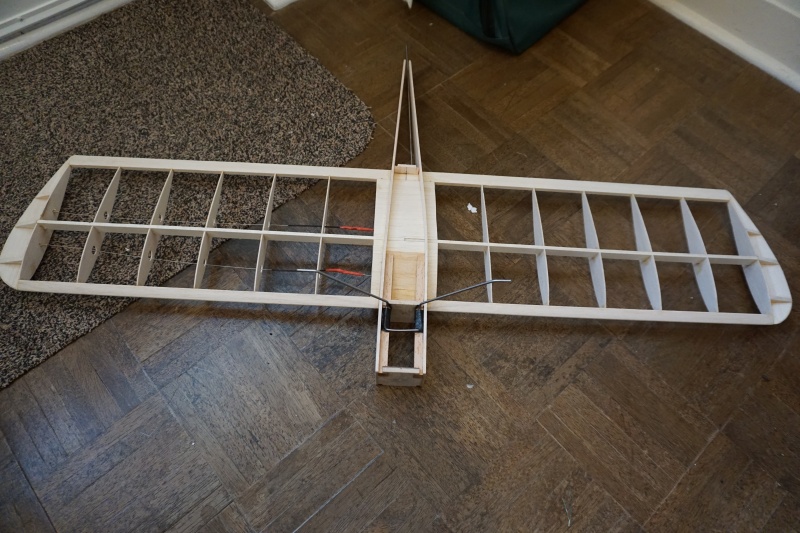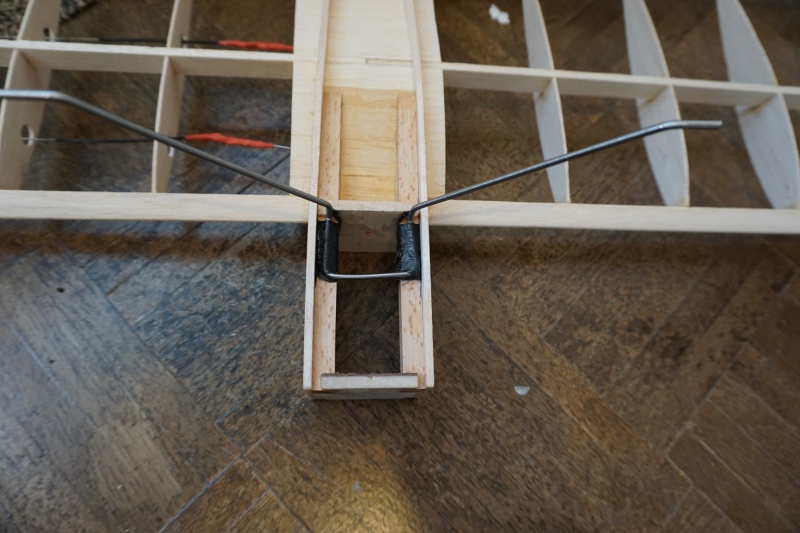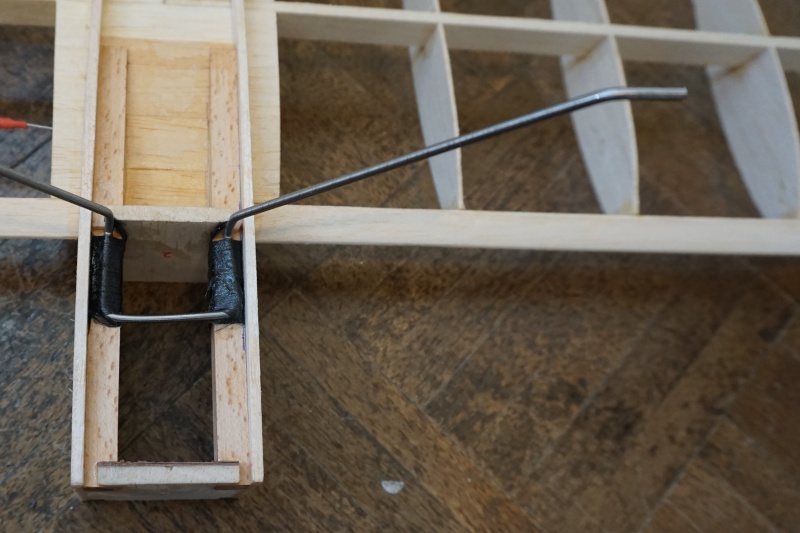 Next step will be to build in the battery mount and notch the front of the wing inside the fuselage. I am a little perturbed about weakening the wing but I want to get the battery as near to the centre line as possible. That will be trial and error!
The motor will be a Black Tiger 3530 with a 9x6 propeller. Should give a good 15 performance.
Hi Ian , your running a chop shop there having to go to the DARK side , kind of a strange plane, i see there were no cuts in the LE and TE for the ribs and the bellcrank looks to be mounted to the balsa wing covering ? Just out of curiosity what is the black wrappings on the landing gear . Not putting it down its a good looking aeroplane , yea cutting into the wing isn't the best thing maybe use some glassing to reinforce it ? Eric
Top Poster





Posts

: 4163


Join date

: 2013-01-18


Age

: 60


Location

: julian, n.c.



http://outerzone.co.uk/plan_details.asp?ID=6859
Diamond Member





Posts

: 2886


Join date

: 2012-10-02


Location

: Ohio



It is unfortunate that I lost the previous pictures - the ribs are slotted in the trailing and the leading edge but they are now blended in so it is not easy to see.

The bellcrank is on a plywood mount but - when I went to sheet the top I had to relieve a portion for it to move freely.

The black wrapping is carbon tow and cyano.

I am still mulling over reinforcing - I will chop out material to get a good battery fit and then think that one through.
Hack 'n slash battery fitting?

If the wing is not glued in yet there are some reinforcing options that will be pretty easy. You can whip up some interior or exterior doublers, glass and epoxy, and more.

Phil
Diamond Member





Posts

: 2886


Join date

: 2012-10-02


Location

: Ohio



Battery compartment hacked and slashed. Now for some more reinforcement.
Motor mount printed and fitted. Bearing for motor shaft pressed in.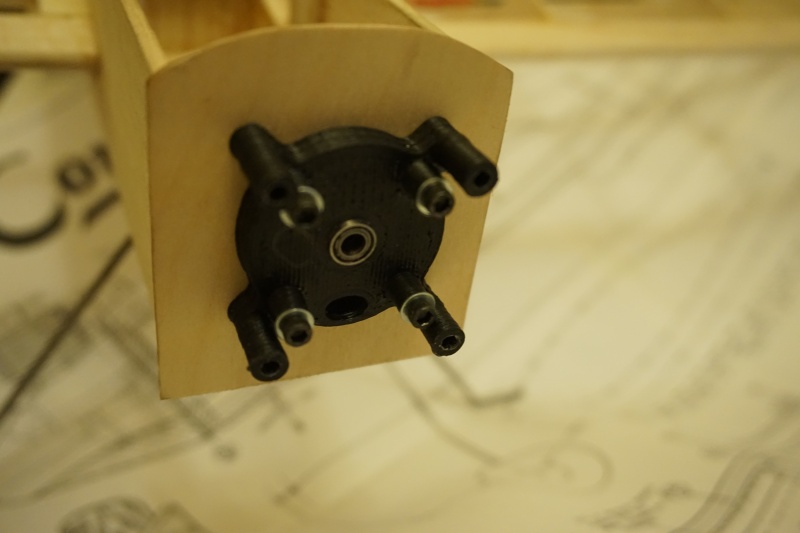 More progress but still more to do. I covered the elevator but since then it has gone wrinkly.
I need to make a canopy - it won't look right without it.
I messed up the cowling and it needs correcting. Not sure how but the spinner isn't blended in nicely and catches.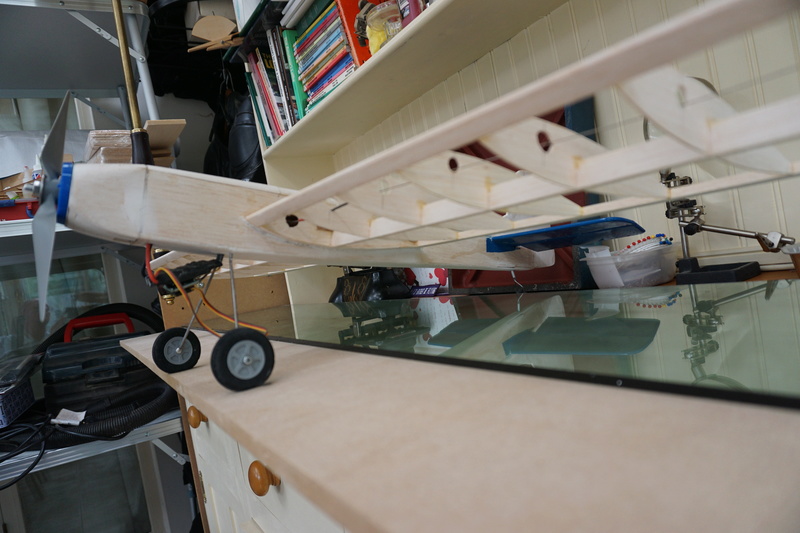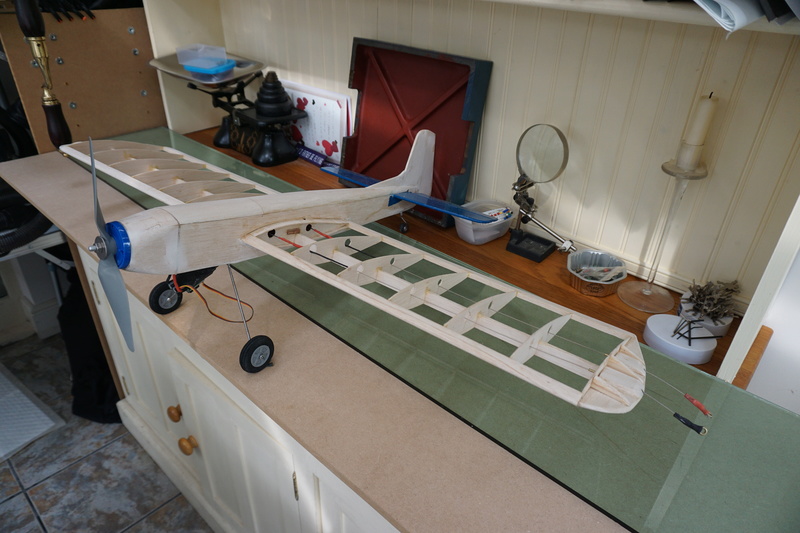 Damn that's a shame about the stab wrinkle , looks like the iron was too hot , I like the full body Nice !
Top Poster





Posts

: 4163


Join date

: 2013-01-18


Age

: 60


Location

: julian, n.c.



Hi Ian, There's a product called "The
Woodpecker
" made by Top-Flite.. that's used for perforating sheet-balsa surfaces in prep for iron-on covering.
I don't have one.. and have never tried one. It's only recommended for treating "sheeted-areas" where air/gasses can become trapped under the covering.. causing bubbles/wrinkles. It's also something you'd only want to use with "opaque" covering. I know that you often use transparent film.. but that's generally on your models that have mostly framed-up construction.. and not many sheeted surfaces.  
Regarding the clearance between the prop and cowling; have you considered "printing" a small washer (shim) to place behind the prop, to give you a few mm.'s of extra clearance? That might be easier than block-sanding the nose flatter..  
An ABS washer would be less likely to "slip" when the prop is tightened against the grooved-driver on the motor-shaft. The diameter only needs to be the size of the drive-plate.. and have an ID to match it's boss.. or the OD of the prop-screw; depending on the configuration.
Top Poster





Posts

: 5175


Join date

: 2013-07-17


Age

: 57


Location

: N. Smithfield, Rhode Island




Similar topics
---
Permissions in this forum:
You
cannot
reply to topics in this forum