Cox Engine of The Month
December-2018
Dave P.'s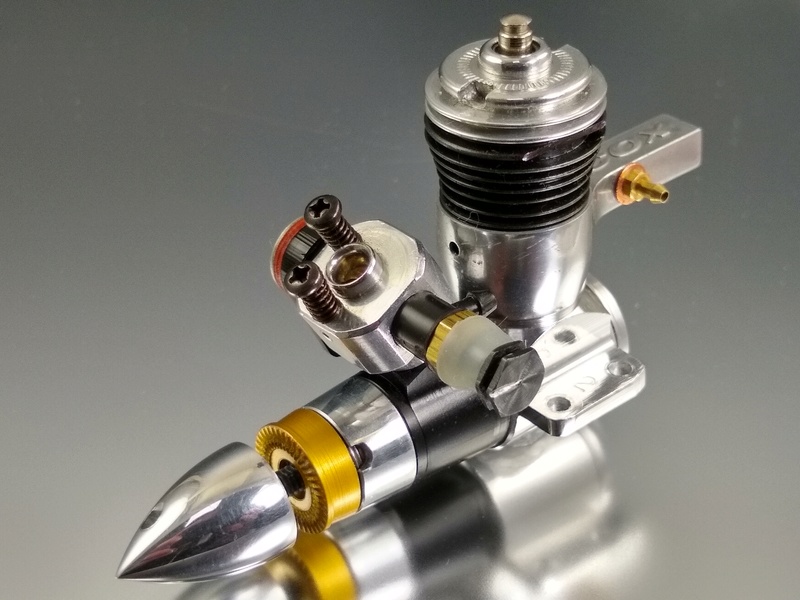 "RC Tee Dee 049"
---
PAST WINNERS

Last year a purchased a couple of old Babe Bee Engines on Ebay. This morning, I decided crank one up without any maintenance. After determining I was missing a head gasket, and replacing the needle valve, she started up and ran very easily. Very smooth running at about 12,800 RPM with a 6X3 Prop and 14,600 with a 5X3 prop. If I was going to fly a slab wing trainer with this engine, would it fly better with a 6X3 or a 5X3 prop, or would it make no difference at all? Thanks, Andy
Gold Member





Posts

: 290


Join date

: 2013-03-30



Andy, I can assume that this is for control line? If so, the Babe Bee if a true single ported bee would probably do better using the 6x3. Essentially, the slab wing trainers are generally heavy and have little to no airfoil. They're designed to take the rigors of hard landings and mishaps. What this usually equates to is little to no maneuvering capabilities. While the Bee has the ability to turn up some more rpm's, the smaller prop can be handicapped here and not provide enough drive. This isn't always the situation however and it can go completely opposite. This is why experimenting means everything. What I will say is that for the single ported Bee, the 6x3 is the ole standby prop. A smaller prop can decrease air time equally due to higher rpm's. I would get some time on the plane with the 6x3 and familiarize yourself with it's characteristics and switch to the smaller just to see. If more power is needed, adding a dual port cylinder would certainly offer some guts to it. Ken
Top Poster





Posts

: 3291


Join date

: 2012-03-27


Location

: pennsylvania



I prefer a 6x3 for most flying as it provides more thrust due to a larger area of air moved. The RPM take a hit vs the 5x3.

With a smaller plane that is lighter the smaller prop will perform better, lets say sub 5oz.

Getting to a 6 or 7 oz plane the 6x3

For control line on a reed .049 getting much above 7 oz is going to be a difficult thing if you want to do stunts with the plane.

Phil
Diamond Member





Posts

: 2969


Join date

: 2012-10-02


Location

: Ohio



Andy, it's fun to experiment with different props. One thing to try is L/H props. There are two sizes that come to mind; 6" x 2" and 5" x 3.5" the latter of which (3-blade) Bernie currently has in stock. The 6" x 2" was standard on the PT19 Flight Trainer. Left-hand props torque-roll the airplane to the right (assuming a ccw flight direction) thus improving line-tension. Little details like this can help.. especially if you're flying on a breezy day. Bernie also stocks a 2-blade 4.5" x 4" L/H prop. Left-hand zero-drag starter-springs are hard to find.. but Bernie does have the cam-style in stock.
Top Poster





Posts

: 6112


Join date

: 2013-07-17


Age

: 58


Location

: N. Smithfield, Rhode Island





Similar topics
---
Permissions in this forum:
You
cannot
reply to topics in this forum