Cox Engine of The Month
March-2019
Jason_WI's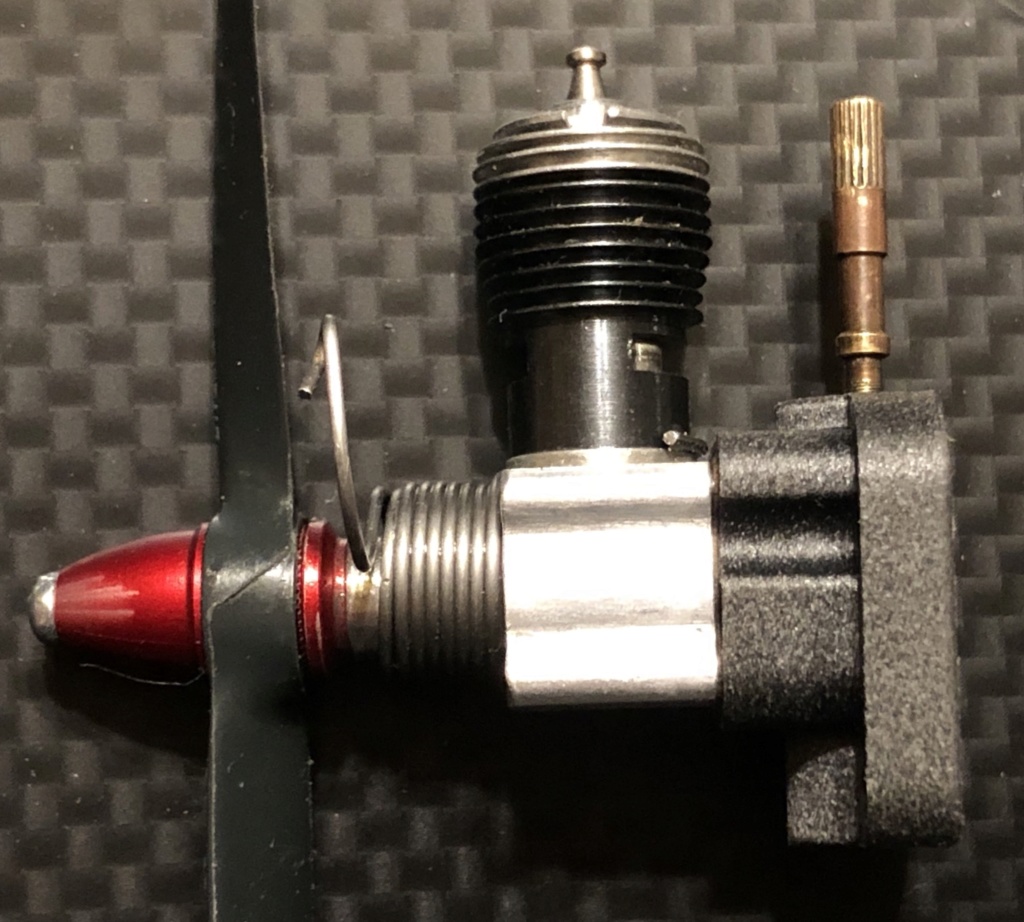 "Cox Pee Wee .020 with 3D printed horseshoe backplate"
More info on this engine!
---
PAST WINNERS

As my CEF friends search around for stuff

Please keep an eye out for a new or lightly used original configured OS FP .20 ABN/ABC  ( I believe they were ABN but occasionally see OS older out of production engines described as ABC)

I am not interested in the older Iron version.

My personal "pass on the sale" cost is above $80

I am actually looking for 2 of these engines and already have the requisite venturi, NVA, and muffler for CL use

One is slated for a Sig SkyRay kit build and the other for same plane scratch built with balsa

anywho...if you have one or see one let me know please

I search often on RCG and E-bay....

BTW a iron version is identified by a forward protrusion on the left side of the crank case ( a bypass port that is very obvious)
fredvon4 wrote: One is slated for a Sig SkyRay kit build and the other for same plane scratch built with balsa anywho...if you have one or see one let me know please
You might consider doing an internet search on SIG SkyRay modifications by Brett Buck. He also originally used the OF FP .20 for power.
George
Platinum Member





Posts

: 908


Join date

: 2011-08-11


Location

: Port Ewen, NY



Thanks George

This project of the two SkyRay35s are because I found the Bret Buck notes for this Plane and The OS FP 20 BBTU formula


fredvon4 wrote:Thanks George

This project of the two SkyRay35s are because I found the Bret Buck notes for this Plane and The OS FP 20 BBTU formula


Righto, and for those that don't know, I believe the BBTU formula for OS fp and LA engines is.... Straight out of the box, as-is, add one APC 9x4(for the .20/.25), bolt and fly. Do not use an ST or ST clone NV, the OS are superior for this application. Any "improvements" will degrade your flying experience.
Here is an excellent thread a frustrated Brett wrote recently to clear this up:
http://stunthanger.com/smf/engine-set-up-tips/stock-means-stock-and-don't-take-a-drill-to-your-new-engine/
For those who aren't members and can't access the thread, here is the first post:
Brett Buck wrote:
I know I am beating a dead horse here, but when I or someone else says *use stock parts*, it means to use the stock parts that came with the engine!  AGAIN, this weekend, a very knowledgable modeler came to me and said that they couldn't replicate my results with the 25LA (or in fact, the 20FP, either) and that neither had the sort of power I was claiming. So I take a look at the LA, and what do I see but yet another damn ST clone needle/spraybar instead of the superior and much smaller *stock* OS spraybar. 

   The stock ST spraybar is .157" in diameter. The *stock* spraybar is 3.5mm/.137". With the stock .257 venturi, you lose about 25-30% of your power, and THAT is why it won't go over 11.000 RPM on the ground and why your engine is wimpy!   Of course, there is no way to put a stock part back in the engine because the case and venturi had to be drilled out to get the larger spraybar to fit.

   So, OK, what is wrong with the 20FP?  At first blush, looks OK, clearly an OS needle/spraybar. Except on close examination, it's the old OS35S spraybar that is 0.155" in diameter, causing EXACTLY THE SAME ISSUE. With the SAME ISSUE THAT CANNOT BE FIXED AT THE FIELD BECAUSE THE CASE HAD ALSO BEEN DAMAGED BY DRILLING IT OUT.

   The solution in this case is to take a brand new 25LA out of a shoebox in the back of my van, modified it in *no way whatsoever*, bolt on an APC 9-4, fuel, attach battery, and flip prop. One run on the the ground. Instant nearly perfect runs, excellent power, very good competitive flights that later come in second in the contest over a NATs-level competitor.

   Later in the same contest - another very experienced modeler, another 25LA. This one has a chip muffler, and a 10-5 and would barely run in the air, eventually quitting inverted. I helpfully go get the airplane after the crash, flip it over, and guess what - yet ANOTHER ST spraybar. Guess we know why it needs a 10-5, and who knows how much more power was lost using a chip muffler. In this case, again, no way to put it back to normal even though I have stock venturis and stock spraybars right out of the package.

    The most practical fix to this issue - ASIDE FROM LEAVING THE DAMN THING ALONE SINCE IT WAS FAR BETTER BEFORE IT WAS "IMPROVED" - is to drill out the venturi to recover the lost choke area. To match it up, you need a .275 venturi bore with an ST or the old OS35 spraybar. Maybe I should start bringing a Letter I-sized hand reamer to contests. A different solution is to sleeve a *stock* OS 20-40FP spraybar to fit the oversize hole that was erroneously drilled in the case. This is pretty tricky because you have to make the sleeves long enough to engage in the case and the venturi, but not so long that the intrude on the bore of the venturi.

  BTW, as a general rule, the OS spraybar is *superior* to the ST or ST-clone types. The needle in the OS spraybar is very nicely supported on the inner bore of the spraybar, and the needle itself is pretty stiff. The ST and ST-Clones support the needle only at the pinch end of the collet and it otherwise hangs from the threads like a tuning fork. This was notorious i the good old days for problems, and you want to run the collet as tight as it can be and still be able to turn it. The needle itself is also thin and very pointy, meaning that if the point is slightly different, bent ,etc. (and no two were ever really alike) you have no idea what the effect might be. The PA and RO-Jett needles are much superior to the ST, if nothing else, because they have teflon/nylon compression fittings for the seal, which also damps vibrations nicely.

   The purported advantage of the ST and similar needles is that they are infinitely adjustable. That is at best a double-edged sword, for stunt at least, because while you can get any setting, you can also easily make a change in the needle too small to be of any use. A click-type needle forces you to make a distinct change, and can be repeated. If there was some way to put an OS needle in my RO-Jett, I probably would.

  Bottom line - just run the damn engine (any of them) as they come, and only modify them if you have identified a genuine problem that requires a solution!

    Brett

Moderator




Posts

: 10690


Join date

: 2011-08-10


Age

: 62


Location

: South Carolina, USA



Well like the old saying goes, If it ain't broke, don't fix it'
I always try it stock then go from there. (Bandit)


Platinum Member





Posts

: 874


Join date

: 2014-12-01


Age

: 47


Location

: Riverdale Georgia



There's many reasons why you would want to change. The stock OS needle is nothing to write home about regardless of what others  claim. They leak air, the plating is very poor and rough on some of them, the one repeatable click that he claims isn't always repeatable. Nine out of ten times the knob turns on the spring with NO way to repair  other than to epoxy it because it's aluminum. The spring can fall off of the needle end and when Brett mentions the tuning fork affect, think about the OS needle it's pendulum on the end of the spring. Vibrations can wear out the threads on the spraybar and internally inside the needle when mounted profile fashion. It's usually supported in a full body fuse.  So you tell me why is it so great?  I have to also ask why does Randy Smith remove them and put in a Tiger needle or one of his PA needles?  Why does Randy provide a tongue muffler on his LA engines? It's quite simple the  stock muffler retains too much heat. The exit hole is too small, the baffle internally stores heat and this is why I use tongue mufflers and many others do as well. There's no power loss or poor engine runs due to using them. As far as noise restrictions, they abide by our park rules at our flying field.

            It's also pretty funny when he mentions to use the stock parts. The LA engines didn't come with a up front needle assembly. They came with remote needles which work even worse which is why everyone changed to the up front needle in the first place.
Top Poster





Posts

: 3425


Join date

: 2012-03-27


Location

: pennsylvania



I haven't met Brett in person, I have no doubt he is an excellent CL flyer. I don't agree with very much that he says engine wise. Especially concerning Fox engines. His Skyray combo may be the bees knees, but I'll never build one. I firmly believe that anyone can be a master of flight with the simplest of airframes. Practice makes perfect.


Moderator






Posts

: 10244


Join date

: 2011-10-24


Age

: 45


Location

: Tuttle, OK



Well we all certainly have a few opinions and that is great and why I like CEF

The Bret Buck Tune UP .... a Joke as there IS no tune up ----made sense to me so when I went to power the RST Ring Master
I selected a New OS LA 25 and followed the advice to NOT take a dremel tool to it

On the bench I tried 10% N and 15% N 22% oil 50/50 home brew fuel and decided that 15%N started easier and needled better

4 flights now (not empirical evidence) but good enough for me...The LA 25, 9x4 APC, and BBTU* starts, flies with authority and cuts off clean for me

* I did take some Ken Cook advice for the OS NVA and removed the spring and soldered on a short brass tube with serrated washers ....basically because the tight clicker made the OS knurled knob unscrew from the spring when backing off the needle setting

SO...!!!
This is a Wanted AD and I am still searching for 2 OS FP 20 ABN...not Iron versions and willing to pay up to $80
Diamond Member





Posts

: 1273


Join date

: 2013-03-19


Age

: 52


Location

: Normandy, France



Fred, Dirty Dan Rutherford made so much hype over the FP .20 many years ago that it got him banned from the forum. Using the words FP .20 would have anyone removed, The control line forum moderators were having a fit. Many were snapped up then. Honestly, there nothing to brag about either. Yes, they run well, I find the FP .25 works better for me. They're identically the same as far as footprint is concerned. I own 3 FP .20's, 2 iron one ABN. I see no difference in quality of run and I use the same fuel for both. The FP engines are nearing 40 years old. Only some parts are able to be located and the majors are usually easier to obtain by buying another engine. I've had my eye on the ASP .21 for some time now. We were trying them out for combat and found them to not be practical on our sized models. I feel they would benefit on a nice sport plane and the cost is inexpensive for a ball bearing engine. Ken

Sorry to impose on your want ad
Top Poster





Posts

: 3425


Join date

: 2012-03-27


Location

: pennsylvania



Ken there is no need to apologize for your thoughts and input.... I am always learning and this was a good place to add your insight and opinion

I have a OS FX 25 and one Magnum/ASP clone of the 25 -but thinking they are too hot for a light weight RM or SkyRay

If I get no joy for the OS FP 20 ( I have one iron liner version) I may get the ASP 21 or just one or two more LA 25s. They seem to work just fine for what I am doing, ocasional sport flying

Overlord

Yes that looks like it

---
Permissions in this forum:
You
cannot
reply to topics in this forum