Cox Engine of The Month
September-2018
Davenz13's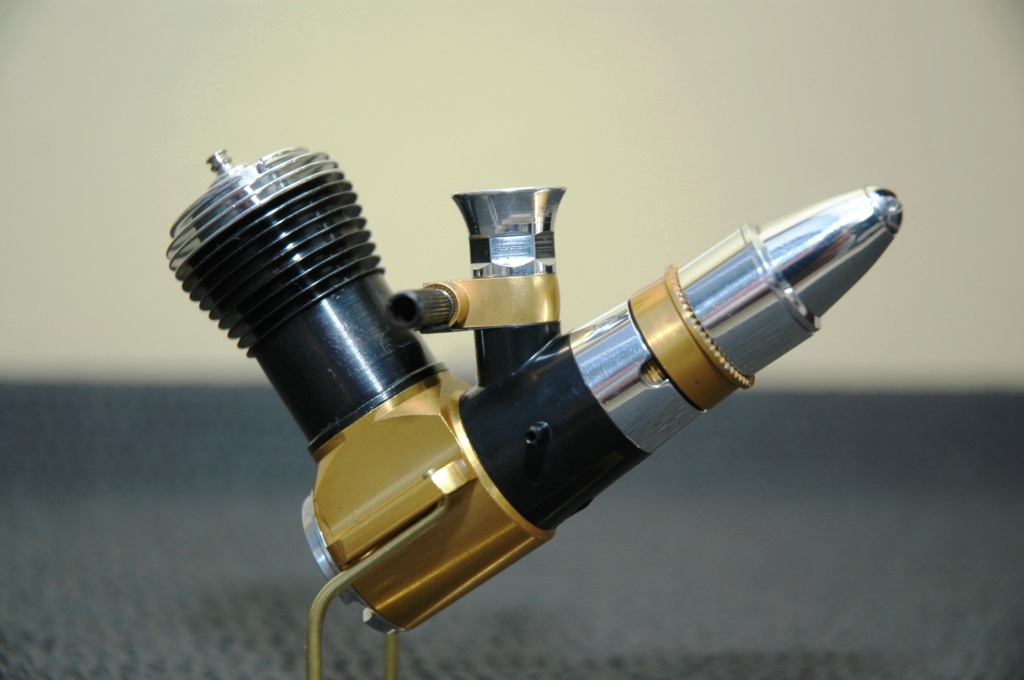 "Cox Special MKII .15"
---
PAST WINNERS
Page 2 of 2 •

1, 2

Thanks this is really gracious and sportsmanlike.

Once I also withdrew in favour of our young 13 years old Australian member (by the way I have not seen him post for quite a while) Let's see how the next submission turns out.
Diamond Member





Posts

: 1939


Join date

: 2011-11-06


Age

: 59


Location

: Budapest



What I noticed in the winners is that there is a lot of subjectivity; wasn't much rhyme or reason except that the engine photo looked sexy, i.e., appealing to the eye. It stood out before the others. A combination of colours and features plus background distinguished one above another. So, I think with sufficient rarity or unusualness characterized by other features, plus careful use of light, focus, depth of field, etc. may determine a winner.

Diamond Member





Posts

: 1587


Join date

: 2013-07-13


Age

: 64


Location

: Clovis, New Mexico



You may be right, and I may have misunderstood the criteria for evaluation...I am not much of a photographer or photo editor, whatever pictute is shot with my smartphone will be posted...I thought the uniqueness of the engine, e.g. its age, condition, hours run, accessories added, application etc. that make COX engines so valuable for us CEF members, would matter the most.
I submitted photos on engines having run record hours, first generation TD-s, untouched, just out-of-the blister pack Bee-s, etc that were left with no or minimum votes. The Engine of the Month does not seem to be my racetrack

Diamond Member





Posts

: 1939


Join date

: 2011-11-06


Age

: 59


Location

: Budapest



A lot of times the vote seems to be for the "Cox engine photo" of the month, then again sometimes a very unique engine wins even if the picture itself is not the best as far as the art of photography is considered. Sometimes it seems the surroundings of the engine are more important and we have seen a couple of winners and many good candidates that have captured the "moment" or the "feeling" in a technically "not-so-amazing" picture of a rather ordinary engine.
I have entered a photo on almost every month since I joined the forum, and the response to my pictures has varied a lot. I have "won" 3 times, one of the winners was the Pee Wee pic on my avatar, other two were ordinary  snapshots of ordinary (but polished) late model Babe bees... Once or twice I have received 0 votes, most times just 1 or 2.
The biggest disappointment for me was the Medallion that I set up with the bright red tank mount and had my Scorpion trainer as a background... I thought it was a winner for sure but no. And the Babe Bee on a test stand with streaks of my blood on it, I was sure "this is the one" but no. Same thing this month, I thought the Black Widow looked OK and the picture too but only got 2 votes of which I am thankful of course

Maybe on another month some of these would have been winners, but as it happened, other photos were more appealing.
I also take all the photos with my iPhone 4s or my iPad. I have never post-processed any of them either by cropping or filtering or such, I grew up with film cameras and always just try to take a good "original" picture

I do like the way how the photo "contest" is unpredictable and how diverse the entered pictures are. All good fun, I try not to take it too seriously, but I sure would like to win the Black Lynx

Diamond Member





Posts

: 1307


Join date

: 2014-10-10


Age

: 46


Location

: Finland



Page 2 of 2 •

1, 2


Similar topics
---
Permissions in this forum:
You
cannot
reply to topics in this forum