Cox Engine of The Month
June-2019
robot797's
"cox 049 gasoline"
More info on this engine!
---
PAST WINNERS

We had a really good meeting up in Stanly NC this Saturday at the home and Museum of James, Duck, Duckworth. Boy was it hot. Over 100 again, but we had good shade everywhere except the flying field. I had hoped to fix up my Kom Bats with Medallions, but the Twister continued dominating my time and so I just took BFS-I, the Baby Streak with my TD .051. It hadn't flown since 1/2A day back in September and I think it still had the same bladder on it. The poor thing has no compression, even with a Merlin drop-in and one gasket. It took enough flips to make my arm ache, but it finally lit with Fritz Glowplugboy 35/20(18/2) fuel. I ran it a little too rich, but still fast enough for an entertaining 10 minute exhibition. Glad I used my 40' short lines. I had so much sweat flooding my eyes I couldn't see a lot of the flight, but I kept it out of the grass the whole time. She's not as pretty anymore, but still flies like a Streak... superior!
Sonny Williams demonstrated how easy it is to cover a fuselage with carbon veil, painting it on with dope. It has amorphous array of fibers giving it strength in every direction and is fairly inexpensive. It forms itself around curves like fillets very easily. I was impressed, and will start using it on future builds. He also brought a fleet of progressively larger sized speed planes, his old favorite C/L discipline, the smallest was an .049, I think, and the largest was a pulse jet with his self-designed wedge tank, 14" long and a half inch tall running all the way down the side of the fuselage parallel to the jet pipe. Some were monoline controlled and others had dual lines. They were all covered with veil and so stiff the wings had no flex at all.
I do not know what this warbird is. I've emailed him to find out so I can come back and post. I was thinking ME-109, but after image searching, I don't think so.
Front left sitting is Watt Moore with his Fancypants, Sonny with a blue speed plane. Duck is next to him with his new Firecat, to be maidened that same day. and Duck's grandson Kyle to his left. In back, I don't remember the first two names, but one is holding Ugly Betty, the sluttiest Vector ever Lol. Everyone but me has flown her. Then Howard Shenton with a big combat wing, Keith Palmer with his Ares, Wayne Robinson, David Smith with Wesley Smith(AMA-237182) on his shoulders. Me and my BFS-I. To my left is Brian Malin(BMJR Model Enterprises) and Kyle's brother with a Ringmaster. He's autistic and incommunicado, but an expert at math, physics and music, and looks happy all the time.
Moderator




Posts

: 10762


Join date

: 2011-08-10


Age

: 63


Location

: South Carolina, USA



I like the blue CL speed planes,
I have been thinking about making an RC version with similar looks.
The .049 looks like a CS engine or profi both brands have similar looking tuned pipes. A small version
would be a bare to fly as 1/2A the proportions would need to be larger. If blown up to a 25 size
plane the lift generated would support the weight of a 15 with enough power rip up the air.
This one could be emulated, blowing up the size to 110 Sq. In wing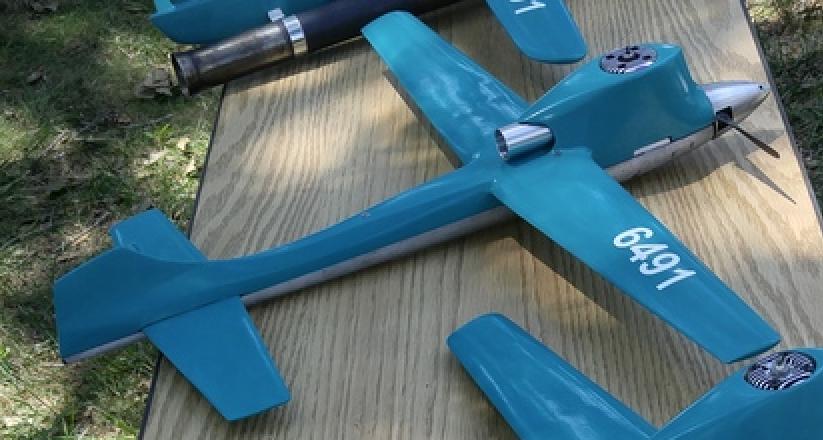 Diamond Member





Posts

: 2312


Join date

: 2013-10-20


Age

: 55


Location

: Brad in Texas



Those are some Hot looking racers and not a bad looking bunch of fliers too

If you do some covering with the carbon veil I hope you can share your experience with use of it . Its good to see you getting around to some of the meets Rusty and got to enjoy some of NC heat with Humidity

Eric
Top Poster





Posts

: 5905


Join date

: 2013-01-18


Age

: 61


Location

: julian



Nice set of speed flyers there, Rusty, particularly enjoy the pulse jet one.
Diamond Member





Posts

: 2119


Join date

: 2013-07-13


Age

: 65


Location

: Clovis, New Mexico



There is a FREAKY amount of Time, precision, and COST within the photo of all 4 speed planes


Diamond Member







Posts

: 2765


Join date

: 2011-08-26


Age

: 63


Location

: Lampasas Texas





Similar topics
---
Permissions in this forum:
You
cannot
reply to topics in this forum