Cox Engine of The Month
May-2019
Tee Bee's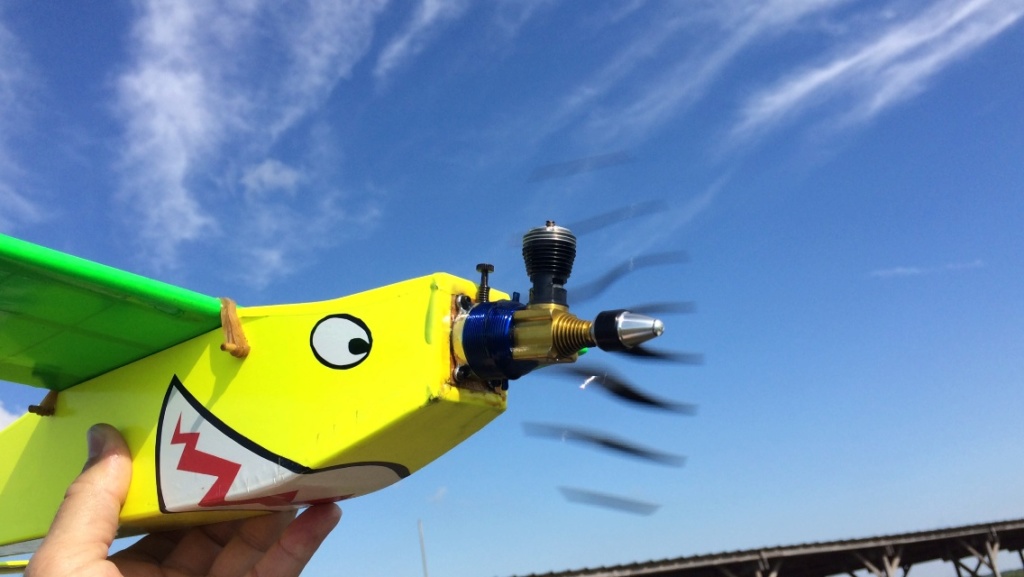 "This RR1 was restored for all the right reasons"
---
PAST WINNERS

I had two .020 engines stopped at the EBay global shipping center because they are restricted in Germany.
I got this message from EBay this morning. ''The item was stopped at the Global Shipping Center, and has been restricted from international shipment. The item will not be shipped forward to its final destination.
No further action is needed at this time. We've let your buyer know why the item couldn't be delivered.
Under the terms of the Global Shipping Program your buyer will be refunded automatically, and you are entitled to keep the proceeds from the transaction."

I called them this morning and confirmed the buyers payment was refunded and I get to keep the money he sent me. EBay is taking it out of their pockets. I asked what will happen to the engines and they said they will either throw them away or resell them within the US.
This is the first time I have had a international item restricted and I'm good with the outcome, but to just throw them away is a crime. Suppose it was a NFFS .051 heading to the trash can.
Joe

Just another reason why I keep telling you guys in North America to post direct to us in Europe rather than use the global shipping option which is hellishly expensive for small items.

I can post up to 1 inch in thickness and printer paper sized in area up to 100g in weight to anywhere in the world for just over £4 - less to North America and less again to Europe but I have to include the Aussies and Kiwis here. That means I can send most Cox parts and small collections of parts for reasonable money to any corner of the globe. Yet global shipping charge a minimum of £13 for something like a $2 needle valve and usually more like around the £16 mark. An entire engine via global shipping typically costs £30 with no possibility of being overlooked for import taxes.

Global shipping is excellent however at the other end of the scale, things like model kits, where, from experience we'd normally be charged import VAT anyway and where the glbal shipping guys can normally ship cheaper or at least at the same price that Joe Blogs can by sending direct.
Silver Member





Posts

: 93


Join date

: 2011-09-06


Location

: England



One more thing to add, since I gather you like to buy ans sell these engines, and that is I think posting international, direct and for reasonable rates is one of the biggest reasons sellers like rureelybob and gatafish are making a mint from out of production American modelling items most of which are hard to find outside the US. In fact there is a recent post on rcgroups where one of them says as much.
Silver Member





Posts

: 93


Join date

: 2011-09-06


Location

: England



A small item can be a valuable item and First Class International doesn't have reliable tracking and neither EBay or PayPal will support it. If it doesn't make the trip or the buyer claims it never made it the seller looses and rureelybob and gatafish can afford to take a loss.
Joe
Were they stopped because of the description on the package? Customs people don't like the terms nitro, gas, engine, or anything that might include chemicals. Best option is to say "toy airplane parts" or just "hobby items". In my experience, I've never had an engine knocked back through customs in either direction when using a '"creative" description. Also, First Class International doesn't seem to come under the same scrutiny as Priority Mail and out of dozens of engine to come my way from the USA I've never had one stopped. I generally request First Class. Many won't offer it, which I can understand with more valuable items, but on lower cost "less rare" items it's the best way to go.

Rod
Diamond Member





Posts

: 2474


Join date

: 2012-06-15


Age

: 56


Location

: Victoria, Australia



It was flagged at their shipping center and all I had to do was print a first class label to get it to there. The category you list it in will generate all other info on the order and you can't change it to toy airplane parts. Just try to list an engine with that title and see it not sell for much. To me it screams problem engine even if assembled.
Top Poster





Posts

: 4033


Join date

: 2014-08-18


Location

: West Virginia





Similar topics
---
Permissions in this forum:
You
cannot
reply to topics in this forum