Cox Engine of The Month
January-2015
roddie's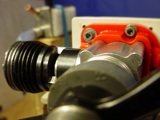 Custom built .049
for his "Rare Bear" Model
More info on this engine!
---

PAST WINNERS
im new to this forum i have a 1970'scox dune buggy but dont know which 049 engines they came with ,i need a overhaul kit for it if anyone knows where i can get one please let me know thanx
New Member





Posts

: 1


Join date

: 2012-04-26



hey sandawg

Cox international or Ex Model engines can supply most all the basic engine support

Finding the drive assys and rebuild for the starter and dune buggy automotive gear is a challenge

search Google and E-bay .... follow e-bay for several weeks before lunging in for first the dune buggey and parts you find

they show up all the time and prices can be super reasonable to freaquing outrageous depending on WHO is trying to relive their youth this or that week
Platinum Member





Posts

: 679


Join date

: 2011-08-26


Age

: 59


Location

: Lampasas Texas



Welcome!

Say, I'm going to move this to the For Sale/Wanted section.
_________________
-Jacob
Rules
|
FAQ
|
Contact the Admin
|
Donate
|
Suggest a Feature

Administrator




Posts

: 3393


Join date

: 2010-07-27


Location

: Roseville/St.Paul Minnesota, USA



This is what you are looking for and the price is what you would exspect to pay for one used. Be sure the pull start extends and retacks smoothly.
http://cgi.ebay.com/ws/eBayISAPI.dll?ViewItem&_trksid=p4340.l2557&hash=item2a1be507ac&item=180856620972&nma=true&pt=Radio_Control_Parts_Accessories&rt=nc&si=hPT0yL1Gme4Vp%252F%252FfiPk%252FbtfuxuY%253D&orig_cvip=true&rt=nc

http://www.ebay.com/itm/Cox-049-Car-or-buggy-engine-with-pull-start-and-throttle-control-very-nice-/280839370257?pt=LH_DefaultDomain_0&hash=item416354b611
Diamond Member







Posts

: 1313


Join date

: 2010-09-05


Location

: Salem Oregon



---
Permissions in this forum:
You
cannot
reply to topics in this forum