Cox Engine of The Month
September-2017
Kim's
"Cox Conquest gets a Run-Up."
---
PAST WINNERS
My name is Dalton im 16 I have been building balsa wood planes for a while and wnt to use this motor, I think this is a cox Pee Wee .020 engine. Tell me everything i can do to get this running again. Thank you so much!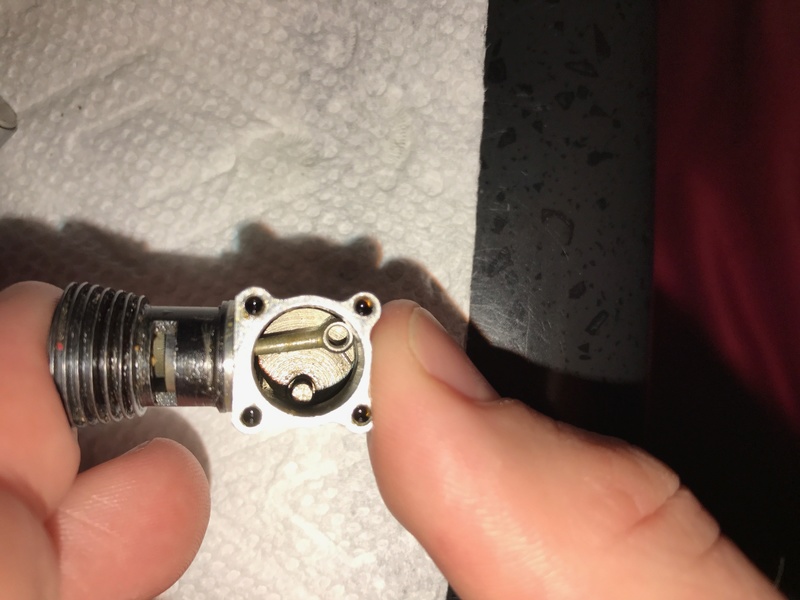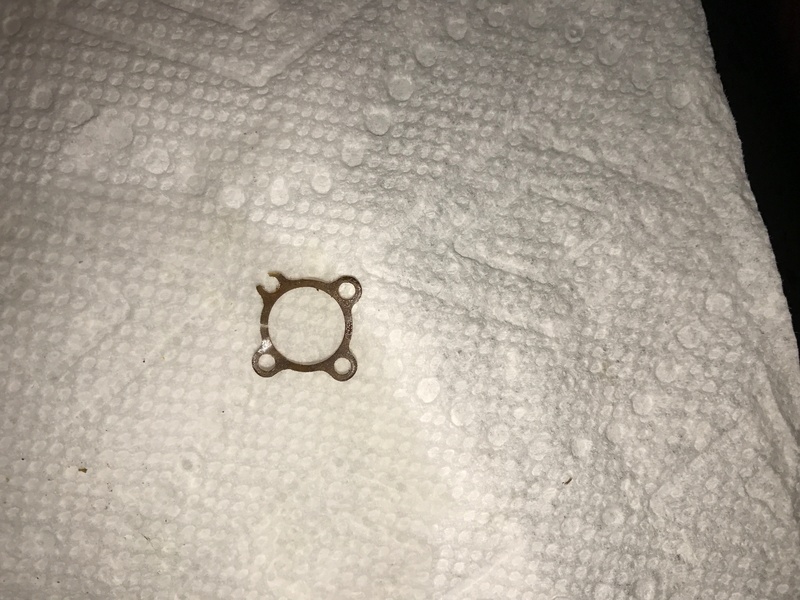 Wow! Hi Dalton! Welcome to the Cox Engine Forum! Please tell us what types of model airplanes you wish to fly with the engine. The Cox Pee Wee .020 is capable of flying RC, free-flight or control-line models. The "sky's the limit"!

Is your engine "complete"? I don't see a needle-valve or glow-head in your photos. You'll need both of those parts. Cox International or ExModel engines.com both have "some" parts for your engine. You'll want to source a rebuild-kit with new gaskets. Cox .020 "Pee Wee's" are fairly common.. and I would watch the eBay auctions for spare-parts.

Let us know before you're ready to run the engine. The correct fuel is important to its longevity. We'll be glad to help you to get your engine running!
Top Poster





Posts

: 5151


Join date

: 2013-07-17


Age

: 57


Location

: N. Smithfield, Rhode Island



The onley problem is that the piston is disconected form the spinning part. Do you know how i could put it back on. its a veary tight fit.
Well...

You need a complete rebuild kit which will include all gaskets and seals, reed and retainer. You need a glowhead, needle valve and spring. You also need a couple .020 wrenches to assemble and disassemble it properly without destroying the engine.

Almost all of the parts can be found here: http://www.exmodelengines.com

Or here: https://coxengines.ca

Lastly, you could send me what you have and I will return a complete running engine to you. Maybe an .049 too if you stick around.

Welcome to the forum,

Ron

P.S. The cylinder should be removed before you slip the connecting rod over the crank pin. You will need the proper tools to do it. The .020 cylinder is a touch fragile. Do not use pliers!


Last edited by Cribbs74 on Fri Sep 01, 2017 10:08 pm; edited 1 time in total
Moderator






Posts

: 9490


Join date

: 2011-10-24


Age

: 43


Location

: Tuttle, OK



And sorry i forgot to put the glow head and the needle valve in the pic.
Hi Dalton, and welcome to the forum.
You got Roddie's attention, and that's a good thing.
Helping each other and swapping info is most of what
we do here. Just to help you get started, here's a
copy of the paperwork that came with the PeeWee.
https://5dbfd882-a-62cb3a1a-s-sites.googlegroups.com/site/coxengineforumfiles/Cox%20Pee%20Wee%20.020.pdf?attachauth=ANoY7coXHNJs-aEiCwaPD9gD6B0vgvnLsJIPuigwkUG_M_pbF5_aCJhFSA26e0H4pRPS3CJTDjksovC0akAKd339_9ueQI5FpR2u4sRCvehtw1nqCPAMS_Y45tWfZgcslGqYxTjaFw6oIeNWTJSfuMRO7YFCvyvBvbk_9185XQQ3zcjsPFSnsyHzp9E73lnpnjaB_ZX3WyQlC3y-8OgUIzroUz15QSlvS-1iY14FuwlOuILerVT8EfU%3D&attredirects=0
You'll also see at least a few more responses to your
post. Flesh out your profile a little too. You may have
a fellow forum member just around the corner.
Once again,
WELCOME!!
Bob(dckrsn)
edit: Also Dalton, check out the "search" feature at the top-left area of the site pages.
Diamond Member





Posts

: 1766


Join date

: 2010-10-21


Age

: 64


Location

: Long Island, NY USA Earth



I know you probably want to do it all yourself, but Ron's offer is a good one.  The guys here have lots of experience with this sort of thing, and most of us have a store of spare Cox parts.  Also, the instruction sheet that Bob sent should give you a lot of information, including really handy pictures so you can see all the parts and where they go.  I don't really see the need to dismantle the cylinder from the crankcase.  It's easy to clean out like it is.  Normaly you can manage to refit the rod to the crank pin without removing the cylinder.  Just rotate the crankshaft so that the pin is all the way to the bottom and you should be able to slip the rod onto the pin.  If it doesen't go, don't force it, and you'll need to do as Ron suggests and remove the cylinder to be able to get it on.  Don't be tempted to poke something through the two exhaust slots to try to screw the cylinder off.  It will damage the cylinder and probably destroy your chances of ever getting it running.  Also, check that the glow head is good by connecting it to 1.5 volts only.  Don't be tempted to try a higher voltage to make it glow brighter and don't poke around at the little coil of wire which glows in the middle.  A new head will be one of the more expensive parts to replace.

Good luck with it, but just remember to be careful, and don't be afraid to ask.

Rod.
Last edited by Oldenginerod on Sat Sep 02, 2017 6:14 pm; edited 1 time in total (Reason for editing : Spelling)
Diamond Member





Posts

: 1792


Join date

: 2012-06-15


Age

: 54


Location

: Victoria, Australia



Hi again Dalton, Lots of good advice in the replies! These little engines are jewels.. and will last for years if treated properly. I would personally take Ron (Cribbs74) up on his offer. He's a forum-moderator/long-time member and someone whom you can definitely trust with your engine.
Top Poster





Posts

: 5151


Join date

: 2013-07-17


Age

: 57


Location

: N. Smithfield, Rhode Island



Good move Dalton! Ron knows his stuff, and you'll be receiving a great-running little engine! I hope you continue and expand your involvement in this great hobby!!!

Kim
Top Poster








Posts

: 5601


Join date

: 2011-09-06


Location

: South East Missouri



---
Permissions in this forum:
You
cannot
reply to topics in this forum