Cox Engine of The Month
March-2020
Dave P.'s
"Tee Dee .051"
---
PAST WINNERS

A few years ago.. (maybe 3-4) I bought a "Furby".. which is an electronic toy robot. See the WIKI web-link below for info..
https://en.wikipedia.org/wiki/Furby
I bought it at my local Walmart. It was one of those "impulse-purchases".. by a fella who has a never-ending love for toys. This Furby was "black" (like our kitties..) but I actually considered it more; a toy for "them".. than for Lynne and I.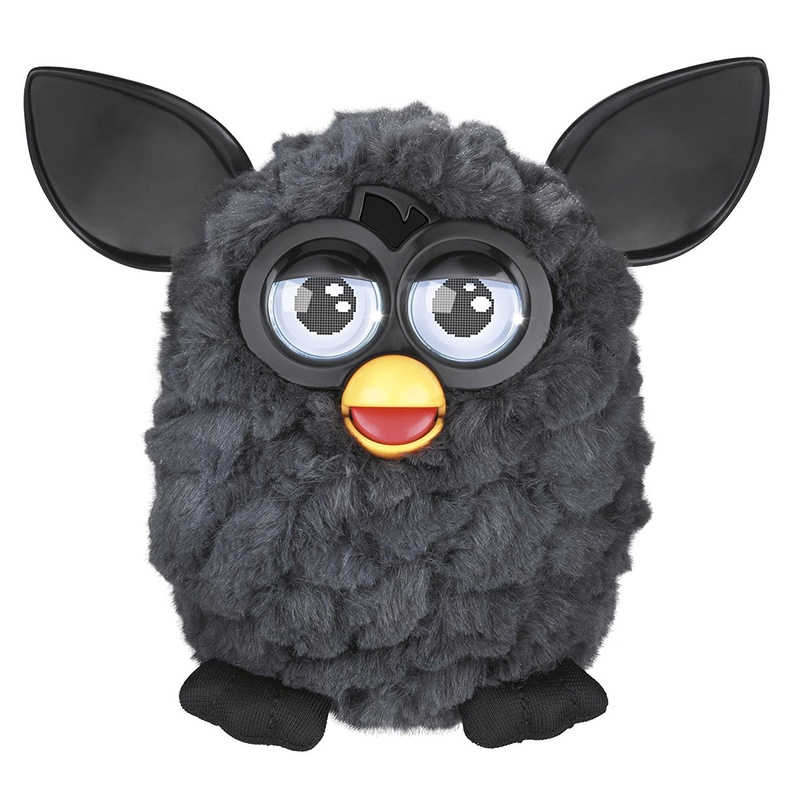 We
all
had some fun with our Furby, on and off over the first few months.. but then it just sat atop the kitchen-countertop without being played-with (moved).
Yesterday.. I picked-up Furby to inspect it's condition. The bottom plastic-plate (where the batteries are installed..) was soiled. Further inspection revealed leakage of the original alkaline batteries that had been installed.
There is no on/off switch featured in this Furby's design. If there's no "interaction" after a minute or so.. it announces that it's
sleepy
.. and shuts-off.
Furby uses x4 AA batteries.. and I'd thought more than once about installing "lithium" cells.. but never did.
The "battery-box" was a mess of corrosion.. but the contacts were of a higher-quality metal.. and cleaned up pretty well. The battery-box however, has moving parts (cams and springs) which allow the Furby to rock or dance. The battery-acid had seeped into these areas and needed to be cleaned if Furby was ever going to work again.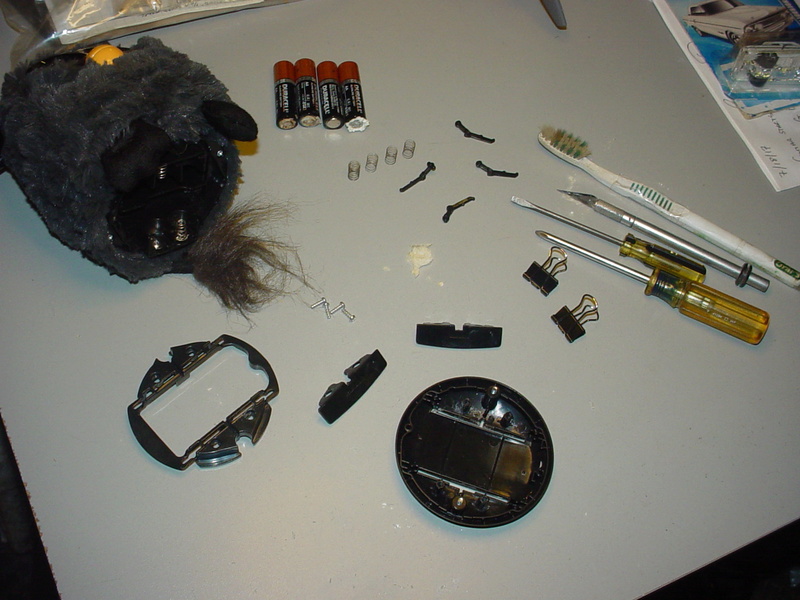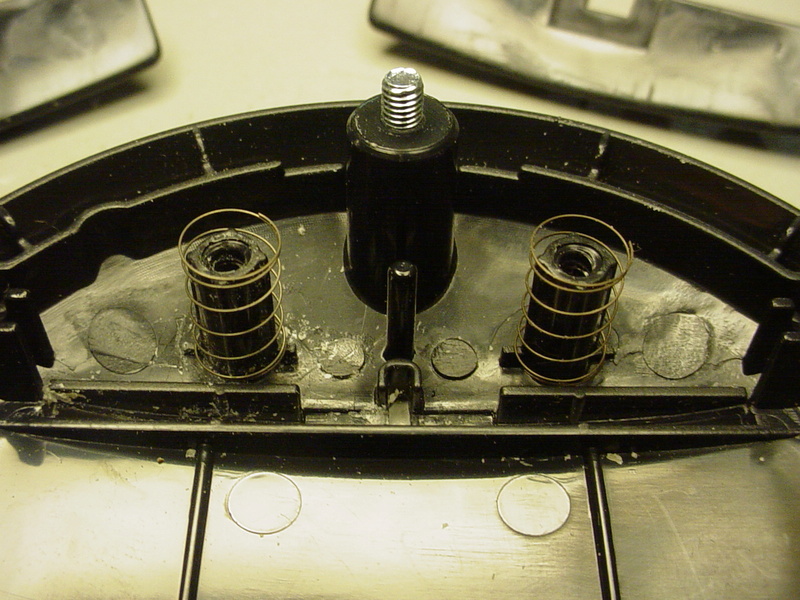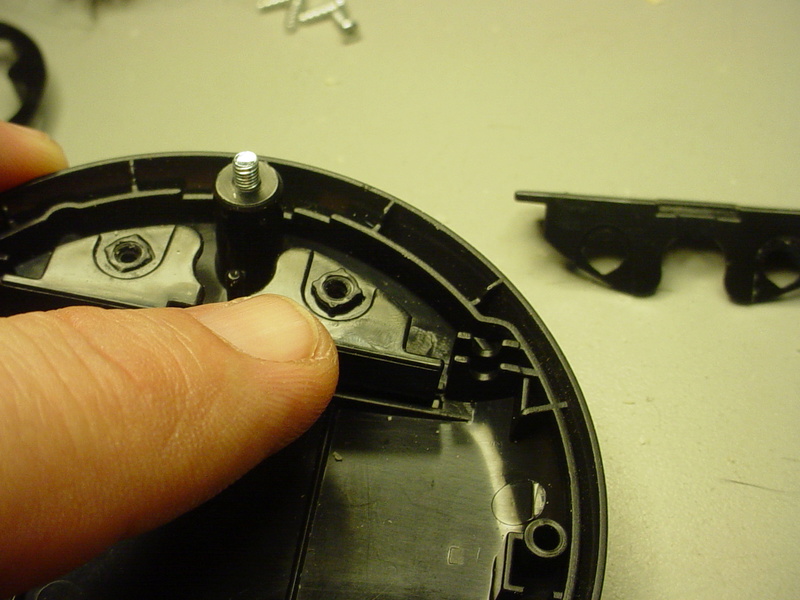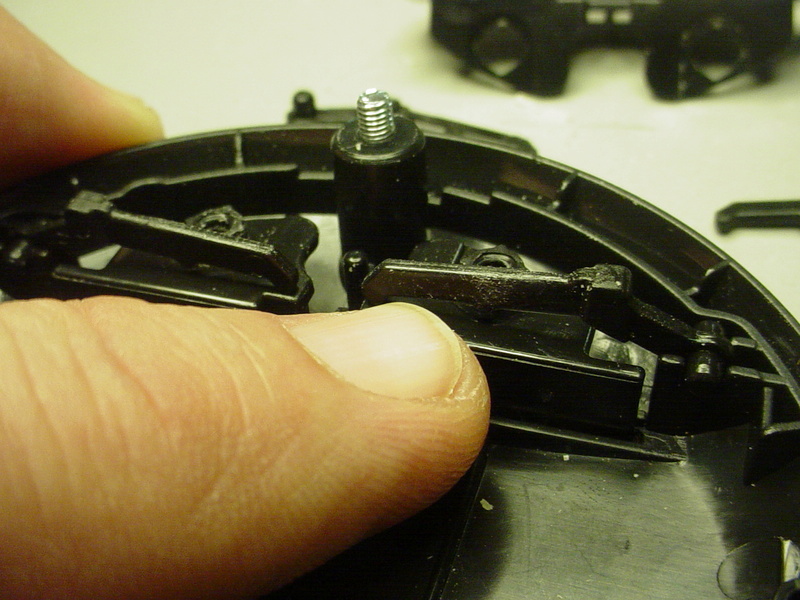 The photo below shows one of the two "feet". These alternate in and out when Furby dances or gets excited.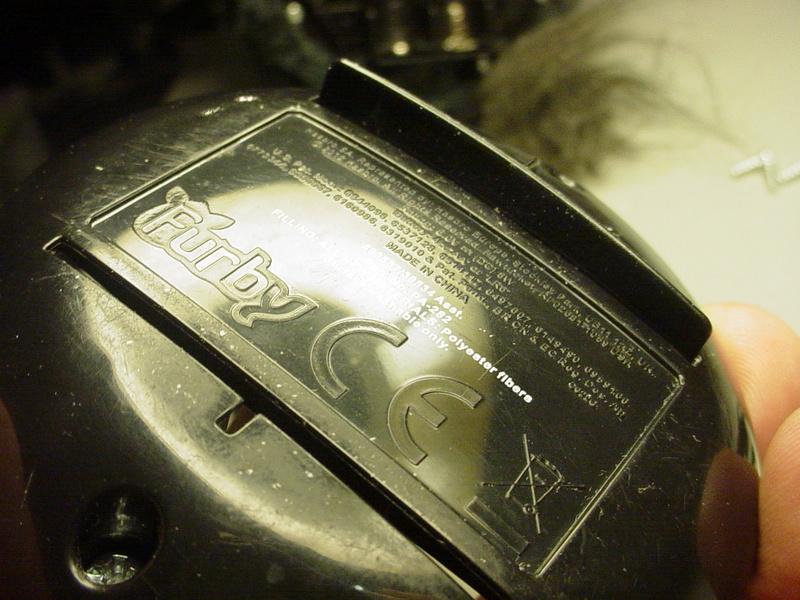 I used small binder-clips to hold the feet (under spring-tension) until I could re-install the cover and 4 screws.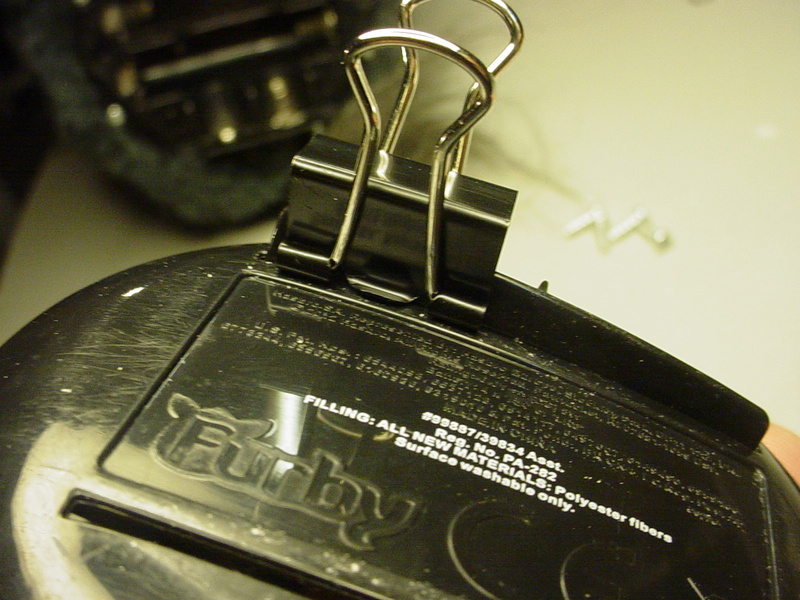 I'm happy to say that Furby came back to life and worked perfectly after I installed new batteries. I don't know how to prevent the same thing from happening again though. We hadn't played with the toy for quite some time.. so I don't know how long the batteries are supposed to last. Apparently there's a slight current-draw even when the toy is in sleep-mode. The instructions probably recommend removing the batteries if the toy will not be used for long periods of time.
I'm glad that it didn't get ruined. It's not a cheap toy.
Nimh recharbeable batteries are the only ones I have found to not leak.

The more expesive "Low Self Discharge" seem to work better in lasting longer, the less expensive type tend to hold more charge for high draw devices that dont need to be stored with a charge.

Phil

pkrankow

Top Poster





Posts

: 3001


Join date

: 2012-10-02


Location

: Ohio



First, good job on the rescue. Now as for batteries..... I like the ones with 10 year ratings, give or take. I too find higher quality batteries to be better and hold out better than teh cheap ones. This is even though I have had 2 bad experiences with Duracell. Anyways, I had something similar happen to me with a GPS and battery leak over only 1 season. I had to remake springs and contacts for that one. Ever since the last episode, however, I got in the strict habit of removing batteries from things if they are not going to be used in teh near future.
As for your Furby.... I actually envisioned a Furby with .049 powered hat...... Helicopter style.


NEW222

Diamond Member





Posts

: 2636


Join date

: 2011-08-13


Age

: 41


Location

: oakbank, mb



My 2 cents worth FWIW.....
After almost 30 years at the manufacturers level and about 4 years at the local industrial sales level, ALL BATTERIES ARE SELF DISCHARGING...by their very nature.
It doesn't matter, if the battery is a Primary (non-rechargeable) type, or a Secondary (rechargeable) type ,or what chemical system/ technology it may be, it has a finite service and/or shelf life.
The reason is...by definition , a battery is a device that converts chemical reaction differences into usable electrical energy.
Once the various components and chemical properties are assembled into a working battery, the chemistry never stops working even in the rest or on the shelf mode.
Just because it taken out of a device it powers the chemistry doesn't know that.
Over the years, I have heard every claim and argument why a certain brand or chemical system is superior and will last longest...
It becomes the proverbial "How high is up?" debate.
The longest shelf life product I, myself, personally have witnessed are some Energizer 9 volt lithium batteries made with 6 Quad A (AAAA) cells that I have in factory sealed mylar that are 21 years old !!!!
They have some power left but not much .....
My personal Rule of Thumb is that "after two years the battery has lost 5% of it's initial energy and it will lose 5% a year after that".
The advice of "Removing the batteries if the device will not be used for more than two weeks to save device damage" is great advice.
Of course, devices like clocks are always in use so I change the batteries in clocks and CO2/Smoke alarms at every Daylight Saving time change for piece of mind.
As a side note, I have seen items sent into the battery warranty depot for repair or replacement and a large book can be written on some of the crazy things that come in...Use your imagination ...
Again FWIW.....Steve...

66 Malibu

Gold Member





Posts

: 405


Join date

: 2012-02-28


Location

: Georgia




---
Permissions in this forum:
You
cannot
reply to topics in this forum