Cox Engine of The Month
June-2018
Davenz13's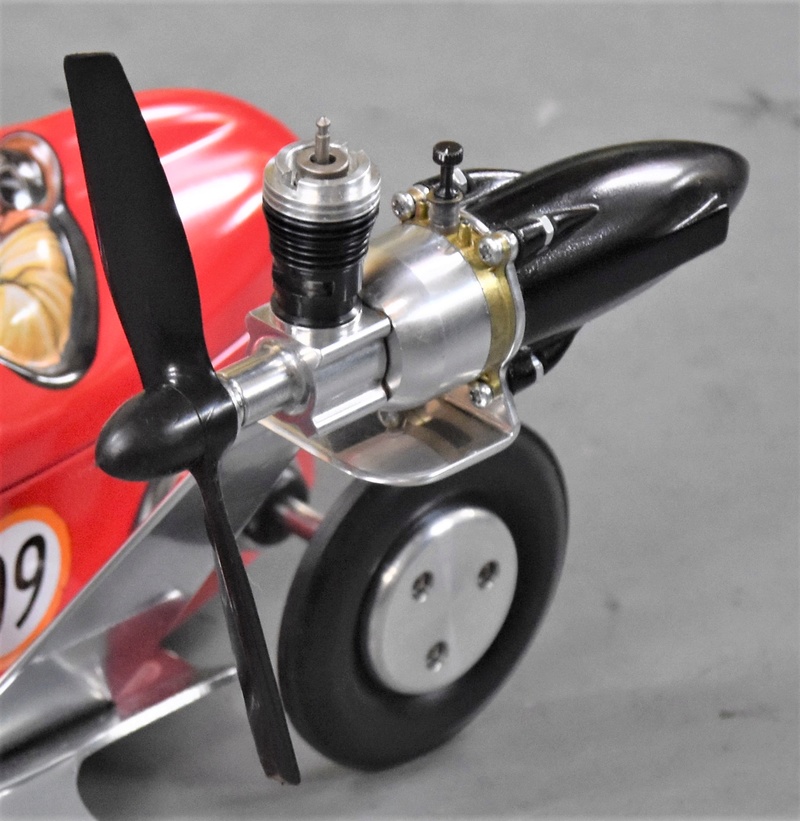 ".049 Bee"
---
PAST WINNERS

Hey guys,
Today was a beautiful spring day here in OKC. Low 70's and very light wind. Spent the entire day flying and it was fantastic.
We had a couple other folks show other than our usual crew and it was non-stop flights all afternoon. My son even snuck in a couple with a Baby Ringmaster. I managed to finally pull off several decent overhead eights. I had been struggling with those and it finally clicked. I think from this point it's pattern practice even though I really like freestyle sport flying.
We had a casualty today when a beautiful Ringmaster decided to cut out inverted into the breeze and lines went slack. Nose dive from about 20ft. I felt pretty bad for the guy.
Other than that it was a fine Saturday after a miserable winter.
Fantastic.  

 Spring has sprung and we get to play all day. Glad to hear you've started hitting the 8s. I saw the little woody bipe in the pics, did you fly it? How'd it go? Also good to hear your son is flying the Baby Ring. It looks like y'all had a pretty good lineup out there. I'm looking forward to getting some regular flying again too. Hopefully it will start Tuesday. Tomorrow is postponed due to wind.
Rusty
Moderator




Posts

: 10553


Join date

: 2011-08-10


Age

: 62


Location

: South Carolina, USA



I brought it to fly, but I was having so much fun with the Cardinal I didn't make it a priority.

I only had 35' lines with me so that was another problem.
Wish I was there... Thanks for posting the photos and the update Ron. Glad it was enjoyable.
Top Poster





Posts

: 5953


Join date

: 2013-07-17


Age

: 58


Location

: N. Smithfield, Rhode Island



yea sounds like a really good afternoon of fun , Thanks Ron  
Thanks guys,

One day we are going to have to do a CEF get together!

Ron
Ron, what's the story with the clear finish plane? Is that a Jr. Lightning Streak or a full size? I can't see the engine real well. It also looks like Phil Cartier's SLC covering on the wings. They're great planes to fly. I have a blast with mine. Easy to build, Flite Streak imitations. Ken
Top Poster





Posts

: 3078


Join date

: 2012-03-27


Location

: pennsylvania



I like that plane too Ron whats the deal with it
http://brodak.com/control-line-kits/brodak/trainer/jr-lightning-streak-kit.html
if so here it is for $65 and change never flew either but in the market for that size plane / engine combination , and easy to build is right up my alley . Getback  
The builder is 73 years young, he didn't know what it was. He said he scratch built it. I said it looks like a lightning streak, and was told it was a flite streak that was modified by another. So to answer your question I have no idea.

The engine is a OS FP20. It's roughly the same size as a flite streak, if not the exact size.

It flew very well, but I never saw it stunt as the older guy got dizzy and had to hand off the handle.

Ron
Thanks Ron , I hope I can still build if I make 73 I am already dizzy 
 looks very good Eric

---
Permissions in this forum:
You
cannot
reply to topics in this forum