Cox Engine of The Month
May-2018
Kim's
"War Dog hauls the 2M B.O.T. out of Uncle Wayne's backyard"
---
PAST WINNERS
Page 2 of 2 •

1, 2

I can't afford to bee a collector , but i sure do have a lot of these little gems . There are a few i paid too much for (new ) that i want run but sure have thought about it .
Top Poster





Posts

: 4786


Join date

: 2013-01-18


Age

: 60


Location

: julian



This thread is great, it could easily go on till we've all had a say at least once- but the way I see it, anyone who intentionally has more than one engine/plane/whatever-rings-your-bell could be called a collector. Whether they'd call themselves one or not is a whole different matter--I used to think I wasn't a 'collector' just because I have no interest in owning a whole bunch of NIB engines that stay in the packaging, not only 'cos the cost would be astronomical, but because I can't see the point in having engines if all I'm gonna do is look at them, treat them as ornaments, or heaven forbid, investments. That's what stuff like paintings and china vases are for. Engines are for powering models with, or at least firing up every now and then for the noise and the smell! Only my opinion, mind you. But on the other hand, I am definitely a collector because once I've brought a dead engine back to life again I like to keep it. And isn't it so easy to get carried away when Cox and others made so many different engines? Even if the differences are sometimes only small, the temptation grows to have at least one of each engine and variation...does that sound familiar!
Collector, hoarder, investor, user, even abuser (if you crash 'em), it's all good I reckon, as long as they make you smile--after all, that's what the little lovelies were made for, isn't it?
Bronze Member





Posts

: 39


Join date

: 2016-01-09


Age

: 62


Location

: England, temporarily!



The term "collector" being applied to me is a compliment even though I regard myself as a "keeper" or temporary custodian.
Being British I develop sarcasm and innuendo in topics like this one especially when I wonder why one does not want to be regarded as a collector. Defining a collector is not as easy as it seems.
Rob hasn't got it quite right. Having more than one engine or one plane doesn't represent a collector. I know quite a few chaps who fly stunt, combat and RC. Another adds vintage free flight, stunt and combat to this. He has 11 models and 18 engines but a collector? Three of his engines are on loan from me and he runs his engines until they are clapped out (and then I get them!). All his engines are either mounted in models ready to fly or standby. Not shelf queens.
I have watched many Windy videos and the most recent is him building the "Big Job" for Vintage Stunt. After seeing some of the postings here I wondered how many engines he had and then, for this model, he reclaimed a Jett Fire that he had loaned out. In the many years of his videos I have watched - I have only seen five different engines and he swaps them from model to model. He has a collection of his stunt models that have seen many years of service and regular flying - some over ten years but he builds a new one every year. I have to say though - I cringe when I see him elongate the holes on his engines so that all engines fit one mount!
I haven't a clue how many engines I have and never been tempted to count. It changes all the time! But they are carefully stored in different locations around the country and I occasionally bring types together and rearrange them.
I am a collector but wouldn't think twice about taking apart a "minter". I do this regularly to take measurements for making replacement parts for repairs.
Do I know how many engines I have? That is a definite no! Neither do I display them - the pictures I post are some of my best as I get around to them. I keep thinking about displays but it is as far as I get.
One of my interests in engines is in the history of them and their development through time but my main interest with them is restoration. I just don't mean cleaning them up!
Here are some that I am working on at the moment -
These are not just seized but some of them may be considered "basket" cases.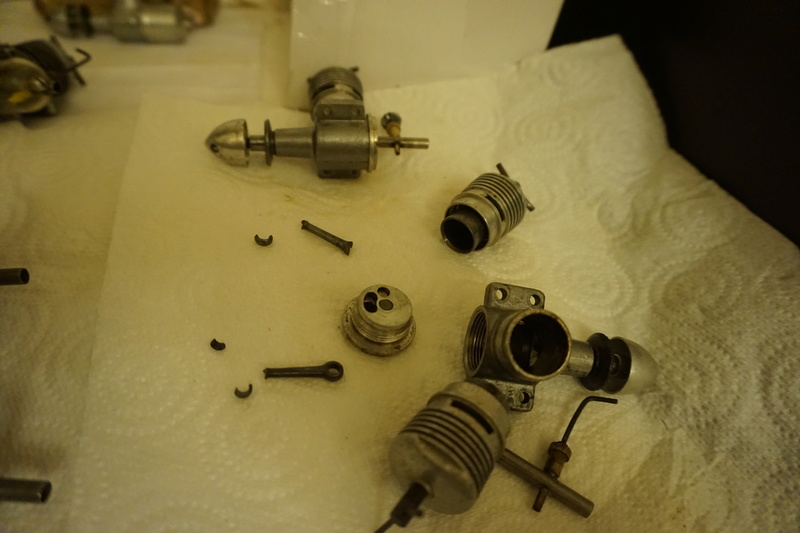 Two of these have broken con rods but I have a "minter" that I can take the measurements off and replicate. Some have missing spinners, one has a broken crankshaft, one has a dubious needle. Most are missing tanks ........... these are engines that no one wanted! I have a stock of tanks now - I keep groups of engines together and make lists of what I need to make.
I will restore these to near new and they will be keepers.
I don't sell engines (never sold one yet) but I do trade - these engines are no longer with me.
https://www.coxengineforum.com/t9595-stalking-about
https://www.coxengineforum.com/t9741-stalker-modusa-40re-pro-tbr#
https://www.coxengineforum.com/t9640-stalker-modusa-55re-pro-tbr
Some of these were swapped for some very nice Zom diesels and one for an Olly! All went to aeromodellers returning to stunt flying (one in Spain) but I am a "dieselolic".
Would I run a minter? If British - and ED, Olly or a PAW (in fact most vintage British engines of low volume manufacture)  - Yes! They were all factory run anyway before shipping and left set ready to fire up!
The easiest way I know how to free up a seized engine - one that has seized through long term storage and that includes new ones - is to ply them with fresh fuel and run them. Absolutely every engine is unique in some way or other.
I wouldn't recommend it as an investment for anybody. There are exceptions with particular engines but IC engines are definitely on the decline but there is another side to this.
Forgive me for the crudity of this one. You buy an engine - you have it for as long as you want it - to run it, cherish it - it is yours to keep. It can outlive you.
Go to a restaurant for an expensive meal - enjoy it by all means - spend a fortune for overpriced food - a temporary experience to be flushed away the next day!
I often go to the theatre - I enjoy plays and Jane collects the programmes. It is not a cheap night out and all we end up with is an overpriced booklet with no value at all.
Collecting engines is a more permanently entertaining.
That combined with aeromodelling is a classic way of keeping out of mischief and an excuse to learn new skills and acquire knowledge.
Diamond Member





Posts

: 2425


Join date

: 2011-11-16


Age

: 63


Location

: England



I guess the bottom line is-- how do you define 'collector', as opposed to simply ending up with more as time passes My little dictionary simply says ' that which, or someone one who, collects ' .
Not much help, too vague and probably raises more questions than answers. Found this definition online--' a person who seeks to acquire and set together examples or specimens'. That's more like it, it shows intention, both to accumulate and to display, not necessarily to other people but maybe just for your own enjoyment. Still open to discussion, though, could mean anything from keeping them all in shoe boxes in the shed, to locking them up in special display cases, nicely labelled and in some sort of order, like in a museum. That's a thought--does anyone know if there is a model engine museum anywhere? There must be many thousands of different engines from hundreds of manufacturers since the first one, it'd be great to spend a few hours/days/weeks! studying the evolution of the wee beasties. One of the things I find most interesting was how each maker from each country had a different idea of what the ideal engine should be.
Bronze Member





Posts

: 39


Join date

: 2016-01-09


Age

: 62


Location

: England, temporarily!



It seems that I started something here that turned out to have unintended consequences. My tongue in cheek "Proof that I'm not.." does seem to disparage "collectors", but it was not meant that way.  Although...............
I do come from a car culture that extends back to the 1940's long before I ever heard of Cox engines.  Within that culture exists, especially at car shows, groups that could be defined as "drivers" and "trailer queens" the latter always viewed with contempt and usually the owners thought of as "collectors".
I'm in the same boat as Ian, I have model engines spread all over and I have no idea as to how many I have, except Enya's.  I keep an inventory and once listed here, runs five pages long and took up way to much space for no reason.  
While my "Enya-go-round is neat, my display case in a shambles now more of a storage facility than anything else.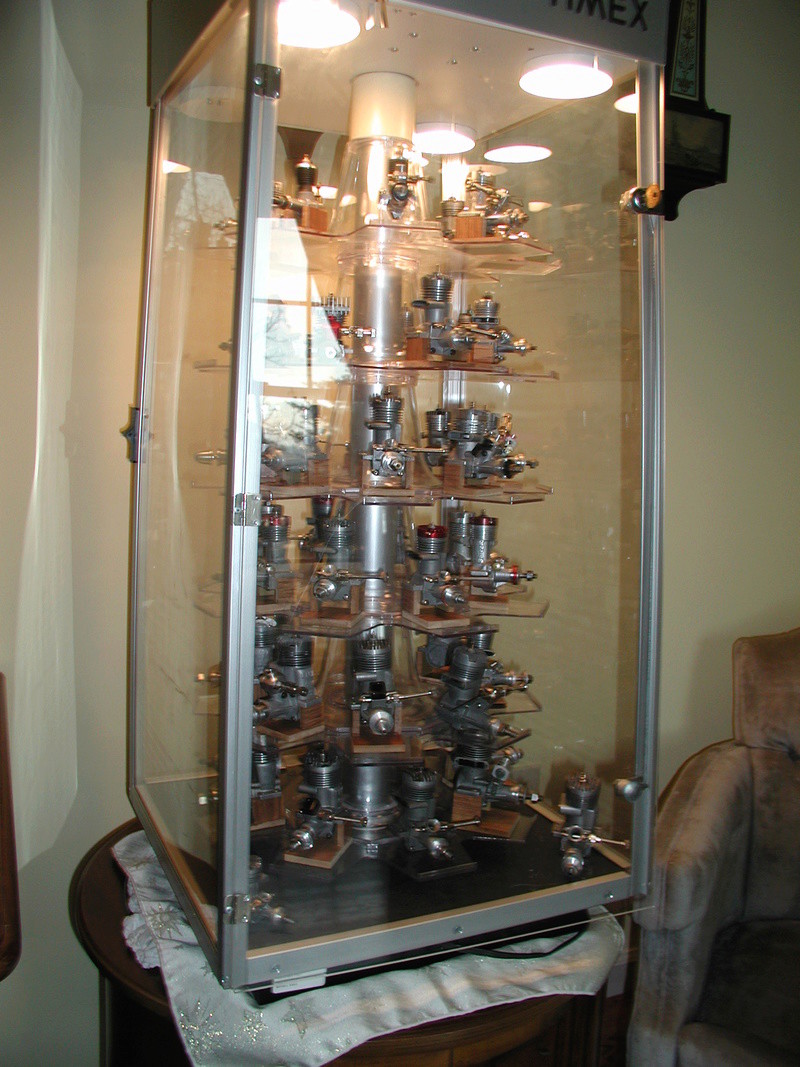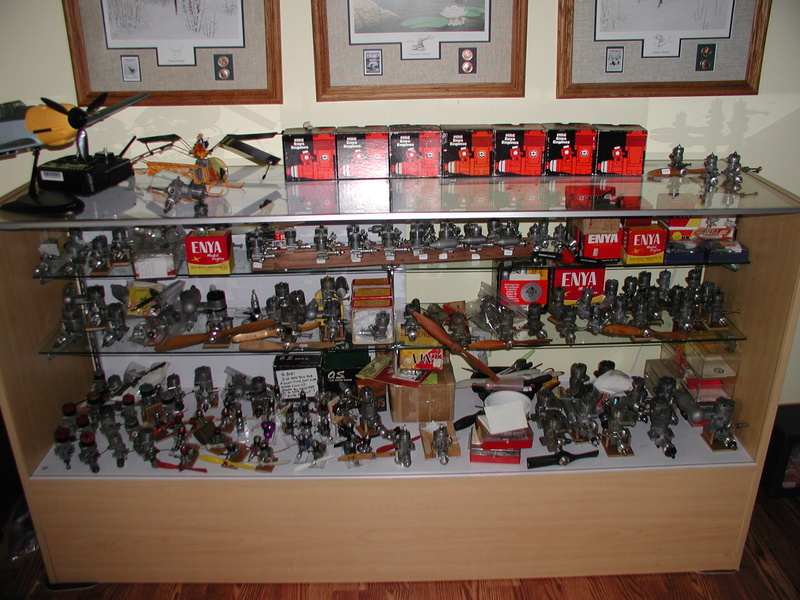 Got up early this morning and dumped 3 engines Vivells, etc. in the A/F pot.  More to clean and find space for.

 Perhaps more complaining than bragging.

 But it is fun.............
Bob
PS - More proof - (or maybe I just have my limits) early on I made my usual one time bid on these 2 .45's and a .15 of $71.00 beat at the last second by two snipers over bidding each other and went for $88.00. Now I'm wishing I had bid $90 those .45's are nice. Many bidders on these. People are discovering Enyas.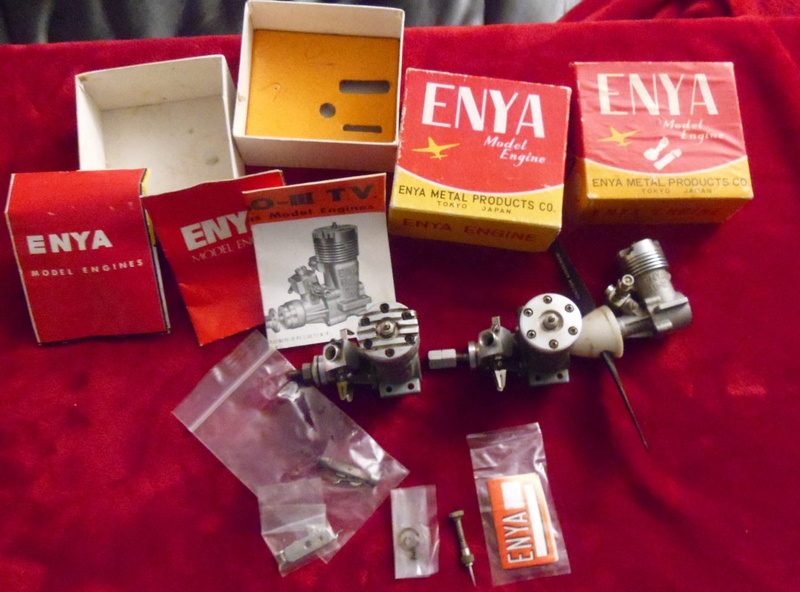 Last edited by rsv1cox on Sat Jan 21, 2017 8:26 am; edited 1 time in total
Diamond Member





Posts

: 2925


Join date

: 2014-08-18


Location

: West Virginia



I have not counted my engines in a while, I think I still have less than 50. Maybe, just for the heck of it, I'll count them some day. It's easy because they are in a couple of boxes in two different cupboards. I would like to put some of them in a display case of some sort, but the lack of suitable place for one has prevented that.
I am sure there is a model aviation museum somewhere in the USA. There is none here in Finland, there probably are some private collections, and in the aviation museum in Helsinki there were some engines at the model aviation area. Here are some photos, a few of the engines were actually made in Finland

As far as I know, there was no such industry, so most of them are probably one-offs or of a very small scale production. Maybe even mislabeled. There were more of them, but it was difficult to get good pictures through the display case glass.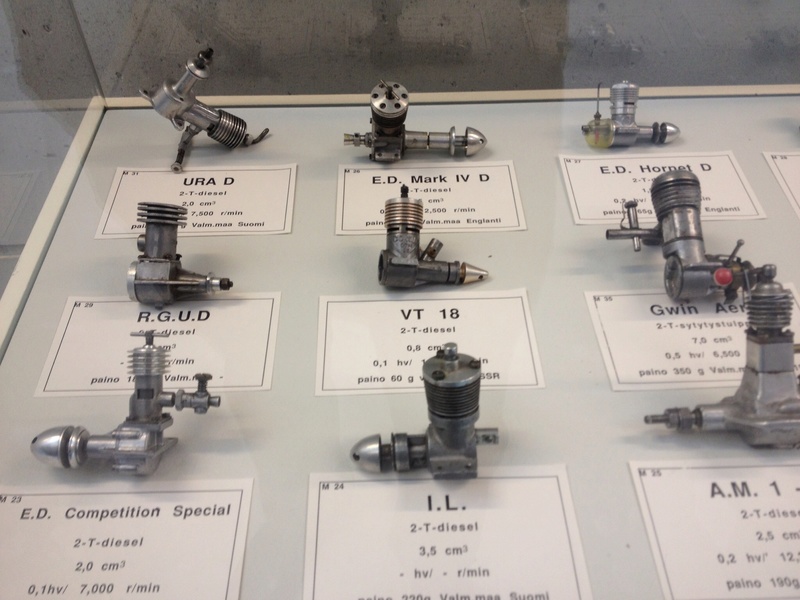 Diamond Member





Posts

: 1265


Join date

: 2014-10-10


Age

: 46


Location

: Finland



Diamond Member





Posts

: 2425


Join date

: 2011-11-16


Age

: 63


Location

: England



Page 2 of 2 •

1, 2


Similar topics
---
Permissions in this forum:
You
cannot
reply to topics in this forum