Cox Engine of The Month
November-2017
MauricioB's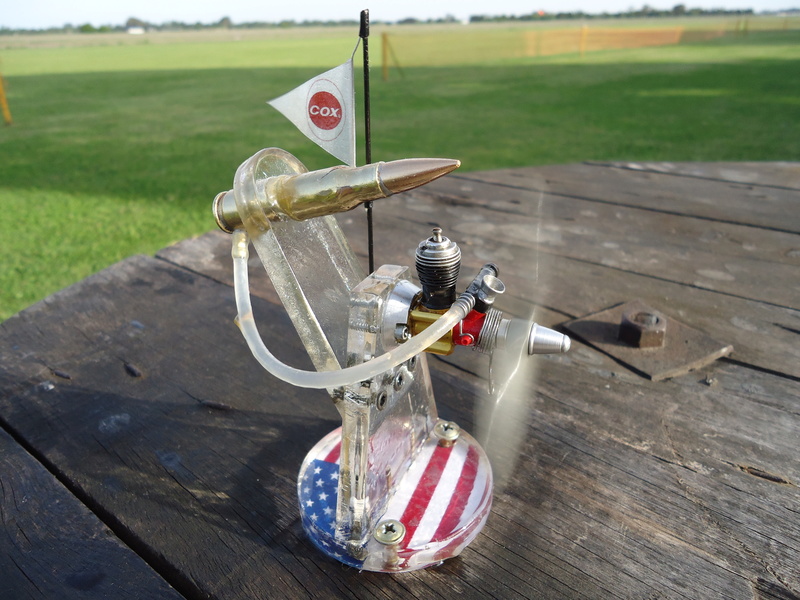 "Cox Tee Dee .010"
---
PAST WINNERS
Don't let this happen to you..
The above model-airplane.. (a Guillow's Fokker DR-1 rubber-job..) was stored where I thought it would be reasonably safe. Our new kitten got to it though.  
This thread is a side-note to another on storage-solutions.. but I feel that this deserves more attention for a method to keep the actual model-airplane out of harms way when being stored.
I always have an assortment of bungee-cords around my shop. When the supply gets low.. they're one of those "staple-things" that I promptly re-stock. (I'll get to the point shortly..)
The small jar-containers in the front of the drawer contain x20 small bungee-cords/hooks for around $4.. at my local "Job-Lot" store. These  bungee's are about 12" long.. and have a much smaller-dia. elastic-cord.. and smaller hooks.
Downstairs in our house... is the only climate-controlled space for me to hangar my models. The unfinished-portion of our "basement/cellar" is where my workshop is.. and is also home to two cat-litter boxes.. the clothes-washer/dryer, the oil-burner/oil-tank.. and a lot of other stuff..

 but there's open-framework above; in the form of bays in-between the floor-joists that's being utilized for storage. I need to optimize these bays. There's a lot of available space for storing sheet-goods, rolled-plans etc.
But.. for many of my small airplanes.. I hang them from a 3" Copper drain-pipe that connects the kitchen drain to the main stand-pipe; using the mini-bungees hooked-around their landing-gear. (excuse the dust..

)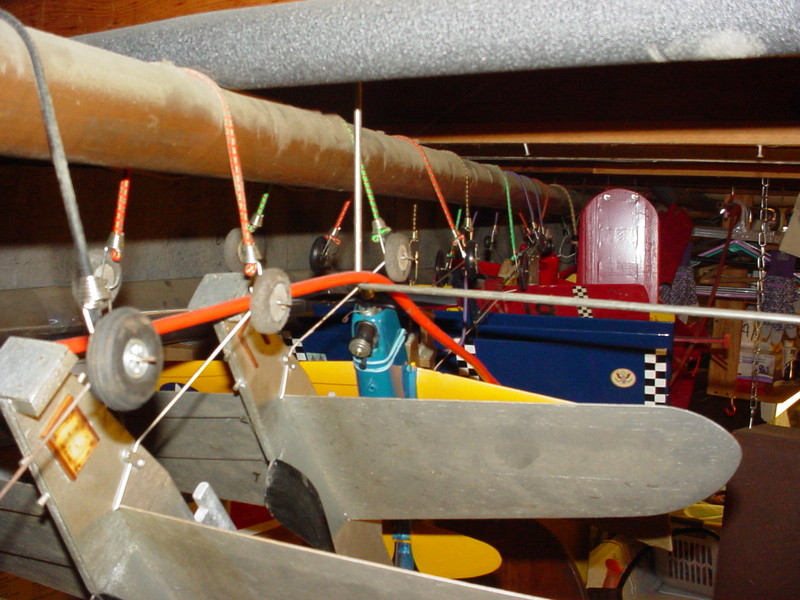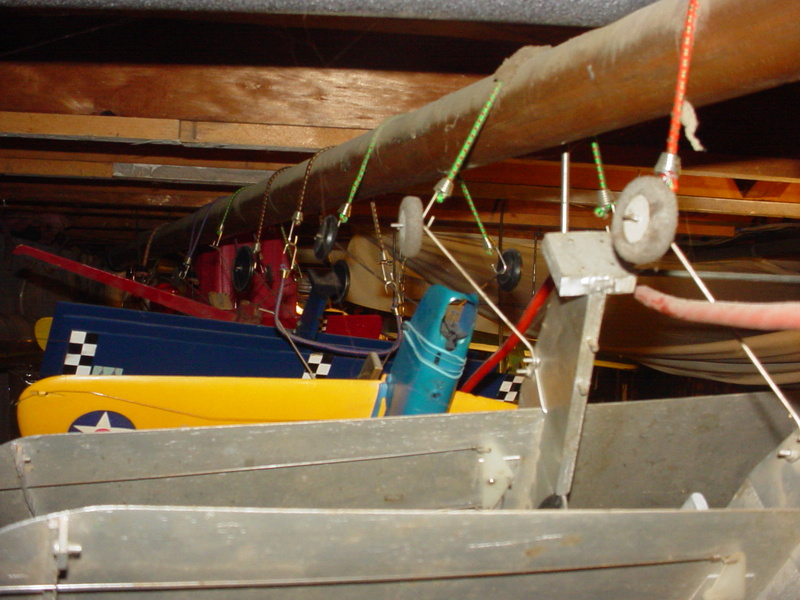 The pipe runs near a wall.. so
in my case
, it's minimally-intrusive. There are currently 14 models hanging from that pipe alone.
I have also utilized the joists as anchor-points for bungee-hooks.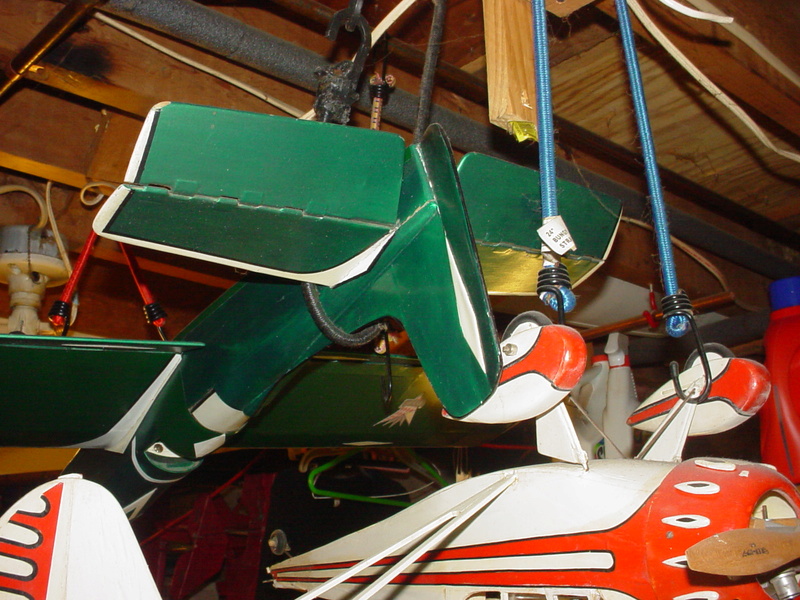 It's really helped to keep my models safe from being accidentally crushed by something falling on them. If they do get bumped.. they swing-away.. which minimizes shock.
Top Poster





Posts

: 5438


Join date

: 2013-07-17


Age

: 57


Location

: N. Smithfield, Rhode Island



My household does not reflect yet how important building and flying my planes are to me. Lots of makeshift solutions...building on the kitchen deck...storing my planes on top of the cupboards in my small private room....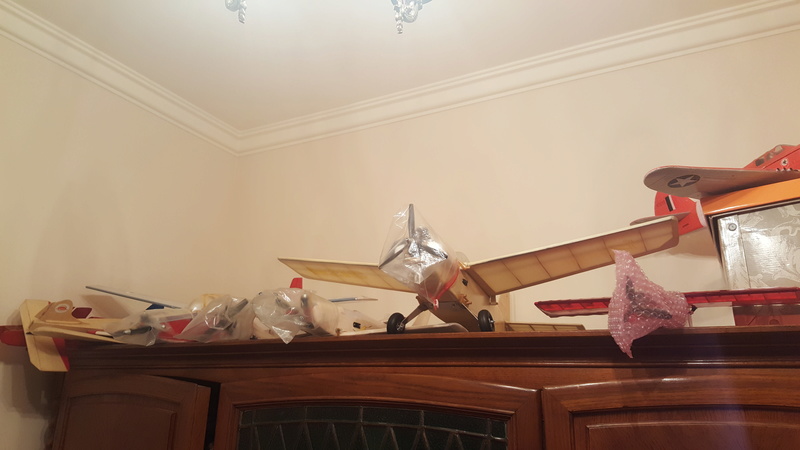 Now that the kids moved our and we have a relatively large space we are left to live with my wife, I am really contemplating to establish a real infrastructure that my hobby deserves...
I do not have a basement and the garage is also detached with no heating...so probably on of the rooms abandoned by the kids will morph into a workshop.
Diamond Member





Posts

: 1523


Join date

: 2011-11-06


Age

: 59


Location

: Budapest, Hungary



I built a Guillows DR1 back in 1972. Got all the frames done and covered in transparent red monokote. And that's as far as it got. Maybe this thread will be an inspiration for me to assemble the pieces. I doubt that it would have ever been much of a free flight anyway with all of those short, heavy wings and blunt fuselage.
Gold Member





Posts

: 187


Join date

: 2013-11-29



Gold Member





Posts

: 271


Join date

: 2012-08-15


Location

: Wichita, Kansas



You certainly have a few

Moderator






Posts

: 9521


Join date

: 2011-10-24


Age

: 43


Location

: Tuttle, OK



Wow! And I thought I was excessive with approximately 15 1/2a planes and a few larger ones.
Platinum Member





Posts

: 1080


Join date

: 2011-08-13


Age

: 39


Location

: oakbank, mb




Similar topics
---
Permissions in this forum:
You
cannot
reply to topics in this forum