Cox Engine of The Month
June-2019
robot797's
"cox 049 gasoline"
More info on this engine!
---
PAST WINNERS

I can't find the thread that I mentioned these in.. (sorry for a redundancy..) so I'll start a new one.
Here they are..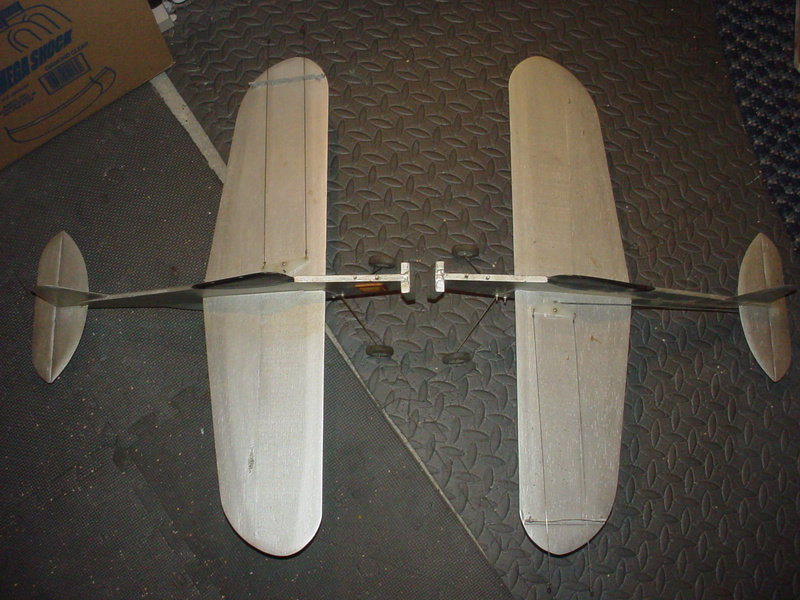 Yet to be flown.. built (by eye.. no plans) back in the late 1990's for control-line and Cox .049 reed-valve power. They're pretty much identical. I have identical triplet sons who were born in 1988. Two of the boys have Autism. These identical-twin airplanes were actually built for them.
I've been rebuilding a handful of reed-valve engines recently.. and these two models will receive the engines in the photo below.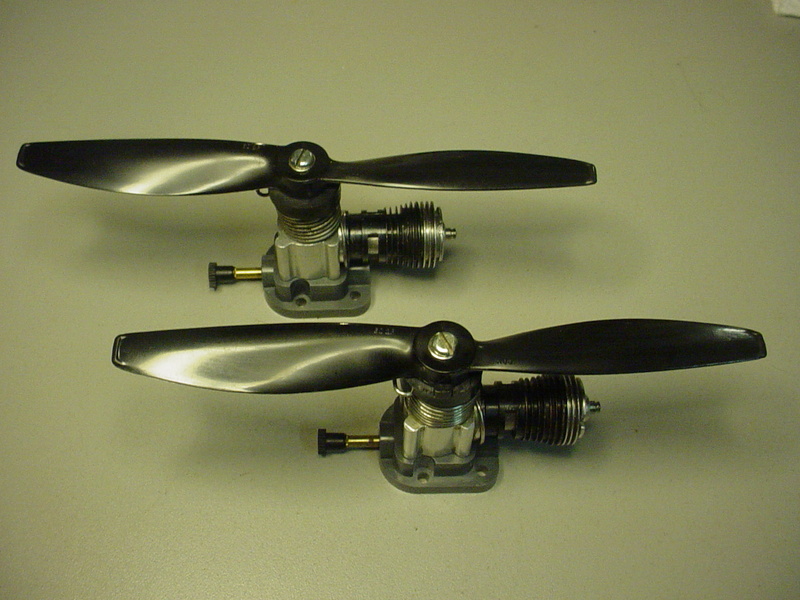 They have #1 cylinders and are fitted with Cox black #864 6"d x 2"p left-hand propellers and L/H cam-style starter springs. I've mentioned countless times that I like this propeller.. because it's stock equipment on the venerable Cox PT-19 Flight-Trainer. It's a bit premature to assume that this combo will work.. but I figure that it's a good place to start. Dan McEntee sold me some NOS Perfect wedge-tanks earlier this year, just like the ones I used to run that worked well for me. I need to bench-run the engines.. and If they run well; I'll "short-tank" one of the models' engines for a maiden-flight.. just in case things get hairy..
These two airplanes incorporate everything I'd learned from building/flying my own 1/2A profile designs up to that point. A little "old-school" construction (solid-wire lead-outs) mixed with newer building-methods (CA-glue and CA-hinging). They're probably at the upper-limit in overall size for a stock Cox reed-valve engine.. but I'm confident that they will fly. Wingspan is 24" and the area is approx. 120 sq. in. Weight without engine is 4.7oz. They are finished with Aero-Gloss dope. The wings and tail are 1/8" sheet-balsa and the fuse is 1/4" sheet-balsa with 1/32" aircraft-ply nose-doublers. The inverted "V" main landing-gear is 1/16" music-wire. The bellcranks are Sig #SH-234 1/2A nylon units. The control-horns are Dubro small #107 parts.
Both airplanes are equipped to be launched R.O.G. via a pin-stooge.. but may receive larger diameter wheels.. depending on the surface that they're launched from. The current wheels are homemade ones. They're only 1.25" diameter soft-foam tires on 3/4" diameter wooden wheels.
I really hope to have a flight-report following the July 4th week.. which I have off from work...
Do you know the weight of those? (the airplanes)
Last edited by akjgardner on Wed Jun 28, 2017 2:15 pm; edited 1 time in total
Platinum Member





Posts

: 887


Join date

: 2014-12-28


Age

: 59


Location

: Milan Indiana



Hope the P-51s do well for you Roddie and can give use a flight report , i Know you're stoked about getting in the air after the layover.... Here's the thread to the wheels if that is what Joe is referring too , dont see the weight though ?
https://www.coxengineforum.com/t7072-custom-wheels?highlight=home+made+wheels
Very Cool !!
Top Poster





Posts

: 5864


Join date

: 2013-01-18


Age

: 61


Location

: julian



I'll be waiting/watching!
Moderator






Posts

: 10364


Join date

: 2011-10-24


Age

: 45


Location

: Tuttle, OK



akjgardner wrote:Do you know the weight of those? (the airplanes)
Joe, the airplanes weigh 4.7oz. without engine or a fuel tank.
They were not built from a kit or a plan. They are my own design, like most that I have built. They're probably a bit heavy for a stock Bee engine. The fuse in particular is more robust than it needs to be. The fuses were made from planks of 1/4" x 3" balsa.. and are only tapered fore/aft of the wing-chord position. The air-scoop and canopy are also 1/4" balsa and make for a fairly
tall
center-section. I wish I'd used 3/16" balsa and streamlined them a bit more.. but they are what they are. The canopies are fugly.. Their shape is awful. I may reshape them later.. as well as shape/sand and refinish the 2-D air-scoops to look smoother. The landing-gear adds considerable weight too.. but I like having landing-gear. Most all of my airplanes use a one-piece inverted-V gear made from 1/16" music-wire secured with Dubro 1/2A steel gear-straps mounted on the plywood nose-doublers. Being just forward of the balance-point.. I use different wheels to add or subtract what I feel is
functional
-weight. The axles are long-enough to experiment with larger diameter wheels that may have a thicker hub. I'd like to
initially
try flying this design from a grass runway.. and the wheels that or on the models are too small of a diameter for that.. unless I lay-out some cardboard panels. Stay-tuned for a different wheel design made using thin 3/4" wooden-dowel "slices" for a hub.. and seamless foam tube "noodle" material (cheap-swimming-pool item) for a tire.. which will increase the overall diameter to 2+ inches.. and will roll better over grass. (pure Roddie-redneck wheel design..)  

In my opinion..................... there's a lot more to the C/L flight, than the actual "flying". I enjoy the thrill of having an airplane rise off the ground from a roll-out and be stable in level-flight. Climbing and diving will hopefully be balanced-inputs. It may not be capable of stunts. That's ok with me. Most Cox ARF C/L airplanes aren't. There's a lot of fun to be had with dive-bombing balloons placed around the circle, tied to sticks stuck in the ground. In my locale; "
Smores
" are a popular campfire treat. Roasting marshmallows over a campfire is a key-ingredient. Kits are sold, usually with 4 hardwood dowels; 1/4" diameter x 36" long to roast the marshmallows. They cost a couple bucks.. (cheap..) Stay with me here.. Buy the "sticks".. the marshmallows, the graham-crackers and the
Hershey
(chocolate) bars to make the
Smores
.. and "cook" them some night over a campfire. They're YUMMY! Save the sticks for a balloon-bust! Tie some round party-balloons to them and place them around your flight-circle and try to "pop" them in a dive-bomb! It's an old C/L fun-fly event that you don't hear too much about anymore.
I digress..  

Larger wheels might help a small lightweight C/L model land on a grass field.. and roll-out without nosing-over. This would be a "perfect-flight" in my opinion.
RTF self-designed duo.. dry-weights are both 7.0oz. #18 1/3oz. (9.8cc)
Perfect-brand
wedge-style fuel tanks, Cox .049 reed-valve engines with Sure-start backplates, #1 dual-bypass cylinders, #325 standard glow-plugs and Cox black 6"d x 2"p left-hand propellers. Yet to be flown.. but ready to go.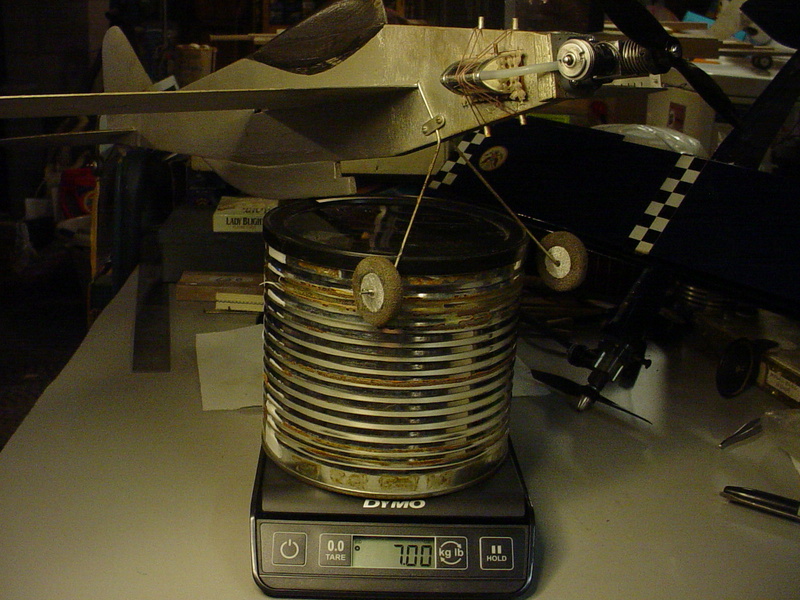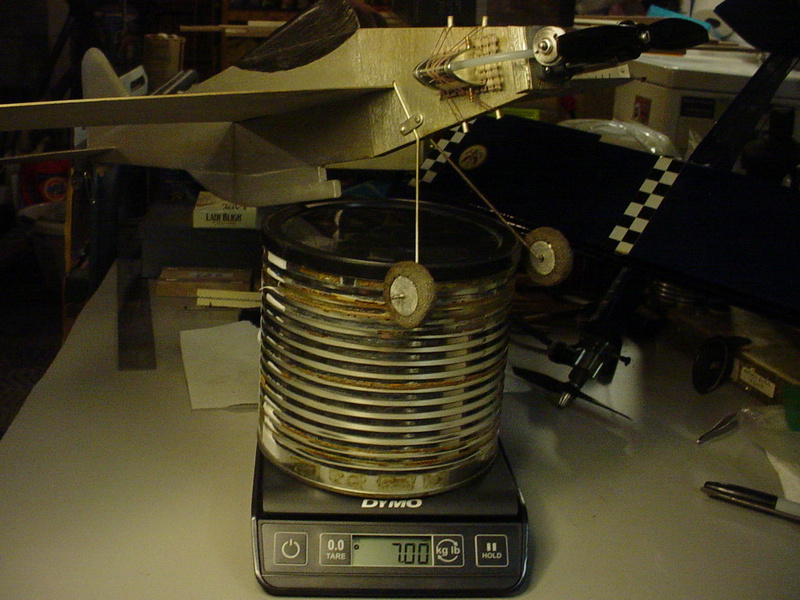 ---
Permissions in this forum:
You
cannot
reply to topics in this forum