Cox Engine of The Month
March-2018
dckrsn's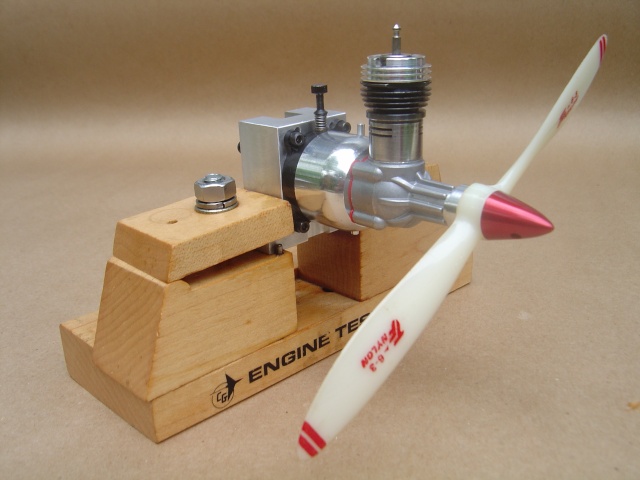 "Cast Case Diva" .049
---
PAST WINNERS

I have never had or even seen in person a Teen Dee.

I did some reading and thought I should keep my eyes open for a couple to play with.

Almost bought one tonight but just didn't know enough.

.051 with an aftermarket head .... $25 plus $4 shipping ... seemed like a great price.

I found it too late to post questions and I like to know what I am doing before I buy.

1) Are all Tee Dee engines basically the same? I did read why the 049 vs the 051 ... no real difference there. I did read there were some odd versions.

2) Most I saw had a carb and ventury separate from the plastic but some had the venture as part of the plastic with the spray bar / needle as part of the plastic ... which is better?

3) Some have a side pressure tap, some had a rear pressure tap and the one last night had no pressure tap .... which is best ... or do you need one at all?

4) Which is better the cox glow plug or an aftermarket one?

5) Which is better, two large ports or four slits .... I see both?

6) What else should I know about tee dee engines before buying one?

Thanks ..... Mike



Mike

Stock TeeDee-s had large exhaust ports on chronologically thin wall, stepped wall or thick wall cylinders. The thin and stepped wall cylinders had 4 or 5 stamped under the exhaust for the 049 and 051 respectively.

The slit ports mean the cylinder has been swapped. It is the Medallions that have the venturi integral with the red plastic  carb body. TD- s have separate venturi that screws into the black or red plastic body on the 049 and 051 respectively. Out of the aftermarket heads I found the insert type the best. I just bought a Galbreath head with turbo plug but have not tested it yet. Replacement heads with normal plugs are performace robbers.

Stock pressure taps are on the left side of the plastic carb body if you face the propeller, otherwise it was broken or the plastic carb replaced with an aftermarket aluminum body which is not prone to breaking at the venturi thread so is more lasting than the stock plastic.. Some aftermarket back plates have pressure nipples added.

New in box TD-s sell around 75-80 USD on ebay plus shipment. If much cheaper than you are either lucky or the engine has had its time served and experienced buyers have recognized that so be careful
Man, I need a course in Cox engines.

Way off topic has anyone ever published a good definitive book on cox ... history, all the engines, variations, aftermarket stuff .... ???

So, questions ...

1) Medallion vs Tee Dee???? I just did a search and it got confusing. There was all kinds of discussion on high compression heads and then someone noted that depending on when it was put together they could have the same cylinder and head. Someone compared a sport engine vs performance but no details on why. Is there a relatively simple answer which I should be looking for and why?

2) I gather maybe) that the Tee Dee's come with a high compression head? Are all aftermarket heads high compression (I see a few out there but they don't say so I am guessing they are standard compression)?

3) I have never used a pressure tap. Do you need one? If they tend to break is it better to get a replacement without the tap (I have not seen one but you mentioned it) and also a back plate with a tap (guessing if you need the tap and you get rid of the side one then you need the rear one)?

4) Do I need to worry about old plastic deteriorating and cracking? Even if it is NOS ... will 40 year old plastic be brittle? On used ones with fuel will this be even worse?

What every I buy doesn't have to be original in a box .... I don't even care if I put it together from parts. I would like a good durable runner to use.

I really appreciate the advice! I don't mind spending money but I hate to throw money away! That is why I didn't bid last night. May have been a great buy but I just don't know enough yet. I am one of those people who ask 100 questions .... even as a kid I always had to know "why" .. probably drove my parents nuts.

Thanks ..... Mike

No problem Mike...I do not pretend to be an all-out COX expert but here is what I can tell you:
Medallions may come with the same cylinder and high compression head as TD-s but will still be outperformed by TD-s whose crankshaft has a larger, oblong opening for fuel/air transfer than the small round bore on the Medallion shaft, thus allowing more sumptuos fill into the crankcase of the TD...the carb of the Medallion has a common spraybar with maybe one radial hole for fuel entry while the TD-s have 3 small holes in the throat of the venturi through which a well atomized fuel flows for more thorough mixing with air.
The pressure nipple on the plastic carb body of the TD-s is not functional unless you drill a hole through it to open the carb body towards the crankshaft. So even if broken, the engine will run well unless the hole was drilled by the previous owner, and you cannot plug it...that you never know.
I have never used a pressure tap on COX engines but some say here it makes the fuel draw better. In my experience my TD-s serving my R/C planes draw fuel well even in inverted flights, but I use ballon tanks rather than solid plastic or metallic tanks with clunks.
Anyway replacement carb bodies, plastic and aluminum alike, are sold by Ex Model Engines and COX International. My 40+ year old TD-s still have the stock plastic carb on them without any sign of ageing, so no need to replace it.
There is abundant  COX history on  the web, e.g here:
http://www.mh-aerotools.de/airfoils/cox_frameset.htm
plus a good book is also sold on ebay:
https://www.ebay.com/itm/Cox-Model-Engine-Handbook/183084280457?hash=item2aa0ac6a89:g:CmsAAMXQVERS5qBs
Hope to have provided you with good sources of additional information...
You are fantastic! Exactly what I wanted to know!

Now I feel a lot more confident looking for a Tee Dee engine. I even see on ebay where someone has identified a Medallion as a Tee Dee.

I would have had no idea that the pressure taps need to be drilled.

I truly appreciate all your help!

Mike

That site is great .... I will have to compare the numbers just to get a feel for what cox did.

Something jumped up on the side of my page which of course caused me think again (my wife says that is dangerous).

From time to time, I have seem engines listed as diesel rather than glow engines.

On the side of my page ... up comes a conversion head from glow to diesel.

So three questions:

I know how a diesel works on compression to ignite the mixture rather than spark ... but is this not basically how a glow engines also works? Don't diesels just use glow plugs to the the fuel warm for the first firing ... just as glow engines do?

What does the conversion head do? There is no longer a glow plug but it looks like you can change the compression ... why or ??????

Finally ... why? Why change from glow to diesel?

Man, I can see how this can go on forever .... just soooo much to learn about these toys!

Mike



Mike this is the same way many of us got Cox addicted in our adult years so do not excuse  for your questions

Diesel model engines run on kerosene, ether and castor in a blend of equal proportions.. Truly self ignition engines, they do not need glow heads or plugs just a contra-piston inside the cylinder top that you drive down with a winged screw into the cylinder to reach a compression level where ether self ignites. Then the self ignition sustains itself end the engine speed is refined with the simultaneous adjustment of the needle valve and contra piston.
The COX diesel conversion head is sold here and you will need teflon disks placed between the cylinder top and the contra piston.
https://coxengines.ca/diesel-head-conversion-for-cox-049-red.html
It is recommended to also replace the crankshaft with a sturdier one to withstand the higher engine torque.
I prefer glow to diesel because the conversion will reduce the engine power and life.
Last edited by balogh on Sat Mar 03, 2018 4:01 pm; edited 2 times in total
Since they make the conversion head, I wondered if there was a good reason to go with it ... but it does not sound like it.

Reduced power and lower engine life does not seem the way to go.

I will have read more of those stories tonight .....

I have been telling many similar ones to friends. Cox planes (and cars ... plus rockets, slot cars, trains, meccano, erector, ...) were all a large part of my childhood. I can remember having a few planes (stuka, trainer, bush plane) plus the cox jeep .... and a testors BD5 and dune buggy. Really, I think I was too young for the planes (I know I was not even 10 when I got my first one ... maybe 8 ) ... probably more an excuse for my dad to play with one. By the time I was 12 though, I remember building balsa planes with cox engines.

Hours and hours of fun! Great memories!

Thanks so much again for all the information!!!!!!!!!

Mike



Similar topics
---
Permissions in this forum:
You
cannot
reply to topics in this forum