Cox Engine of The Month
August-2019
fredvon4's
"Tee Dee .049"
---
PAST WINNERS

Hi again. So, I have a question that I am sure someone here can easily answer, and I could not find any definate information on. That is the whole Cox Super Bee and Cox Silver Bee id. The one I am thinking of has a metal backplate, 8cc stunt tank in plain aluminum, standard extruded crankcase, and #2 cylinder / piston assembly with standard head. Thank you.
Or are these just a non black anodized early model Black Widow before they were called such?
Diamond Member





Posts

: 1341


Join date

: 2013-03-19


Age

: 53


Location

: Normandy, France



The engine known as Silver Bee has a plain anodized 8cc tank, but it is not the stunt version, as it has no vents, just like the one in Lieven's picture above. The vents are in the backplate like on Babe Bees. As far as I know (which is "not far") the Silver Bee is also supposed to have a #1 cylinder. I think my Silver Bee came with a #2 step-style cylinder, which I replaced with a thin-wall #1 since the engine is one of the early ones with a narrow nose crankcase.
To make short story shorter, here is a quick overview of the mentioned engines:
Super Bee
Plain aluminum, short tank, #1 cylinder, the very early ones had "P40" stamped on the cyl instead of #1. Used as a product engine on the P-40 plane, but also sold individually as a spare part.
Silver Bee
Like the Super Bee but with a long non-vented tank, AFAIK with a #1 cylinder (no P40 stamp on these)
Black Widow
Non-vented backplate, vented 8cc tank, #1 cylinder. Usually anodized black, sometimes either the tank or crankcase or both are silver.
Golden Bee
This was not mentioned, but it is like the Black Widow but with a #2 cylinder and anodized gold. Sometimes either the tank or crankcase or both are silver.
The intake on the Black Widow is supposed to be larger than the one on Golden Bee, but I think our buddy Roddie has a gold color tank with a large intake channel. So, it could be that sometimes parts are mixed&matched already at the factory. Of course hobbyists mix&match too, and the only way to be sure that an engine is "factory original" is if it is in a sealed factory box

The colour variations are probably caused by logistical challenges, maybe sometimes there were problems with the anodizing process and they just used parts that were available.
Diamond Member





Posts

: 1539


Join date

: 2014-10-10


Age

: 47


Location

: Finland



That's the 'Silver Bee as I understand it-a standard Babe Bee with the larger 8cc tank rather than the normal 5cc one....the Black Widow had an enlarged venturi ID to generate more power and a #1 twin transfer flute SPI cylinder compared to the BabeBee/Golden Bee's single transfer SPI-plus a stunt vented tank (ie the vents in the tank, not the backplate)...I do not have any visibility on whether the large plain tank shown by Overlord had the same venturi size as the small Babe Bee tank (9/64" reed opening vs 11/64" on the Golden Bee)-if it was a 'product' engine-it may have been different again...! [I am not aware-(but open to correction)-of the 'Silver Bee' engine being available separately (other than as a designated 'spare' for the specific RTF models it was used in)]

ChrisM
'ffkiwi'
Bronze Member





Posts

: 52


Join date

: 2018-07-10


Location

: Wellington, NZ



Yes. The one I am referring to is like that in the picture, except with a silver stunt tank and metal backplate with no filler holes on it. I will try and get a picture dug up.
The whole story in pictures.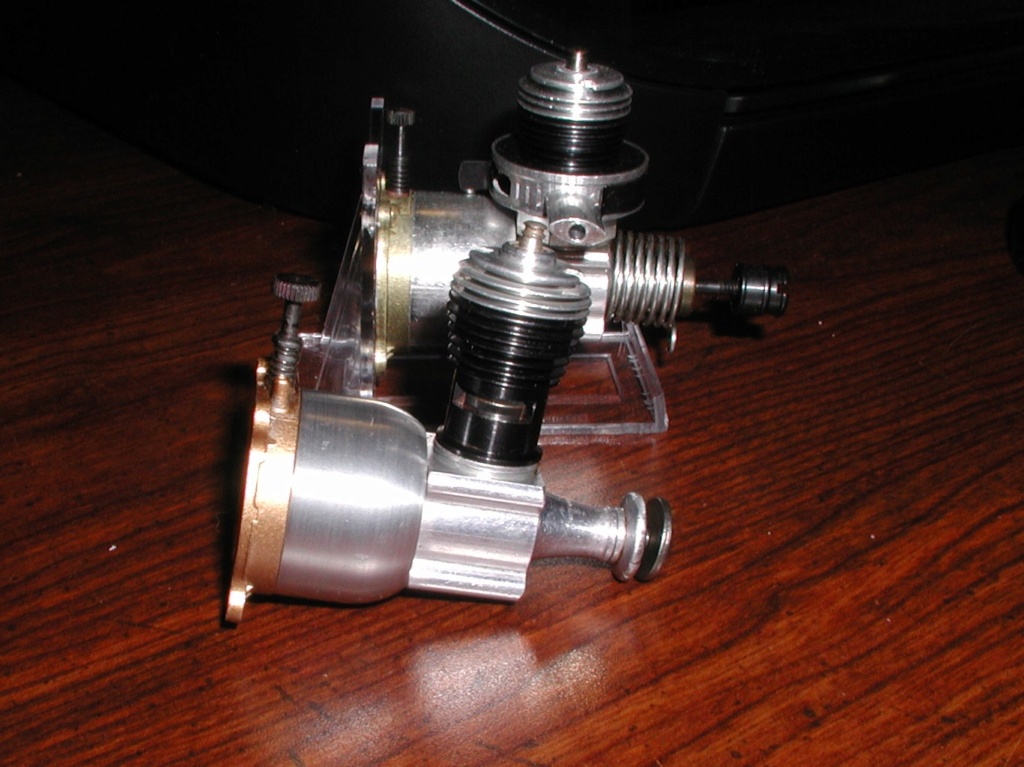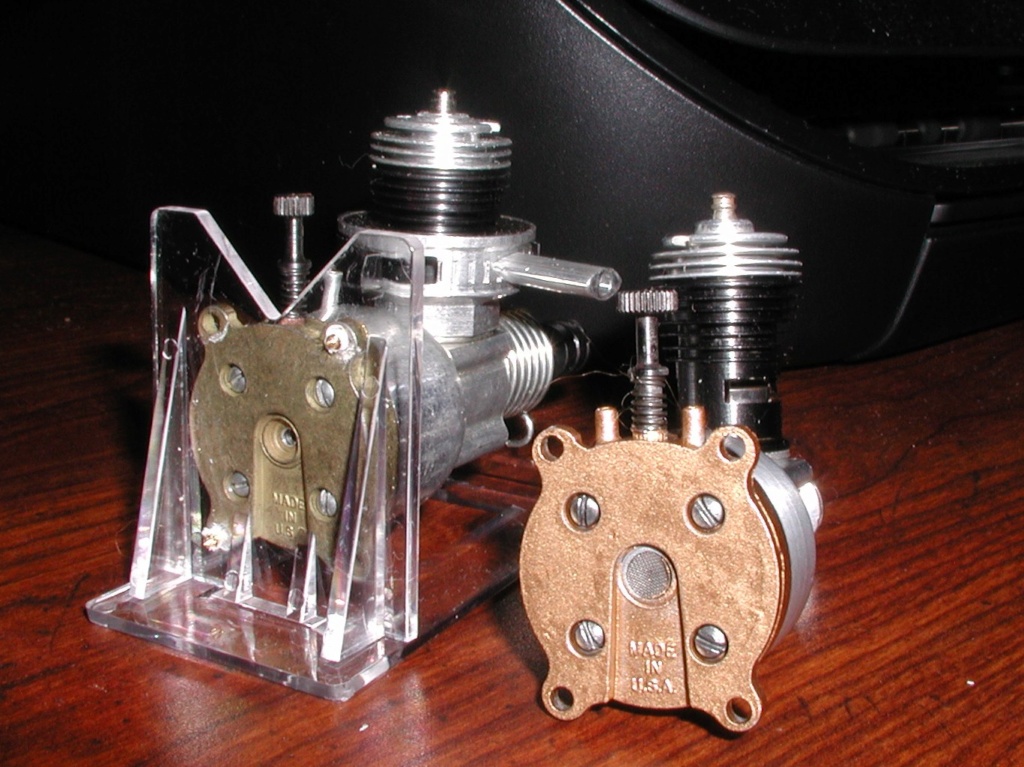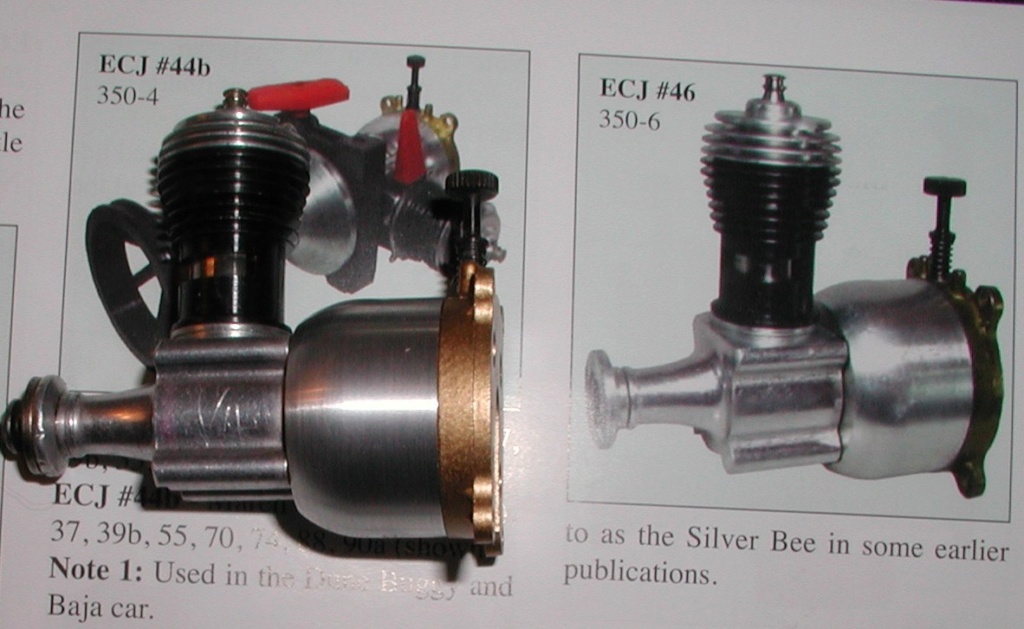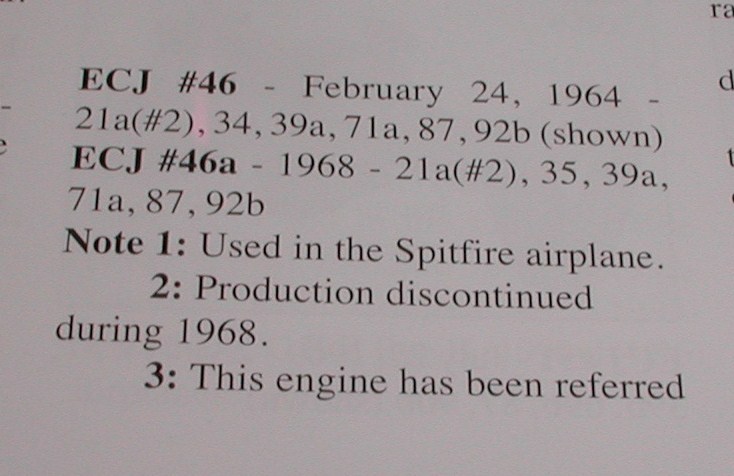 "ECJ" = Engine Collectors Journal.
https://www.modelenginecollecting.com/collectors-journal.html
Top Poster





Posts

: 4390


Join date

: 2014-08-18


Location

: West Virginia



Well, thanks a bunch Bob for clearing that up. At least I now have some more history of the engine in question.
On the Cox Sportavia box cover the engine is advertised as QRC, but unlike the "separately sold" QRC, the RTF version has a plain tank. I wonder how I missed that

Someone has probably replaced the cylinder and left out the muffler at some point.
Nice engine anyway, metal back plate, stunt tank... lots of potential for modification, restoration or use as it is
Diamond Member





Posts

: 1539


Join date

: 2014-10-10


Age

: 47


Location

: Finland



Thanks Kari. It will Bee a nice addition to one of my teach and learn on planes. Or...... I did just get me a project a while back I have not yet posted..... I have just a couple of little things to finish up yet before I get on board with the next project. Stay tuned.


---
Permissions in this forum:
You
cannot
reply to topics in this forum