Cox Engine of The Month
August-2019
fredvon4's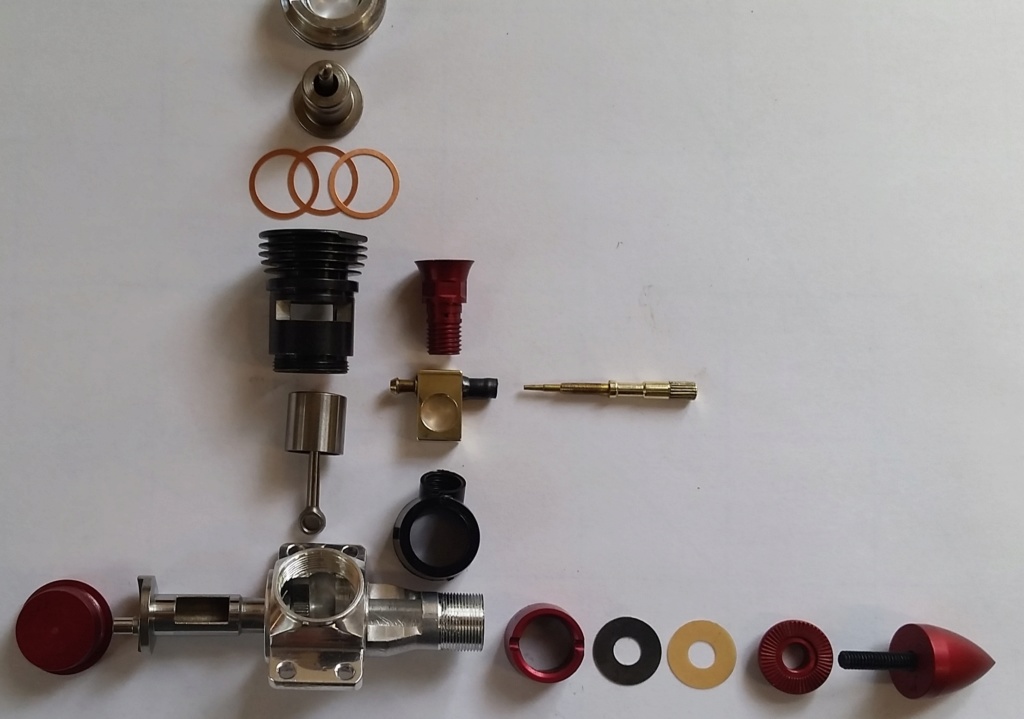 "Tee Dee .049"
---
PAST WINNERS

Well, today I had a chance to play with and run a couple of my OK Cub engines. I ran an .049 with back mount, .074, and .099. Started with the .074. It is low in compression and was giving me starting fits, so out came the electric finger.... Took a few tries to get it to fire. But when it did, it ran poorly. SO I swapped the needle for that of the .049. Turned it out 3 turns, primed it in the exhaust port, hit it with the starter and it ran steady. I am going to say as well as one would wih that kind of compression. It seemed like it is not a big powerhouse, but it ran. Also to note, this one had a 7 x 4 yellow Tornado propeller, so things may have been different if I downsized it to a 6 x 3. From there I mounted up the .049. I put its needle back into it, filled the tank, primed it and tried flipping it. It had good compression. However, it started, but low power, and just blubbered slowly like it was trying to run in reverse. So again, I used teh starter, and it fired right up on 3 turns of the needle. It was wearing a DAL Prop 5045. So it fired up strong with a good high pitch, then sounded a bit rich. So I tried turning the needle in slowly. Did not seem to do much, but it was a good steady run. That is when I went to turn th eneedle in a bit more, but to my amazement, the needle was all the way in, and it was running. So I stopped it. I primed it, and hit it with the starter with the needle fully closed. Fired right up and ran as it did before stopping. Immediately after, I mounted teh .099. Again, not a powerhouse, but a good steady running engine. Had a fun cool evening outside. These things sure do put out quite the oily mess.... So, I will be looking for a new needle to use in the .049 and .074 engines. I have one more Cub to try this weekend with a Wen Mac, if it is decent out. I will updat this as it comes along. In the pictures, the yellow prop arc is teh .074, and the green is the .049.
Well done. Sometimes it's good just to run something a little different just to prove it will run. Who cares how much power it has? It's just creating noise, wind and smoke, not flying a plane.

Yes, those Cub needles can be a problem. I've experienced the same needle issue. Some say to file a finer taper on the needle, but it allows the needle to screw in further, causing the thimble to bottom out. I cut about 1/8" off the bottom of one thimble so I could actually screw it in far enough to lean it out.

As for the props, go a little smaller. These engines like to run free rather than work hard. Let 'em scream.
Diamond Member





Posts

: 2615


Join date

: 2012-06-15


Age

: 56


Location

: Victoria, Australia



Two for two Chancy, I was none for four yesterday, or was it five. Lost my touch.

What fuel were you using? Glow plugs?

Bob



Posts

: 4365


Join date

: 2014-08-18


Location

: West Virginia



Fuel was Morgans Sidewinder fuel, 20% I believe, with added castor to bump it up to 22% oil overall. I mixed it up a couple of years ago, so cannot remember exactly how much castor I added. And as for glow plug, I picked up some used glow plugs, and it was one of them, so I cannot honestly answer that.
And thanks for the compliments.
Good to see you are able to get out and have some fun / knowing your weather is still cool ! I need to make an adaptor for my starter so it will start 1/2 A or build one buy one .. My finger flipping just don't do as good as use too .

Last time i tried the Jim Walker .049 bought done me in




Posts

: 6091


Join date

: 2013-01-18


Age

: 62


Location

: julian



Actually, I just use my big starter with the factory white cone reversed. Put it up flush against the prop and around the screw or nut. Just a light touch and away it goes. My small one was still out of service yesterday. Also, my small one does not accommodate engines without a spinner.
I have a few new OK Cubs and a couple would no go at all. Could be the needle from what I recall it doing. (not doing) I have inserted heater hose and various sized tubing into old starter cones and glued them with rubber cement to neck down to something more manageable for .049s and really all my motors. I only use acorn nuts even on the bigger stuff.
Gold Member





Posts

: 268


Join date

: 2013-01-18


Location

: Leamington Ont. Can.





Similar topics
---
Permissions in this forum:
You
cannot
reply to topics in this forum