Cox Engine of The Month
August-2019
fredvon4's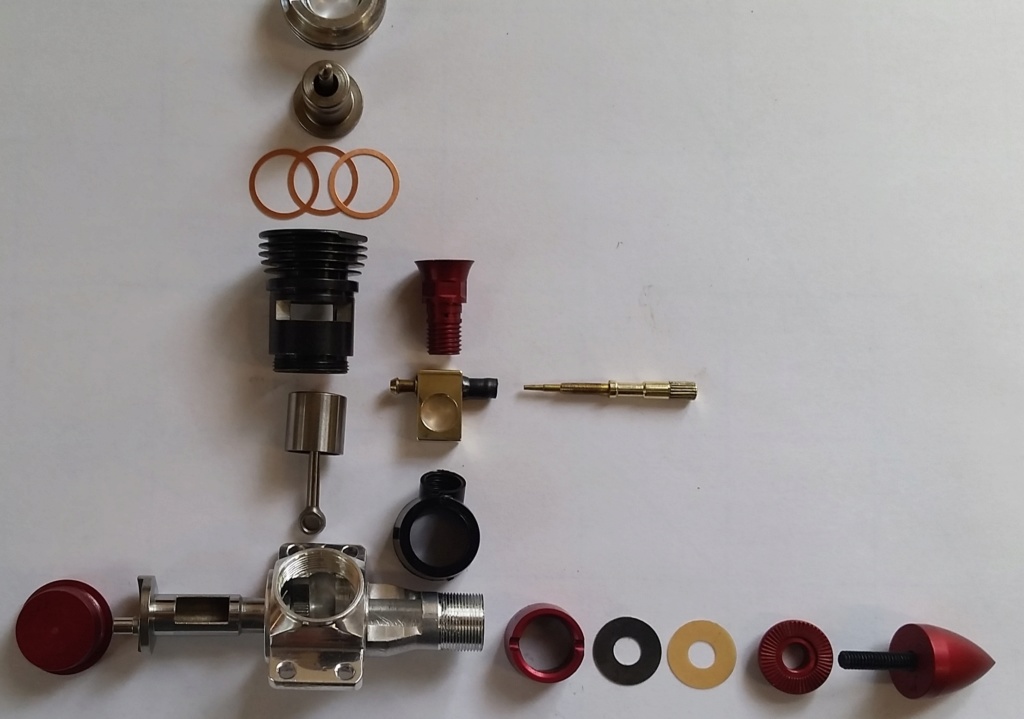 "Tee Dee .049"
---
PAST WINNERS

I'm not a Fox fan, I might have one someplace but I don't think so. I read Duke Fox'es biography but that's as far as I have gotten.
Is the .35 considered a "hurler", or is that just the .15's? A quick search reveals the three bolt appear to be in the minority? Early Fox engine or late?
This one is locked up but complete and appears to be in good shape, but it's swinging a 10/6 prop. To much?
Thanks



Posts

: 4365


Join date

: 2014-08-18


Location

: West Virginia



Moderator






Posts

: 10488


Join date

: 2011-10-24


Age

: 45


Location

: Tuttle, OK



Bob, you have a 80's version Fox .35. Not a Hurler by any means. A good all around no fuss control line engine. Quality was a bit hit an miss for this period. Many were fitted poorly causing poor compression. This yielded for Fox to introduce the best of the best which was the 40th anniversary Fox which came available late "87". Prop size depends on plane size. A 10/6 is not out of the norm, however it can cause issues when the crappy Fox mufflers are used. A Fox .35 likes a load but not a overload. The early sandcast Fox .35's I believe were 2 bolt backplate and 4 bolt heads. Caution is in order here if you take it apart. Nothing indexes the cylinder so offering a witness mark from the liner to the case is imperative. The backplate uses a cork gasket and over tightening is usually noted by bent ears which will break if straightened. I prefer 50/50 fuel and have been running all of mine on it for over 20 years. While castor is the recommended, your engine locked up is a result of using it.



Posts

: 3582


Join date

: 2012-03-27


Location

: pennsylvania



Thanks Ron and Ken, what I was looking for.
I think I will just clean it up externally for now and run it after a little heat and Remoil lubrication to loosen it up then take it apart later. I have never ran or disassembled a Fox. Just wanted to be able to say "been there."
I did find a kit for it available through my old Enya buddy Bobby Brooks for reasonable $.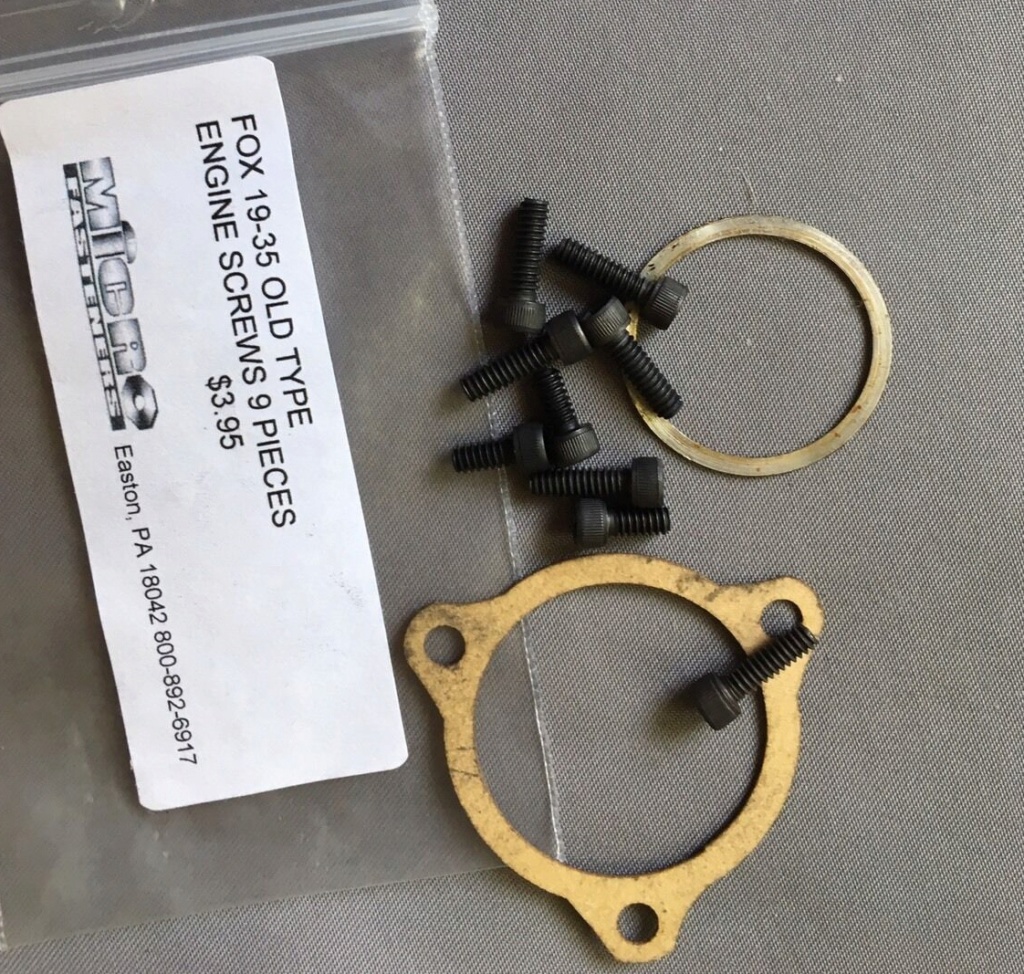 Posts

: 4365


Join date

: 2014-08-18


Location

: West Virginia



The hex head screws are a plus and the gasket is needed once you disassemble.

That one looks to be not even broken in. They are usually caked in burnt castor. They have their quirks, but are nearly indestructible. I love them others not so much because of the quirks.
Moderator






Posts

: 10488


Join date

: 2011-10-24


Age

: 45


Location

: Tuttle, OK



If I have a engine like yours, I take 3 in 1 and drench the backplate around the perimeter. I then heat the backplate usually until it starts smoking. I remove the screws and twist the backplate rather than pull it. This has saved many gaskets on the Fox. A Fox .35 will not be happy running with a backplate leak, it usually shuts off like someone threw a switch. Through the backplate, I flood the underside of the piston with oil. I then heat the bejeezus out of the conrod on the top end. Sneaking a allen key behind the crankweb, I pry the rod towards the rear of the engine. Continuously work the rod back and forth to free it on the wrist pin. The Fox .35 is a engine that unless completely necessary, it's one that you really don't want to take apart. The case is very fragile which can distort if the head bolts aren't properly torqued in a certain sequence. The cases are generally not square which can cause the liner to distort when improperly tightened.

The needle valve is one I always mention, true to Duke quality a real POS. It does work though but you need to install the correct length of tubing on it when you find the needle position. Fox .35's like to be pretty wet almost flooded when starting.



Posts

: 3582


Join date

: 2012-03-27


Location

: pennsylvania



Gold Member





Posts

: 296


Join date

: 2014-12-23


Age

: 75


Location

: Beaver Falls, PA



Gold Member





Posts

: 296


Join date

: 2014-12-23


Age

: 75


Location

: Beaver Falls, PA





Similar topics
---
Permissions in this forum:
You
cannot
reply to topics in this forum