Cox Engine of The Month
July-2022
Surfer_kris's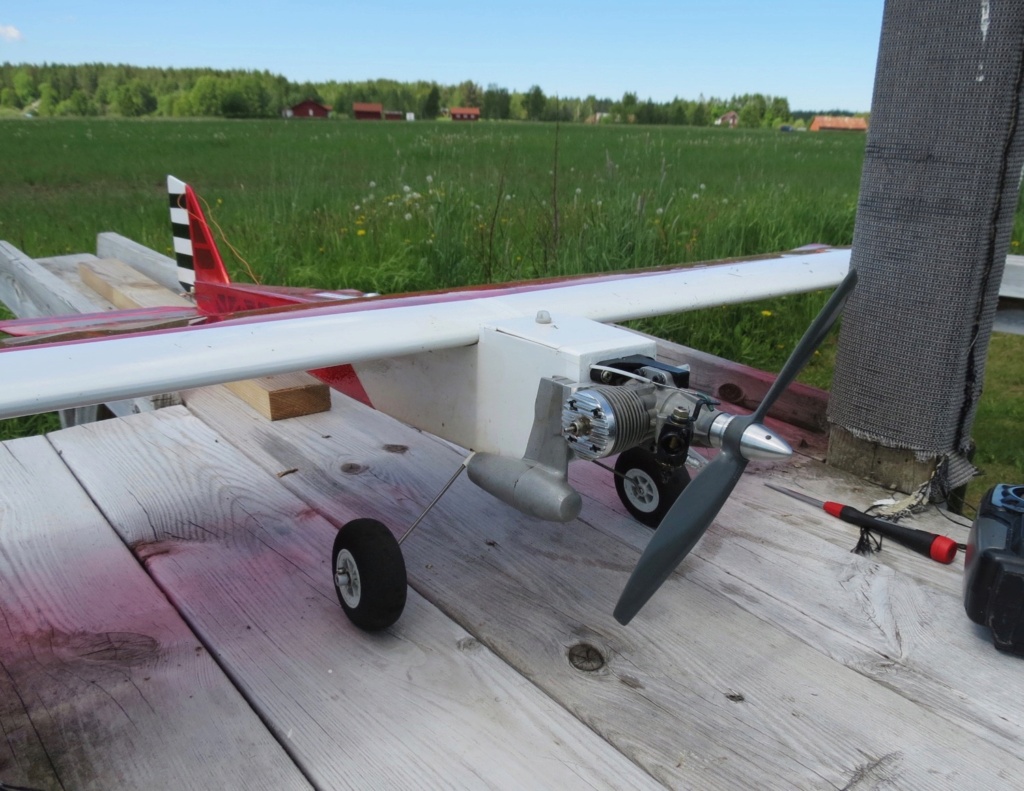 "Summer time!" with a Cox Conquest .15
---

---
PAST WINNERS
I keep finding myself wondering about an engine that Tom Dixon flew back in 1976.  He called it a Cox Stunt Special engine.  I don't know if it was just him, or if it was a popular setup.  I did some searching, and couldn't find any references to it.  I first read about it when I read the article on the 1/2A stunt design Gremlin.  It was in the May '75 issue of Model Builder.  What he calls the "Stunt Special" engine is a TD.049 with a KK fine needle, a Babe Bee cylinder, and a low compression glow head, turning a Cox 6x4 prop on 5% nitro.

Just reading about it tells me it should be a dog.  A TD with a single bypass, no boost, SPI cylinder?  Dog.

With a low compression head?  Doggy dog dog.

Turning a 6x4 prop? Dog dog doggy dog.

On 5% nitro?  Dog dog diggity dog dog.

But the article says it will pull a 12 ounce stunt model on 42 foot lines through the entire stunt pattern.  42 foot lines?  Dog diggity dog dog doggy dog dog.

I just don't see how it can work.  I guess I'll have to build up a "Cox Stunt Special" engine for myself and see what it can do.

The Animal Trainer Mark

batjac

Diamond Member










Posts

: 2102


Join date

: 2013-05-22


Age

: 59


Location

: Broken Arrow, OK, USA



It sounds like the Texaco style but not taken quite as far, i.e. running a larger a prop at lower rpms. In order to run a larger prop you do need a lower compression ratio (just like you would on a diesel engine). The lower rpm also means that the stock intake is large enough as it is, and there will not be any gain from adding SPI to the engine. The fine needle never hurst to have, while the lower nitro level is in line with using the larger prop load (you don't have to reduce the compression ratio as much as you would have to on higher nitro levels).

Surfer_kris

Diamond Member





Posts

: 1848


Join date

: 2010-11-20


Location

: Sweden



Was there any info about the engine rpm?
Maybe that combination works well with medium/low engine speeds that the 4" pitch would still convert to a sufficient thrust?
Edit. The 6" prop has 44% more swept area, probably more efficient too at converting rpm to thrust
Definitely an interesting concept. What kind of stunt ship was this engine mounted on?
Edit. Answering my own question, after paying some more attention to what Mark wrote:
https://outerzone.co.uk/plan_details.asp?ID=4699
Nice looking plane!

KariFS

Diamond Member





Posts

: 1925


Join date

: 2014-10-10


Age

: 50



Don't discount the auld baby bee cylinders. Ae good one frae 1956 ( when Cox Mfg screw machines were new and tolerances were tight) had a piston cylinder fit within one millionths of an inch. These would rival a TD in torque. They had ae parallel bore wi the 1 micron tolerance top tae bottom. The sure starts of today dinnae have the same fits.
  Think of ae TD 049 as ae Ferrari and Tom's engine build, ae Farm truck. The TD wi work well wi ae 5X3 or 5 1/4X4 (17-21K) And the Revs wi be in it's happy zone fae ae perfect torque curve. Lug it down wi a 6X4 on it and it wi sag in the maneuvers and run poorly. Now the de-tuned engine (truck) It is designed tae run slower (13-15K) and the torque curve is as high as the TD only wi ae bigger load (6X4). Try tae tow ae hay wagon loaded wi 2 tonnes ae hay wi a Ferrari, even in first gear ye may no even let the clutch all the way out before ae stall. Now try it wi ae Truck. First gear, wiout touching the accelerator pedal (at curb idle) ye can start moving the wagon wi the clutch 3/4 released. I know these references are exaggerated but the principle is similar.

Scotland421

Silver Member





Posts

: 82


Join date

: 2021-03-07



I got a plane from a swap meet with a TD and the single port cylinder. I was told it had too much power for that plane stock so he detuned it. I didn't give him much for it because I was always in a quest for the twin port cylinders. To be honest, I have not run it, but am sure it would run fine, much like a Medallion. Likely steadier than most reedies. Had the thing for decades, here's a partial pic.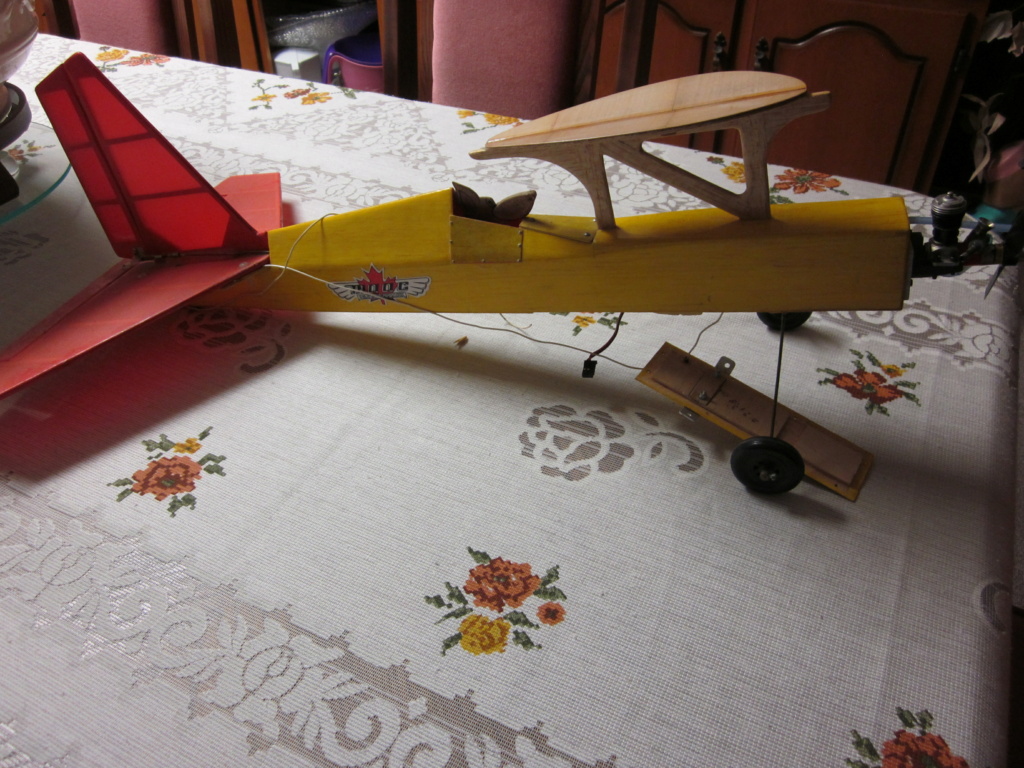 aspeed

Platinum Member





Posts

: 625


Join date

: 2013-01-18


Location

: Leamington Ont. Can.



A stepped cylinder, still in the timeline of good tolerances. The TD crank is what wi make the difference. The medallion has the round valve port wi less advanced timing.

Scotland421

Silver Member





Posts

: 82


Join date

: 2021-03-07



That Gremlin looks pretty nice, especially for something in the 1970's. Last Brodak meet that I went to, the ideas for 1/2A stunt were all over the place. Mostly a Fora revved up with a low pitch to get it slow enough. The regular planes worked well too. Just something steady and not too finicky.

aspeed

Platinum Member





Posts

: 625


Join date

: 2013-01-18


Location

: Leamington Ont. Can.



Mark, you pretty much already know what it's going to do. Your spot on by all accounts and while it will fly the plane, it's not going to be impressive. As for Tom, I can only say I was never impressed with his engine rework on FP .40's . They ran terrible in my opinion but he made substantial power claims. Don't always believe what you read and especially if it was in a modeling magazine.

Ken Cook

Top Poster





Posts

: 4832


Join date

: 2012-03-27


Location

: pennsylvania



---
Permissions in this forum:
You
cannot
reply to topics in this forum