Cox Engine of The Month
September-2021
crankbndr's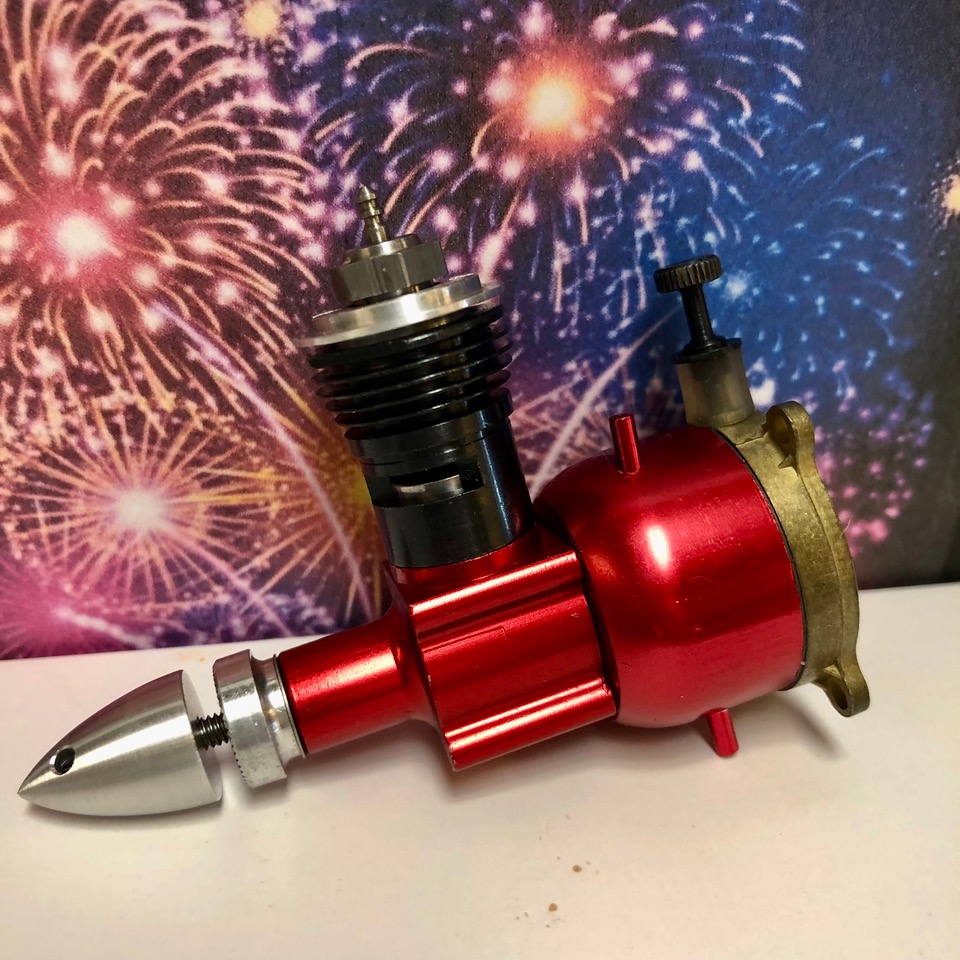 "Cherry Bomb" .051 engine
More info on this engine!
---

---
PAST WINNERS
Anyone ever see one of these fly (or maybe flown one yourself)?  Seems like a pretty crazy setup - you hold a squeeze bulb on the control handle that supplies pneumatic pressure through a long tube to a bellows at the engine, which then swivels baffles in the exhaust and the air intake to control engine speed.  I can't imagine trying to somehow work this effectively while flying ... and that rig!  A flex-tube somehow sent down along the whole length of the control line?  Good luck with that!!! I don't know, maybe I'm wrong and it all worked great - at least must have worked well enough for Jim Walker to mass produce?
I love these kinds of things - pretty interesting in any case.  Unfortunately the squeeze bulb rubber has dried out and the bellows top is gone, but otherwise it is complete and in great shape!
I'd like to hear any other history on this engine if you know it. Thanks in advance!
Tim

twitch

Bronze Member





Posts

: 49


Join date

: 2012-06-25


Age

: 58


Location

: Maryland, USA



The linkage with the exhaust restricter flap and intake choke is pretty standard for throttle control (for the period), but the air actuator is something I've never seen before.

Pretty neat. (I wouldn't really want to try it though)
Phil

pkrankow

Top Poster





Posts

: 3025


Join date

: 2012-10-02


Location

: Ohio



one would think that the drag caused by a thick tube would be off putting ...not to Mencken the tube streaching would decrease the efficiency of the operation...(just my two bob's worth)

ekitten2

Gold Member





Posts

: 335


Join date

: 2011-08-08



about the clamp on the back of the engine!! sme text from 2013 .

getback

Top Poster










Posts

: 8082


Join date

: 2013-01-18


Age

: 64


Location

: julian , NC



---
Permissions in this forum:
You
cannot
reply to topics in this forum