Cox Engine of The Month
March-2019
Jason_WI's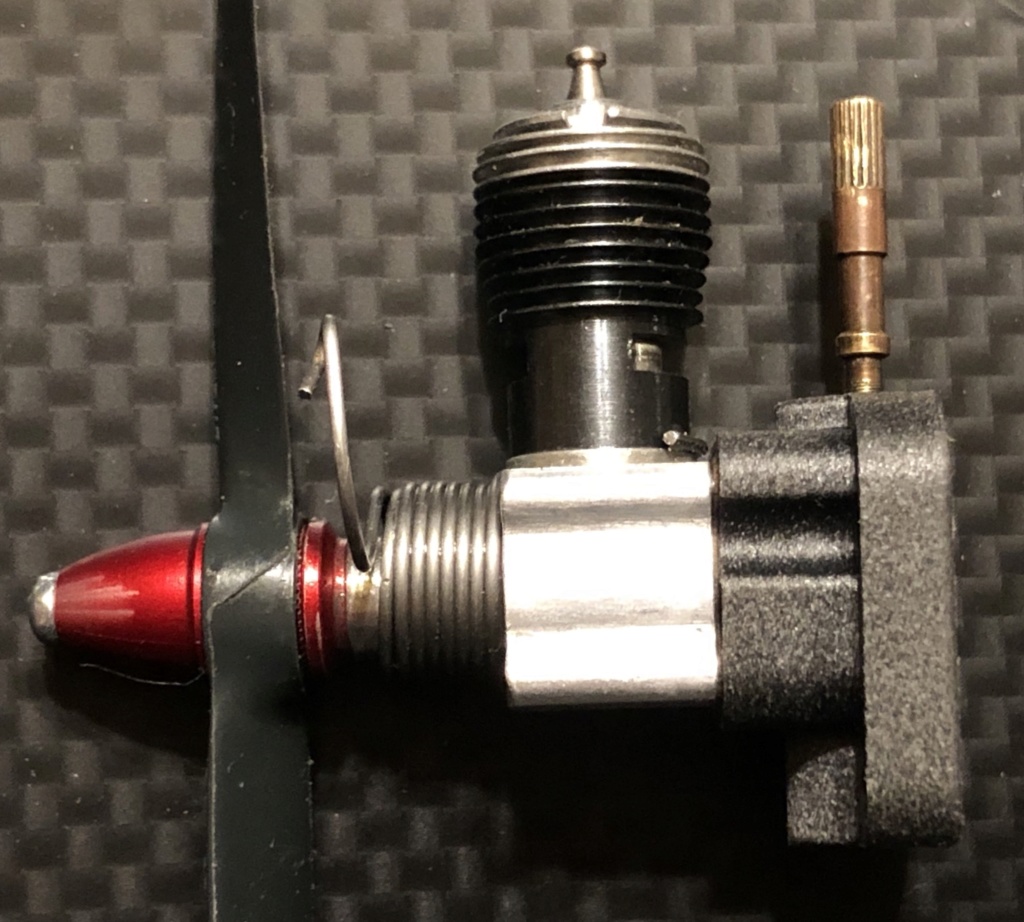 "Cox Pee Wee .020 with 3D printed horseshoe backplate"
More info on this engine!
---
PAST WINNERS

Never could get this puppy to run.

Maybe the cylinder liner had been installed backwards?
Gold Member





Posts

: 213


Join date

: 2013-11-29



3 srews hold the cylinder on a Mccoy. I don't think it can go on backwards due to the way the screw holes are triangulated. I presume your talking the Mccoy red head stunt? Many issues are apparent with these engines. I would highly suggest if all other factors are good, plug, fuel, needle valve not blocked to take a look at the head gasket. The head gasket and the cylinder base gasket were fibre paper. You could remove them both which can be a job in itself if their stuck hard to the surface. I would use high temp Permatex Ultra Copper in place of the new gasket. Replace all head screws using 4-40 socket heads. The 3 longer screws that hold the cylinder in place may need approx 3/32" ground off of them is you use a 1" long screw. The screws that came with the engine are poor quality and will strip out due to not being able to finding a screwdriver that fits them correctly not to mention their dead soft. Doing so will lower the deck height thus raising the compression further. Use Permatex on the backplate making sure the nylon button is in place on the conrod. Ken
Top Poster





Posts

: 3425


Join date

: 2012-03-27


Location

: pennsylvania



There's something going on with 706jim's engine. The Testor McCoy .19 Red Head I have is very easy to start with plenty of power, usually starts within the first several flips. One thing that the instructions state is the needle valve needs to be opened 5 turns. Also, break in prop is an 8x4 or 9x4.

Jim, which McCoy .19 do you have? There were several different models of .19, from the early Duromatic .19's, front and rear rotor venturis, the Red Head, and Series 21 Black Head.

If You got the Red Head, I have the instructions, can E-mail them to you.
Diamond Member





Posts

: 2086


Join date

: 2013-07-13


Age

: 65


Location

: Clovis, New Mexico



Thanks for the offer, but the McCoy is long gone. Sold it to an unsupecting friend back in 1965. I think it had a red cylinder head but don't remember it having a box or instructions. However, if you can email them to me, it would be nostalgic to read them. Being fairly new on this site, did I provide an email? If not I can.
Gold Member





Posts

: 213


Join date

: 2013-11-29



I left you a private message a couple days ago, Jim, I don't have your E_mail address. A scanned image of the Testor McCoy .19 manual may also be had at:
Stunt Hangar - McCoy .19 Engine Instructions Post
If link doesn't work, you may have to register to be a member of stunthanger.com to see, but it's there.
Diamond Member





Posts

: 2086


Join date

: 2013-07-13


Age

: 65


Location

: Clovis, New Mexico





Similar topics
---
Permissions in this forum:
You
cannot
reply to topics in this forum