Cox Engine of The Month
March-2019
Jason_WI's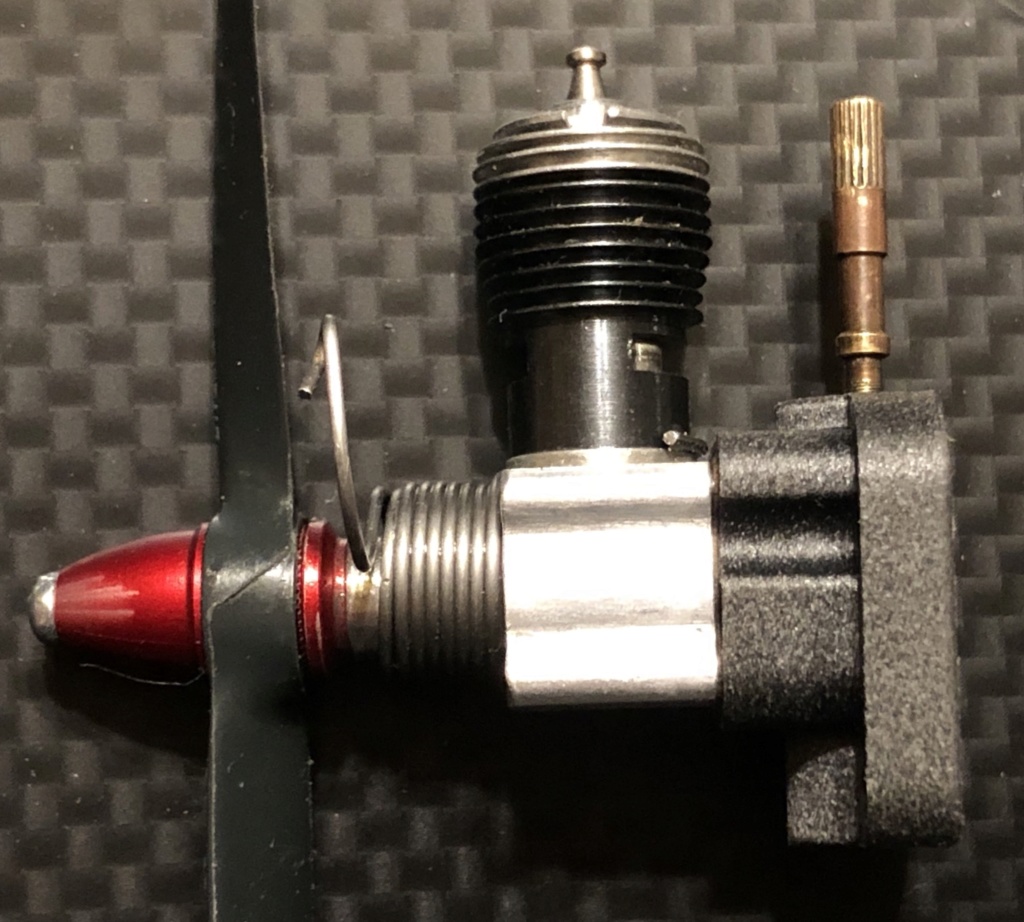 "Cox Pee Wee .020 with 3D printed horseshoe backplate"
More info on this engine!
---
PAST WINNERS

I really like the LA .46 for stunt but have always converted to a conventional needle valve arrangement instead of the stock remote needle unit. I don't think I've ever even RUN an LA with the remote needle.
I was wondering what those of you who have used the remote needle on your stunt ships thought of the arrangement. Are you able to get reliable needle settings and engine runs with it? Any differences in upright vs. inverted, inside vs. outside maneuvers?
I have a few remotes floating around the shop and thought I might try one on something. Could be a good solution to space problems with a tight cowl. Any opinions or comments welcome since I have zero experience with them!
Thanks!
Mike (Roasting in So Cal!
)
Gold Member





Posts

: 103


Join date

: 2014-06-08


Age

: 55


Location

: Vista CA (Near San Diego)



It will run the engine. That's about it. It doesn't work well for stunt for many reasons. The up front conventional needle valve assembly is far superior. For starters it won't work in a full bodied ship at least conventionally speaking and clean looking.
It works on a profile but that's it. There's also a slight delay when setting the needle between the time you turn the needle and get a steady adequate setting. This makes it very problematic in flight. In addition, the fuel wants to siphon back to the tank during startup. This means regardless of just flying the plane, many times you have to open the needle up to get the fuel up to the venturi making your almost perfect needle setting useless. The taper on that needle is also quite abrupt. Just at the time you start getting a good peaked needle, the fuel flow cuts off and goes over lean. The conventional upfront needle doesn't do this and gives you a better setting due to a longer taper on that needle. If you happen to land inverted using the remote needle on a profile, the needle catches the ground and shatters your backplate by breaking it if it's the molded plastic version. OS used a metal bolt on bracket on some of their remote needles. I've requested many times to OS in regards to providing the same threads and needle as the OS #1 A. I get the same response. There not interested at this time as they feel this isn't a issue. I asked for this due to the combat flyers who do use the OS #1A. The #1A doesn't utilize a o-ring like the remote needles do and this would be very beneficial to us who run bladder.

Now if your looking for the best needle and spraybar you will ever purchase and never want to look again, buy a Randy Smith PA needle for that engine and you'll never look back. No needle is superior to that needle currently available. Supertigre needles are a good choice, not free of problems though as they also have some quality issues at times. The collet doesn't always hold the needle adequately. If you can find a NOS Supertigre and not the current Supertigre lookalike. Ken
Top Poster





Posts

: 3425


Join date

: 2012-03-27


Location

: pennsylvania



I haven't used one but have read a couple of respected engine guys' opinions over at Stunt Hangar. They work fine but your tweaks may have a slow or delayed reaction, so be patient adjusting it. And sometimes the fuel will fall back away from the venturi spraybar between priming and flipping which might inspire some cussing. Somewhat fragile, especially on a profile plane, but once set right and flying, they work fine. Or so I hear from those guys. I have heard others cast asparagus on them but no one who I consider an expert.
Rusty

EDIT: And Ken beat me to it with a more comprehensive answer.
Moderator




Posts

: 10692


Join date

: 2011-08-10


Age

: 63


Location

: South Carolina, USA



I can't tell you much about any CL flying, but the beat-to-hell 46 I had on my ugly stik RC trainer had the remote valve. Seemed to work fine for me, until that old engine gave up the ghost.

A couple years later I somehow managed to run an OS .91 off the needle assembly from my 46, since the OS 91 needle assembly was flawed. ( I had an older one, not the "fixed" version) That ran decent, but I ended up switching to a DLE 20 gas engine on that plane after having a solid week of bad performance out of it.

So yeah, it works, at least on the RC side. You need an electric starter for them though, you're gonna be flipping a while since the fuel likes to drain out. With the starter motor you can just put a finger over the muffler exhaust until you see the fuel go through the line into the carb body/whatever you CL guys have.
Gold Member





Posts

: 141


Join date

: 2012-07-18


Age

: 19


Location

: Fl, USA



This is my setup:
I flipped the bracket to run the line over the top of the motor and create an elbow that helps prevent fuel siphoning back to the tank. Muffler pressure plumbed to the uniflow line. I'm far from an expert but it doesn't miss a beat on any maneuver I put it through.
Jim
Diamond Member





Posts

: 1962


Join date

: 2011-12-02


Age

: 51


Location

: Phoenix



There are apparently 2 different remote nva from OS. One has an O-ring, and is merely disrespected, the other, older version, does not have an O-ring and is the legitimate source of the said disrespect.

The standard venturi mounted NVA spray bar has a faster response time, and is less prone to siphoning, but from everything else I have read and experienced the remote NVA, assuming it is not leaking, is a worthy device that receives more disrespect than it deserves.

If the run is short enough then the siphoning is little problem because a bark on prime is enough to draw the fuel into the spray bar. Pinching either the vent or the feed line is all it takes to stop the siphon anyways.

Now, the plastic back plate with integrated remote NVA...That suffers from being fixed in a position that is not helpful on a profile model, with no alternate position available (interference), and is relatively easy to snap off in addition to the already mentioned delayed response to needle settings and siphoning.

So YES a NVA spray bar as used for decades by everybody is the superior arrangement, however the modern, properly sealed remote NVA has an undeserved bad rep.

Phil
Diamond Member





Posts

: 2980


Join date

: 2012-10-02


Location

: Ohio



I have a .25 LA-S (now converted to R/C) with a Remote Needle Valve that I used on a Flite Streak and it performed great. No hick-ups when transitioning to or flying inverted and overhead. Unfortunately, my Flite Streak took a dirt nap so I traded the carb on my LA .40 R/C w/ RNV. for the venturi on my .25 so I could power my Nobler. Although, I have yet to fly the Nobler, the .40 runs great statically and is a breeze to start for being mounted inverted. As mentioned in a previous post, needle adjustments are not instantaneous with the RNV so just make small adjustments.

Shawn
Platinum Member





Posts

: 640


Join date

: 2012-04-07


Location

: Southern Maryland




---
Permissions in this forum:
You
cannot
reply to topics in this forum