Cox Engine of The Month
September-2023
balogh's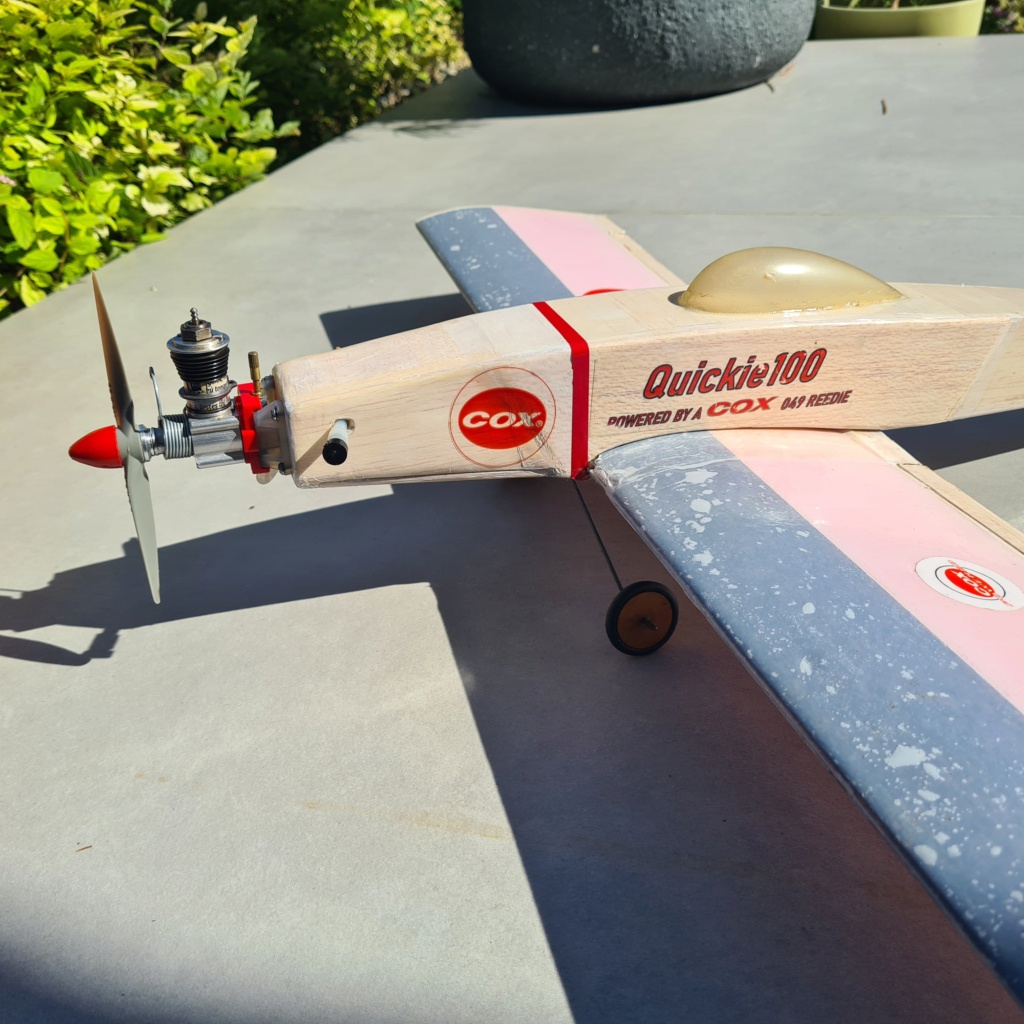 "Beefed up old stock 290 on my Quickie100 RC after plenty of airtime hours..."
---

---
PAST WINNERS
Well, I finally got around to firing up my recently (ebay) aquired Cub .149. I know, I should be preparing something for Tach Race, but one thing at a time.
I asked over at 049 collectors if anyone knew much about these and got mixed results. Clearly some have had bad experiences with them.
On closer inspection, the engine appears virtually new and compression felt excellent. There's been a mixed response to these engines, so I guess I didn't go into the test with any pre-conceptions. I mounted it up to my test stand with a Taipan 8X4 attached and "home brew" 5% nitro, 20% caster fuel. Due to numerous warnings about the finger biting nature of these engines I opted for the starter.
The engine fired up easily but demonstrated the typical "fussy needle" associated with the blunt Cub needles. I set it slightly rich from peak and tached it at 11,900 rpm. I ran out the small tank, (which didn't last more than a couple of minutes- this thing guzzles) and as it cooled a bit I swapped to a master Airscrew 7X4, which is more in keeping with what people recommend. Once again it fired up easily and settled to a steady 13,500 rpm. I'll give the engine some more test cycling but my initial reaction is that I'm very impressed given the poor experience that some have obviously had. Apart from the very loud bark and high fuel consumption, I think this engine would perform quite adequately in an era-appropriate model.
Rod.

Oldenginerod

Top Poster





Posts

: 3869


Join date

: 2012-06-15


Age

: 60


Location

: Drouin, Victoria



I'm fond of the .149. Not very popular in terms of OK engines. It certainly is very loud. The needle is lacking in every way conceivable. I personally feel a lot more rpm's can be had if a decent needle is used. I feel two of these are the perfect engines for the Sterling P-38 due to their weight and power. I never was much of a fan of the screw to retain the prop, but that's easily fixed. Ken

Ken Cook

Top Poster





Posts

: 5258


Join date

: 2012-03-27


Location

: pennsylvania



Gave the Cub another run today.  With the same 7X4 prop but with 25% nitro fuel this time (I ran out of the 5%) it pulled a really steady 15,420 rpm on my tach.  Ran up a Cub .099 I also aquired recently and it pulled just over 13,000 with a "Texaco" 8X4 Cox grey.  Also managed to get a my first good run out of a Cub .049 original long stroke.  I have 3 and could never get 2 of them to run, but tried this one for the first time since getting it on ebay a few weeks ago & it sang sweetly pushing about 12,000 on a 6X3.
I know I should have been testing my mouse engine, but today was an all Cub day.

Oldenginerod

Top Poster





Posts

: 3869


Join date

: 2012-06-15


Age

: 60


Location

: Drouin, Victoria



Hi Rod,  
I joined the .149 club yesterday, your's sounds much nicer but maybe this one will clean-up.
http://www.ebay.com/itm/OK-Cub-149-Control-Line-and-Freeflight-Model-Airplane-Engine-/221627519775?ssPageName=ADME:B:EOIBSA:US:1120
We will have to compare notes when the weather warms.  First day of winter today and the shortest day of the year so it could be awhile.  

rsv1cox

Top Poster












Posts

: 9721


Join date

: 2014-08-18


Location

: West Virginia



---
Permissions in this forum:
You
cannot
reply to topics in this forum