Cox Engine of The Month
May-2019
Tee Bee's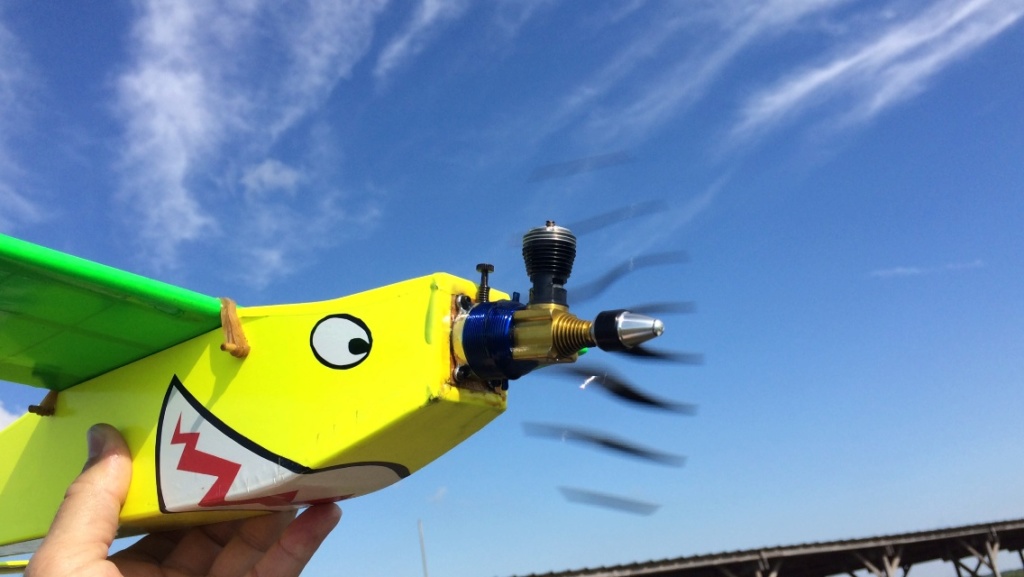 "This RR1 was restored for all the right reasons"
---
PAST WINNERS

Hi all,
New to the forum and Cox engines and if possible I am after some expert help. I'm a collector of all things vintage nitro based in the UK and recently picked up a Cox 0.49 Stocker. Its the newer version, kit number 9160 circa 1990.
I am going to fully restore the car for my collection but need some help with the engine parts. I didn't get a manual but the downloaded one doesn't give me any help with the parts breakdown of the engine.
I need a new cylinder and piston and there seems to be a lot of 0.49 variants about. Can anybody help with advice on the engine model fitted and or a manual?
Will get some pictures of the finished article soon but this is how she came to me:
http://www.tamiyaclub.com/showroom_model.asp?cid=121715&sid=4
Thanks for your help in advance
Adam
New Member





Posts

: 2


Join date

: 2013-12-22



G'day from OZ Adam. Glad you could join us. There's folks here who will be able to give you far better advice than me, but can I suggest that you contact Cox International
http://coxengines.ca/
or Ex Model Engines
http://www.exmodelengines.com/
They should be able to help with a suitable cylinder/piston. Have a close look at the cylinder and see if there is a number stamped on it. It will be either below an exhaust port or on the flat section on the inside of an exhaust port, right hand side generally. Most car engines I believe only had a single by-pass port in the cylinder and did not have sub piston induction because they used a muffler. A good look inside the cylinder should tell you if it's single port and if you look into the exhaust port while held up to the light while turning it past top dead centre you should not see any light below the piston skirt. This is all assuming it has its original engine or cylinder. Finding out the exact engine configuration for this particular model may prove difficult, but if anyone can help, the folk on this forum should be your best shot.
Cheers.
Rod.
Diamond Member





Posts

: 2474


Join date

: 2012-06-15


Age

: 56


Location

: Victoria, Australia



I don't know how much help this will be.. but here's some part#'s from a 1991 Cox list I dug up.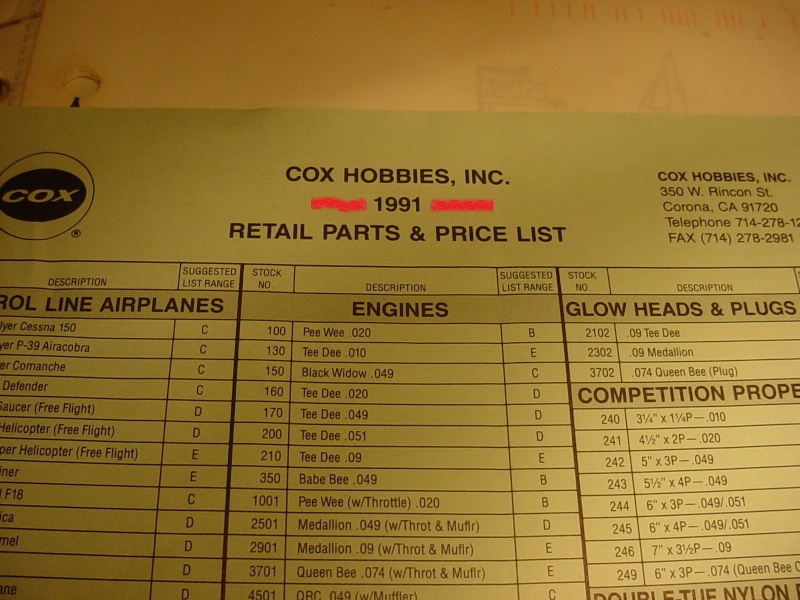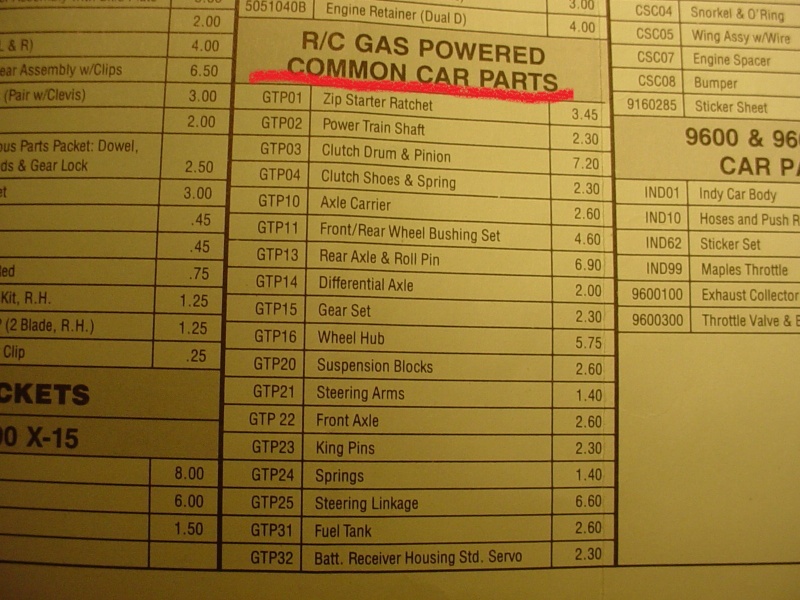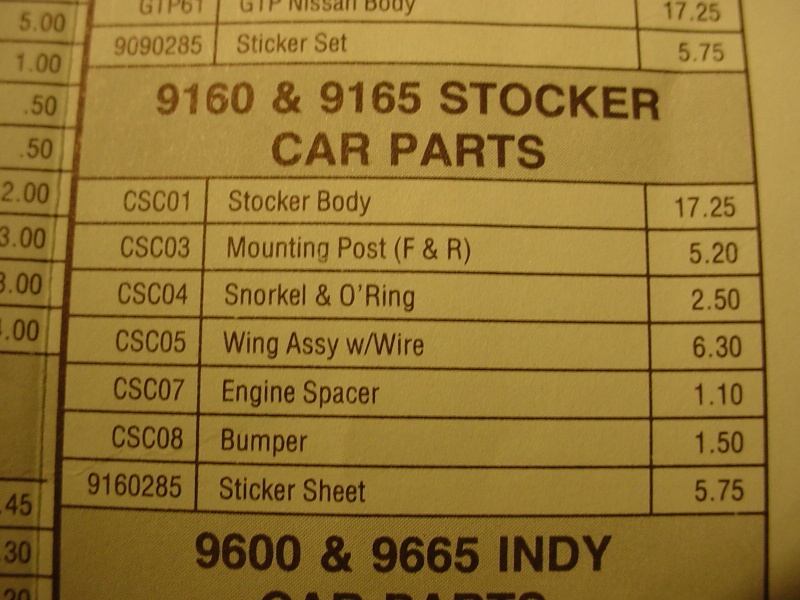 Top Poster





Posts

: 6425


Join date

: 2013-07-17


Age

: 59


Location

: N. Smithfield, Rhode Island



Did you download the manual
here
yet?
Since it uses a throttle ring, you're going to need a ground cylinder where the blued (black colored) finish was ground off. The manual calls for a 1477 piston/cylinder assembly and this seems the closest you're going to get to that
http://www.exmodelengines.com/product.php?productid=17765&cat=267&page=2
The guy you're going to want to talk to around here is Jason_WI, he's our GTP Nissan, Stocker, Indy... guy.
Last edited by Admin on Sun Feb 15, 2015 3:32 am; edited 1 time in total (Reason for editing : spelling error)
_________________
-Jacob
Rules
|
FAQ
|
Contact the Admin
|
Donate
|
Suggest a Feature

Administrator




Posts

: 4907


Join date

: 2010-07-27


Location

: Roseville, Minnesota



My 1992 Cox parts listing has a better breakdown of engine parts.. and indeed lists the piston/cylinder set as #1477 for the "Throttle Muffler" equipped (engine #24909). If by chance you have a "Maples" equipped throttle, then the piston/cylinder set is #1472.. and the complete replacement engine carries the #24910.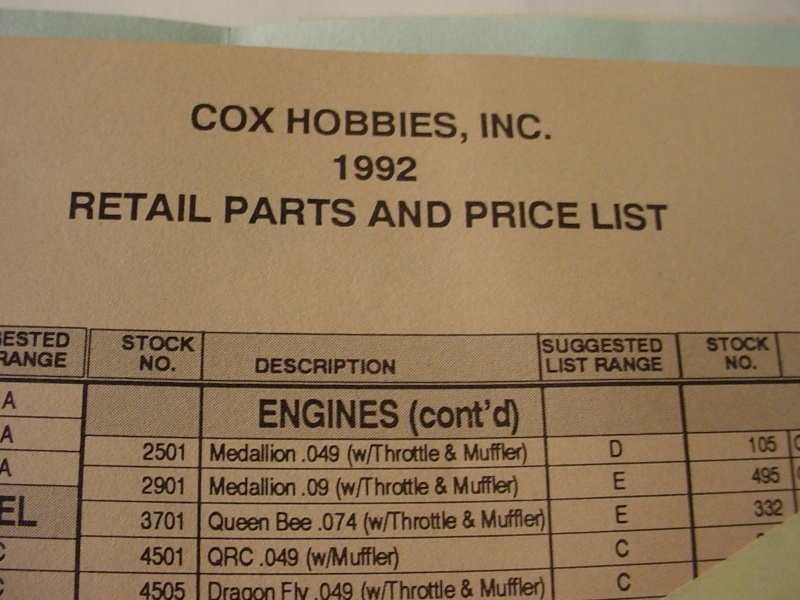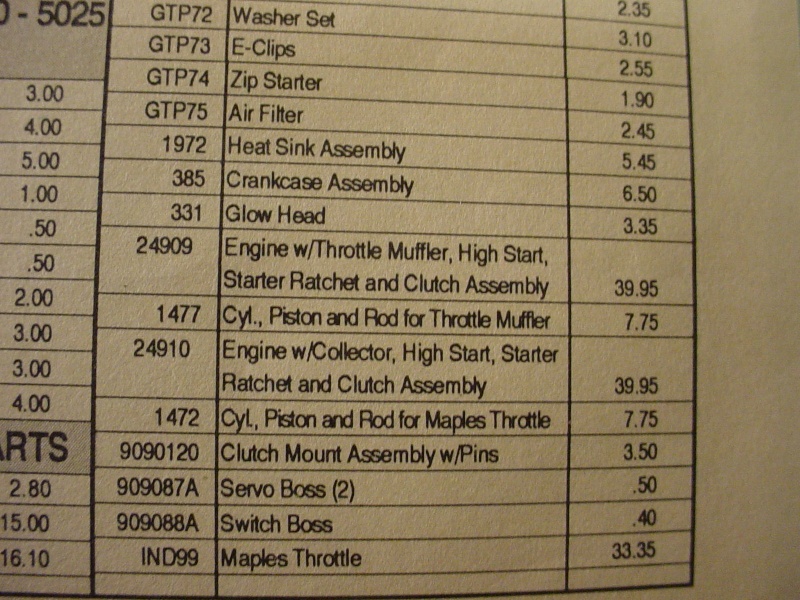 Top Poster





Posts

: 6425


Join date

: 2013-07-17


Age

: 59


Location

: N. Smithfield, Rhode Island



Thanks all.

Exactly what I needed. It doesn't have the Maples throttle fitted, would love to get one actually but that wont be easy. The parts breakdown has exactly what I need to get the engine up and running again.
New Member





Posts

: 2


Join date

: 2013-12-22





Similar topics
---
Permissions in this forum:
You
cannot
reply to topics in this forum