Cox Engine of The Month
November-2017
MauricioB's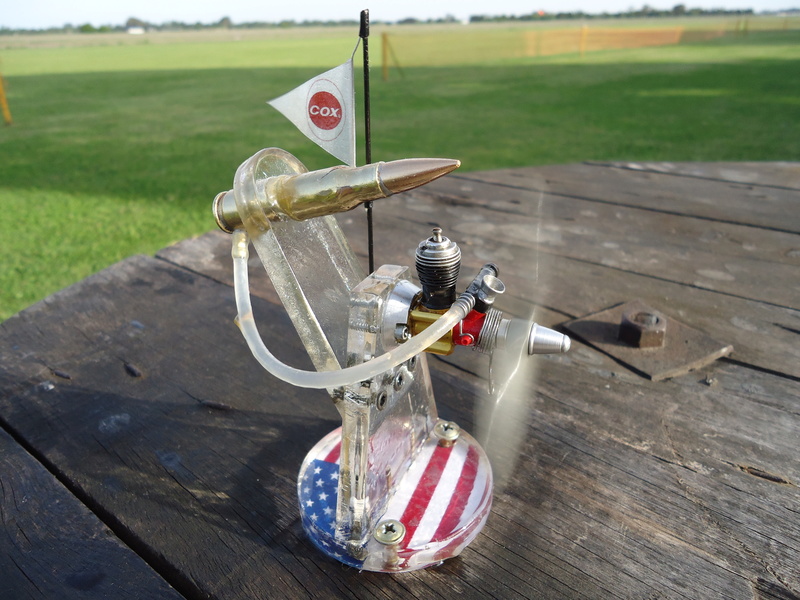 "Cox Tee Dee .010"
---
PAST WINNERS
Not a cloud in the sky, not a single one all day, and temps in the low 70s. My mission, as has been stated in other threads by me lately, was to get my fuel, needle and launch protocol figured out for both contest planes. That would be the Oriental and the Cardinal. So Wayne, Bob and I descended upon Fort Jackson today to deny a cool steady 15 mph Nor'Easter from keeping us down. Crystal clear blue sky, and the wind was coming clean off the flatlands that some call the Beach and others call the Desert. We pointed and laughed at menacing sand devils crossing the runway vying for our wary attention, hats blowing off our heads bouncing away like tumble weeds, whiile we fired up our engines in defiance. It was time to take control of these Nationwide April winds that have grounded pilots of meeker dispositions and splintered the ships of the bold. It was a brave mission indeed.

That's us!
We expected to have to mow the grass, but Happy Gilmore, our Jackson Flyers Association above-the-call grounds officer, had mowed a 200 foot circle around where we like to paint our center spot. Without even knowing if we were coming out or not. It's an RC club and he mowed a circle on the runway, how cool is that! Anyway, I had a new untested clunk tank on the Cardinal, and all I needed was to time an engine run and figure my fuel load. After cranking, unexpected needling, and launching the first flight, it was powering through the pattern pretty well until it started losing power causing me to trot backwards on every upwind pass, and finally shut off with half a tank still on-board. After a visit to the pits to flush the NVA and filter, it still had a strange needle setting at 2-1/2 or so turns, but ran fine like that for the rest of the flight. Maybe the fuel draw is that much easier with this new tank, with tongue muffler pressure to the overflow vent. I successfully did some survival style patterns, getting blown out of only two maneuvers over four flights, recovering and redoing them, and still having five laps after the Clover, and brought it home with nary a scratch. So the Cardinal has earned a spot as my Number 1 contest plane.
The Oriental with it's newly Z-worked fp.40 head(to cure the runaway) also performed well enough to earn a spot as backup to the Cardinal. I'll get another couple of practice flights to re-bond with it(not having been seriously flown since August) either at home, or Friday afternoon in Huntersville in two weeks. Same goes for the Cardinal. I'm feeling cautiously good, but that unusual needle setting on the LA.46 is nagging me a little.
Wayne brought his self-designed hybrid stunter, the Intermediate Death Star, or IDS. LA.46 on it also, with a 4-1/2 oz. chicken hopper tank. What a brute! It powers through the wind solid as can be. I got a few pictures in it, which you'll see in the slideshow/video below preceding Bob's flight of the Icarus Junior. Bob described its engine on Stunthangar in my report two Sundays ago as follows:
Bob Zambelli wrote:Regarding the Icarus Jr, it is, as I recall, a late 40s/early 50s design by John Coasby from Great Britain.
Mine is powered as was the original by an ETA 29 rear rotor speed engine.
It turns a Top Flite 10-6 wooden prop at around 11,000 RPM on 10-22 50/50 fuel.
I feel that in the right hands, this combination could be a top competitor in Old Time Stunt.
It does fly fast - around 80 MPH.
Here is a picture I took of it on that Sunday at his neighborhood airstrip.
So enough talk, here's some entertainment for your viewing pleasure, featuring Wayne's IDS and Bob ripping up the sky with the Icarus. This is Bob's idea of how an OTS pattern should be flown, with the addition of some of his own personal style points.
https://youtu.be/IbGbFdm5oJU
Hope y'all enjoyed my flight report this week.
Now, go fly!
Rusty
Moderator




Posts

: 10444


Join date

: 2011-08-10


Age

: 61


Location

: South Carolina, USA



You guy are the Bomb!! , Damn that plane fly's fast for stunt and what's that little S he does when coming down to level out ? Almost sprayed coffee when you said Happy Gilmore had mowed the RC boys field in a Circle

That is cool . Glad things are working out with your contest planes and you , it has been some nice weather around here too and need to do some flying before it gets too hot . After this weekend my field will be free of a fire pit w/ rocks and picnic table

Did you get your fuel figured out even with the wind and having to come out of some maneuvers early ? Thanks for the report . Eric
Top Poster





Posts

: 4311


Join date

: 2013-01-18


Age

: 60


Location

: julian, n.c.



Hi Eric, yep got everything in order. One more day to prove it would be nice though.
That "S" is the OTS pattern's "Climb and Dive" maneuver I don't know how the judges can keep up with him Lol. Happy Gilmore, he's quite a character. And a good RC pilot.
Rusty
Moderator




Posts

: 10444


Join date

: 2011-08-10


Age

: 61


Location

: South Carolina, USA



Cool I just had to look it up ,
http://www.bjm-home.com/BJMEnterprises/page39.html
 interesting !! Eric
Top Poster





Posts

: 4311


Join date

: 2013-01-18


Age

: 60


Location

: julian, n.c.




Similar topics
---
Permissions in this forum:
You
cannot
reply to topics in this forum