Cox Engine of The Month
March-2023
rdw777's
"Cox .020 w/Homemade Throttle - Pageboy"
---

---
PAST WINNERS
Page 2 of 2 •
1, 2
Wow so simple! I was digging and found a one hole bar on another stamp engine I had from eBay so ill just use the one hole like yours..I just received my turbo head and radial backplate from Kamtechnik what heat range plug do you run with SIG 35%?? How many shims? What prop? Lolz so many questions.. Hoping on some lil Hackers from a friend that has known Phil for 40+ yrs..he and Phil talked last week and I'm hoping he has better luck than when I tried .. Doggone I just want to get setup with some cheap foamies for bashing this spring..If I get one or two ill be all over you on the proper build.. Poor Phil I'd almost drive down if I knew.I could buy a bunch of stuff. What wing you got the Norvel hung on in the pic??looks sweet!
Last edited by Michpatriot on Sat Mar 04, 2023 9:04 pm; edited 1 time in total

Michpatriot

Gold Member





Posts

: 157


Join date

: 2023-01-12



Then there's this..but I wanna bash foamies first cause these are hard to come by..got two more new ones coming but now need a LA to learn with..Been flying 3D profile R\C nitro and electric with a bit of combat thrown in for past 25 yrs but haven't touched a C\L handle since my youth..its gonna rain balsa confetti lolz..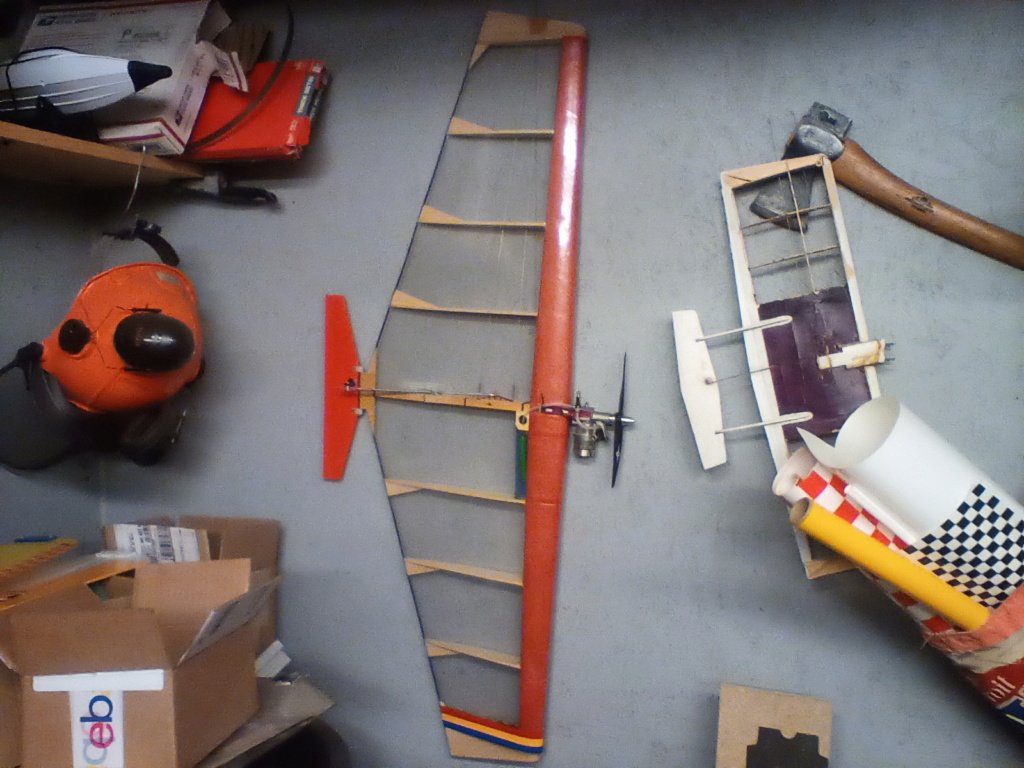 Michpatriot

Gold Member





Posts

: 157


Join date

: 2023-01-12



Michpatriot wrote:Well fellas the little Norvel got taken all apart, inspected, cleaned, oiled and reassembled.. All looked good, crank coasted with a prop, not too tight..so today the break in started..with the head off I oiled the cylinder, used a heat gun to relax the pinch, and used the hornet for spinning it up, 6-8second bursts on the starter, then re-oil, repeat making sure the crank had oil behind the prop hub thrust area. Then doused cylinder with Brodak's 15% fuel and spun it with the Hornet starter a couple times. I then reassembled it with the 3 shims it came from the factory with..mounted a 6-3 Cox grey prop and setup the muffler pressure and fuel line connected to a 4oz tank. It fired easily and initially ran at 17 thousand.. Needle was sketchy at first (as to be expected) but after 2oz ran acceptable.. I ran 2oz at a time letting it cool and re-heat-cycle..getting a few hundred RPMs gain every so often..it stayed well below the 250° heat crayon I used to check the head with(old school) I noticed a funny thing, when running needled for top attainable rpm, resting a finger on the needle would gain a few hundred rpm, take your finger off and loose them rpm..but try to needle the rpm and it wouldn't maintain..so I alternated resting my finger on the needle and coaxed the rpm..then after a oz or so of fuel run this way the needle would then be allowed to get the rpm attained by holding a finger on the needle..funny it wanted me to hold its hand with every step LOL! After a pint of off and on running, I switched to a 6-2 APC and gained a bit of rpm now it'll run at 20,600.. I got it to hand flip start.. with a five flip carb covered prime..its getting a bit easier to flip the prop now as long as you don't flip real slow to find the pinch..
Happy camper so far..
Joel
Hello!, congratulations on the start.
It seems that you have used the method of the videos! I am very glad, you are going to enjoy your Norvel very much!
Now another IMPORTANT recommendation that I make to you: for whatever reason, if you come to disassemble the engine, you must mark the piston, so that when you assemble it again you can put it back as it was, this is very important, because you have seated the sleeve and the piston , brothers, it goes forever in the same position, you must never turn it, you understand me?
Regarding the movement of the needle, it is normal for it to happen, since the boys have already recommended how to prevent it from moving involuntarily.
Congratulations again!

MauricioB

Top Poster





Posts

: 3330


Join date

: 2016-02-16


Age

: 51


Location

: ARG



Thank you for the tip..I did this even when first disassembled even though it had never run, but it was put back how it was..details I may not know like connecting rod oil hole placement..

Michpatriot

Gold Member





Posts

: 157


Join date

: 2023-01-12



I can say my experience with the Big Mig for combat has been a lot more positive than the AME version which was designed for the event. The AME ports are extremely large and I've found the need to run higher nitro due to this. I feel it cools off the plug too much. The Big Mig tends to do a little better in prop width vs the AME. The AME turns up a little more rpm's but overall the Big Mig on 10% fuel is terrific. It offers economy and good power. I'm at a advantage to some as I fly at sea level, our field elevation is 20 ft above sea level . For those higher in elevation, you will certainly need to increase the nitro.

For combat use, I use the black 5x3 props and I cut them down to 3 7/8" and no larger than 4 3/8". I keep a variety of in betweeners. I paint the tips to indicate prop width. APC props are a good choice but they break very easy if your not careful. They also require a bushing to fit the large hole in the prop center hub. 10%nitro works fine for knocking around but you can raise the nitro a fair amount as much as 65% which I've done. I had one of these outrunning the high performance ball bearing engines.

The stock Norvel plugs are generally short lived, I use them on break in and a gauge when it blows to let me know the engine is getting close to break in.

Ken Cook

Top Poster





Posts

: 5105


Join date

: 2012-03-27


Location

: pennsylvania



Page 2 of 2 •
1, 2
---
Permissions in this forum:
You
cannot
reply to topics in this forum