Cox Engine of The Month
September-2023
balogh's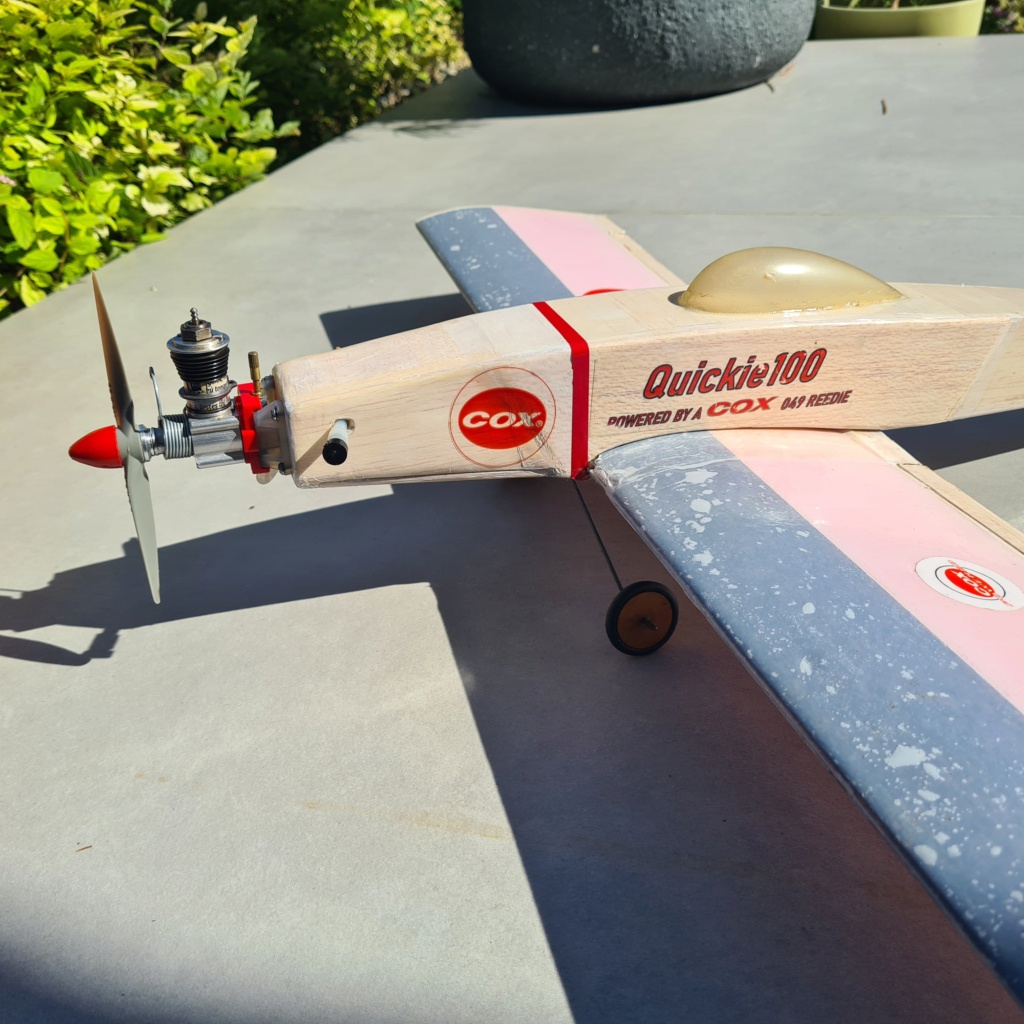 "Beefed up old stock 290 on my Quickie100 RC after plenty of airtime hours..."
---

---
PAST WINNERS
Page 4 of 4 •
1, 2, 3, 4
Scepter flight mentioned 0.11hp for the 09 and I think around 0.23 for the steel fin 15 so I'd say about double the power. Plus the 15 was happy on an 8x4 while 7x3 or 7x4 was about the best the 09 could swing (unless you count the time I drilled a hole in a 12" ruler and bolted THAT to the 09 for a test run). I still have the 15 and recall that I had a devil of a time getting it to start until it was broken in. I did use it on some sort of gifted two channel R/C plane years later using a 9x4 and I'll concur that it was pretty gutless swinging that prop. Duke Fox stated in the instructions that came with the engine that it had "the same sort of power output as a typical washing machine motor" (obviously at different rpm's). I wish I had kept my 09 even though it was pretty well worn out. I was drawn to it as a first engine by its promise of easy starting (actually true) and the fact that the needle valve was a safe distance from the propeller and finally by it's space age appearance in the M.A.N. ad. Boy it sure never looked like THAT out of the box! And disappointed that the included black neoprene fuel line just poked through a hole in the rear of the crankcase casting where the tiny fuel tank was located. Certainly not as refined looking as a Babe Bee.

706jim

Gold Member





Posts

: 411


Join date

: 2013-11-29



I accept H.R. Warring's 1959 BHP of 0.218 of the steel fin Fox .15 over the other article with a slightly higher number, because the author did not state the fuel he was using. Yes power is double that of the Rocket .09 engine.
I equate the power of the Rocket .09 to that of the 1950 Duromatic McCoy "9" (0.098 C.I. displacement) because its RPM numbers given props (Testor's 7x3, 12,200; Tornado 7-4, 11,200) was similar to the Rocket. (Engine article gave only RPM numbers, no thrust tests for BHP.) This was on the nitro level of Testor's "39" fuel, appears to be 5%. Power would be understated for the .15, because the Rocket .09 was tested with 20% nitro fuel, so power of the .15 steel fin is easily over double that of the Rocket .09.
https://www.rcgroups.com/forums/showthread.php?1737999-Testor-s-Fuel#post22811833
Hal DeBolt's 26 inch wingspan All American is 150 sq. in. wing area. Then it was one of the optimal engines for this aircraft. Thus I gathered that the Fox .09 Rocket would be a shoe-in for this aircraft and similar aircraft of say, 140 to 150 sq. in. wing area. This would include the Dumas half-A Tomahawk II profile C/L and my Scientific 25 in. wingspan Kit S116-198, Cessna 170 profile.

GallopingGhostler

Top Poster








Posts

: 4799


Join date

: 2013-07-13


Age

: 69


Location

: Clovis, NM, USA



Peter Chinn found  ~0.11 BHP @ 14,000rpm -using a 20% nitro blend when he tested the Fox 09 for 'Model Aircraft'-the test appeared in the May 1960 issue. This would put it roughly on par with the OS Pet-II's performance....[but interestingly both he and Ron Warring found the earlier Pet model (ie the original Pet)to have slightly higher performance on test].....and likewise he noted that a light 7x3 seemed to be well matched (allowing for unloading in the air) to the engine's BHP peak.

In light of that I think a modern Master 7x3 would be a good match-whereas an APC 7x3 would probably be a little too much load for the Fox...

ChrisM
'ffkiwi'

ffkiwi

Gold Member





Posts

: 307


Join date

: 2018-07-10


Location

: Wellington, NZ



Page 4 of 4 •
1, 2, 3, 4
Similar topics
---
Permissions in this forum:
You
cannot
reply to topics in this forum