Cox Engine of The Month
September-2023
balogh's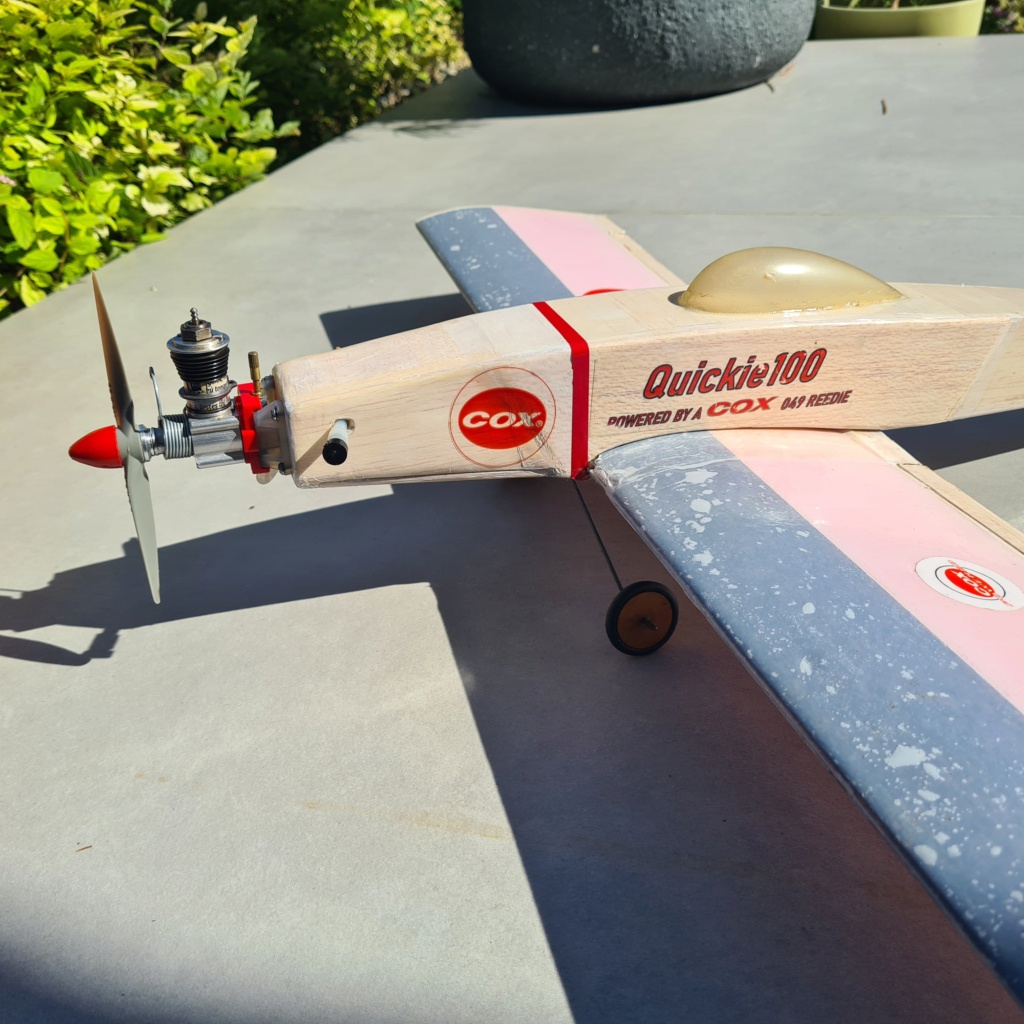 "Beefed up old stock 290 on my Quickie100 RC after plenty of airtime hours..."
---

---
PAST WINNERS
Page 5 of 5 •
1, 2, 3, 4, 5
Admin wrote:

With special thanks to Bernie from Cox International and Jason Birnschein (Jason-WI), we are proud to introduce the long awaited Traveling Engine! Just like the Traveling Prop, this engine will be passed from member to member eventually traveling around the world.

The engine we are using is the

Tee Dee .049 engine that was once encased in a block of Lucite

. Thanks to Jason, with a good cleaning and some new parts, the engine is ready for its trip.

Since we are dealing with more than a $2 propeller here, there are a little more stricter requirements than the Traveling Prop. Unfortunately, I will not make exceptions to the requirements.

Member Requirements:

• Must have been a

member for at least 3 months

(If you just joined, you'll have to wait)

• Must be a

Silver Member or higher

(60 posts or more)

• Must have a

positive reputation

• Must have the

knowledge

to properly mount, run and clean the engine and accessories

• Must be able to

check your mail daily

and

be able to repack and ship a package

• Must have the

supplies

(proper fuel, 1.5v power source, glow head clip) NO ELECTRIC STARTERS!

• Must have a

camera

and a

way to upload the pictures

to the forum

What is inside the special storage case:

• Complete Cox Tee Dee .049 Engine

• Copy of Tee Dee .049 Engine Manual

• Test Stand with Mounting Bolts

• Beam Mount with Screws

• Wrench Set

• Two Spare Glow Heads

• Ten Spare Copper Gaskets

• Two Spare Carb Bodies

• Spare Spinner with 3 Spare Screws

• Two Yellow Safety Tip 5x3 Propeller

• Two Gray 5x3 Competition Propellers

• Two Black 6x3 Propellers

• Signature Notebook

What to do:

Members who receive the engine are to remove the engine and accessories from its case, take a picture of it (running or not), mount it and run it (and or fly it), clean it thoroughly, sign the little signature notebook, repackage it and its accessories and send it off to the next person. Members can either take a picture of the engine just sitting somewhere (such as sitting in a collection), mount it on its test stand, on its beam mount, on a plane, on a plane in the air, or photograph it wherever. A video of the engine being ran or on a model would be great but is not required. Members are strongly encouraged to mount and run the engine. If for some reason a member can't run the engine (because something came up, the proper supplies are not available...), it would be alright if a simple unpacking is done, play with the engine a little, take a picture and sign the notebook. Members are to have the engine no longer than 2 weeks to keep it moving from person to person.

How to Enter:

If you meet the requirements, you may post a reply below with your

city, state or province and country

. Do not post any personal information such as personal phone numbers or full addresses.

Unlike the Traveling Prop, there will be no set signup deadline. While a deadline will eventually come, the engine will not have to wait until a full list of members have signed up.

Once we get enough people signed up, the engine will be sent out on its way.
SALUDOS DES IRAPUATO, GTO. MÉX.
Last edited by CARLOS E on Thu Aug 31, 2023 6:03 pm; edited 1 time in total (Reason for editing : INFORMACIÓN)

CARLOS E

New Member





Posts

: 1


Join date

: 2023-08-09



CARLOS E wrote:
SALUDOS DES IRAPUATO, GTO. MÉX.
Hola Carlos,
Bienvenido a la Cox Engine Forum.
It's been awhile since the Traveling Tee Dee .049 has been last passed around. I believe Jason_WI currently has it.
Stick around and make yourself known here on the forum and maybe someday you can take part in this Traveling Engine or a future Traveling Engine.
_________________
-Jacob
Rules
|
FAQ
|
Contact the Admin
|
Donate
|
Suggest a Feature

Page 5 of 5 •
1, 2, 3, 4, 5
---
Permissions in this forum:
You
cannot
reply to topics in this forum