Cox Engine of The Month
March-2019
Jason_WI's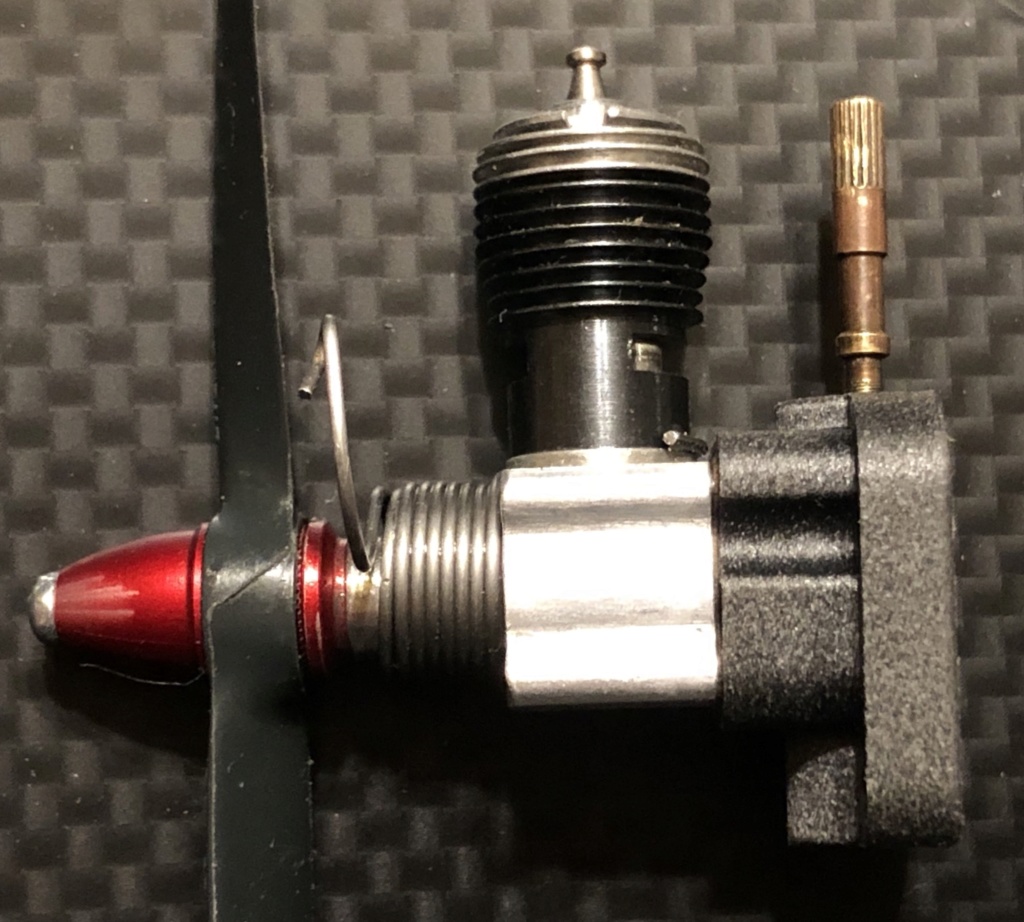 "Cox Pee Wee .020 with 3D printed horseshoe backplate"
More info on this engine!
---
PAST WINNERS

Jeffery Rein and a few others up in Pacific Northwest are asking Henry Nelson to make a new batch of his .36 combat engine
The group is taking pre orders and need to get 50 engines spoken for (23 are currently reserved)
This is a very powerful 8.5 oz combat engine that most of the pilots at the Bladder Grabber event use. There are some who are very competitive with FORA 36s
I asked Jeffery if I could post this and he said yes please spread the word
They are relatively expensive engines, we are estimating in the $350 +/- range
If you are interested please contact Jeffery Rein at
jeffrey_a_rein@yahoo.com
Man, Fred you da man with connections. That was you that spent some time with Jeff Dawson last year too, if I recall. I hope you finally get outfitted like you want. I watched a Nelson 40something in a carrier plane fly last weekend. Fast loud and scary.
Rusty
Moderator




Posts

: 10692


Join date

: 2011-08-10


Age

: 63


Location

: South Carolina, USA



Rusty...If the freaking weather would cooperate I could get some more experience and stop this damned figure 9 habit

BTW I hate to say I am sending you this 20F degree crap tomorrow

I had Jeff Dawson kit up ( he normally sells pre made) several 1/2a high performance birds and three of his version of a fast combat planes that I modified extensively to train with...a lot of added weight but I can do a wing over directly into the dirt and only have to clean the engine and replace a prop (Kevlar cord, carbon TOW, and .02 oz fiberglass in critical areas)

hijacking my own thread

I had given up on finding any Nelson 36 or knock off FORA 36 (light weight and turn serious RPM) so with a lot of help acquired 5 Fox MK VIs and a few spare parts..... If a guy builds light enough these can compete with the Nelsons and FORAs but seriously lack any impact or mid air suitability

Certainly skill is needed but for a combat match to be worth the effort, both planes need to be close in speed..... I think Ken would agree that a match with Nelson and efficient plane and competent pilot vs a novice with under-powered plane is hard on both contestants

I left off CL flying over thirty years ago...most all these guys have been fun and competition flying for at least that long. There is no way for me to be competent in the short one year since I got the combat bug (especially when I have to teach myself and fly by myself)

For many of you who jumped from 1/2a cox to real (I know I am intending to be obtuse) C/L airplanes with Fox 35s on the nose...you might get interested in Graffiti combat as a fun diversion, extend your building skills, use some of your period proper engines and come home with your aircraft intact (gentleman rules)

Any way look it up

two or more in the circle can be a lot of fun and it certainly gets more folks interested in CL than just watching old men do the same pattern for 6 hours a day...not knocking stunt but after the first three contestants it gets a tad boring as a spectator...combat is great to watch all day long as it includes all the things we watch NASCAR for....crashes!
The Nelson .36 is one amazing engine as well as the Fora .36. You cram in 4 1/2 oz's of fuel in the bladder and by the time you get to the handle 2.5-3 oz's is already gone. My son Shawn and I had a combat match flying against Henry last year. He's a wonderful person to talk to and a very nice person. Ken
Top Poster





Posts

: 3425


Join date

: 2012-03-27


Location

: pennsylvania



It's a beauty of an engine Fred! I wish the entry fee wasn't so steep. I think the most I have spent on an engine to date is $100.

I guess if your serious/competitive or both it's totally worth it.

I do hope you get your 50!
Moderator






Posts

: 10246


Join date

: 2011-10-24


Age

: 45


Location

: Tuttle, OK



Thanks guys

Yes Ron the two I reserved will cost over $700 plus I need some spare parts....Wife not happy with me as she sees me cleaning dirt out of my inexpensive (relatively speaking) training engines
Hell I am too chicken right now to put one of the MK VIs on the nose. That will only happen when I get able to successfully burn a full load of fuel and land consistantly

We are up to 30 N36Cs spoken for. If I read my finger in the air correctly, getting to 40 is doable
BUT...the last 10 needed will be a challenge...especially at the price of these monsters

NOT that many combat fliers left and most of the "do it every year" guys already have a few of these engines or the FORA knock offs

Some will end up in collections I am sure

Most CL clubs that still support combat adopted speed limit rules and eventually stopped the unlimited FAST events. Bladder grabber has fewer and fewer entries every year. Last year there were only 13 for high performance 1/2a and FAST combat.... I am told in the late 80s to mid 90s it was normal to have 30~45 show up and require several circles to run non stop all day long for three days
Have you hit up all the other forums yet?
Moderator






Posts

: 10246


Join date

: 2011-10-24


Age

: 45


Location

: Tuttle, OK



The word is out except on the MACA site where I don't seem to be bale to get permission to post for the last 6 months....  
I ran a (Dub) Jett Q500 engine when I was racing, it would run with most Nelsons, but a strong Nelson would out turn it 1000 rpm or better. Those were scary engines, turning about the same RPM as a Tee Dee, but with a 9" prop!
Top Poster





Posts

: 3718


Join date

: 2011-09-02


Age

: 60


Location

: Rockford, Il



Henry Nelson will produce a new batch of 2014 N36Cs...yea!


Similar topics
---
Permissions in this forum:
You
cannot
reply to topics in this forum