Cox Engine of The Month
September-2021
crankbndr's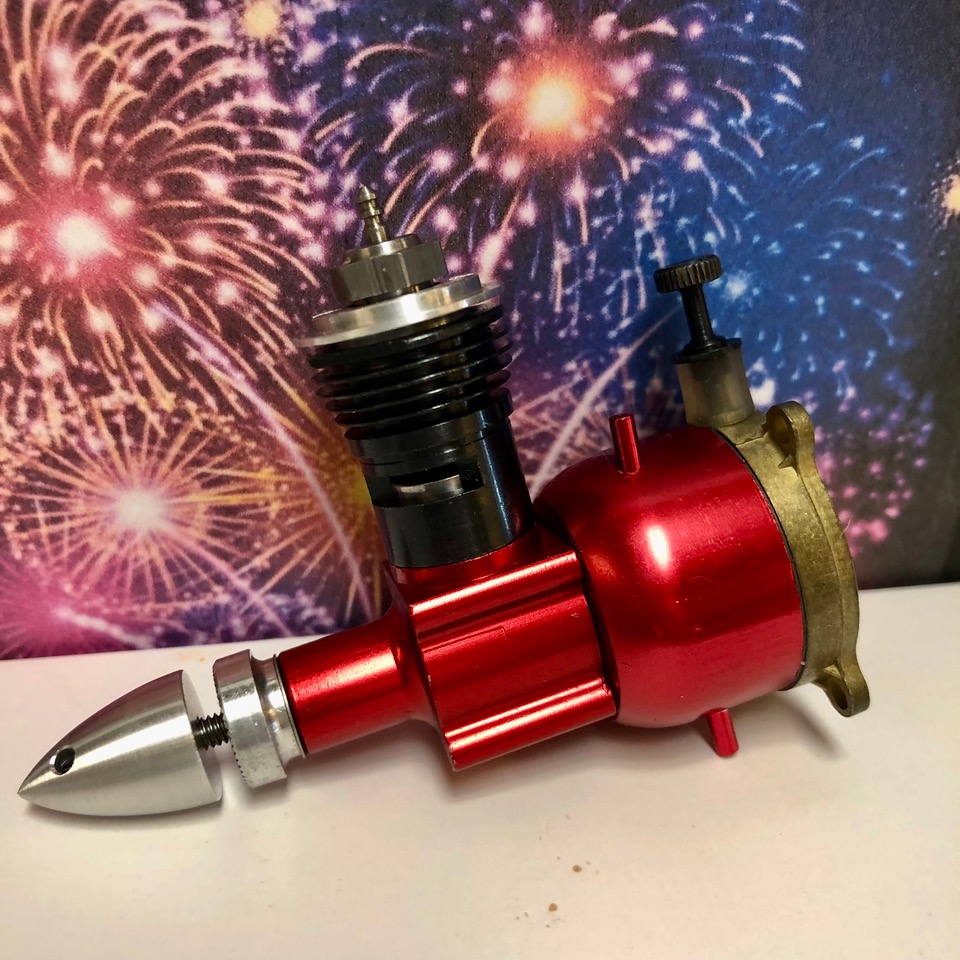 "Cherry Bomb" .051 engine
More info on this engine!
---

---
PAST WINNERS
I have a chance to buy either a 35th or 40th anniversary fox for $25. Is one any better than the other?

JPvelo

Diamond Member





Posts

: 1962


Join date

: 2011-12-02


Age

: 53


Location

: Phoenix



Jim, the 40th anniversary has the name 40th anniversary casted onto the case. As for one being better than the other. That all depends. The 40th anniversary engines have some of the best fits Fox had to offer. Anyone who races Foxberg like myself seeks out this particular engine. It can also go the other direction as well due to some of them not being so well fit. One must think of the Fox as a kit in itself. Many like myself bought them in dozens. You run them all and take the best of the bunch and sell off what you feel is not up to par. I shoot for a desired rpm on a certain prop. If I don't see the numbers I like, I take them apart and do some polishing and lapping.  If you have one that's tight, it can easily be lapped for a proper fit assuming it has little run time. Unfortunately, many operate these engines on high percentage castor fuels which really varnish them up and this needs to be removed which isn't exactly a simple procedure. The problem with some is that the piston sleeve fit was too tight which when run in can really hammer the rod. The Fox has no bushed ends on it's rod ends and they're quite thin as well. The reason most seek this engine is due to it's hot start reliability. One has to remember though, it still is a Fox. I massage all of them. The ears on the 40th are very susceptible to breaking, the stock blimp muffler is good if you like fishing as it will assist your casting. Using it on the Fox is going to be very restrictive unless you severely open the rear of the stinger and or cut it off due to it being in the way of landing gear on profiles. If one runs a already tight fitting Fox using the stock muffler the engine sounds as if it's seizing and it will stop due to it seizing. Once cooled off run again.

Look at it this way, currently you can't buy a new one. A piston liner retails for nearly $50 and a crankcase is almost $40. Your $25 investment is looking real good right now and if you follow these engines on Ebay, they've skyrocketed considerably since Fox hasn't offered them. I always found it practical to trade my old tired crash damaged engines back in for 1/2 the retail price Fox offered you a brand new engine. Unfortunately, this isn't happening either. Ken

Ken Cook

Top Poster





Posts

: 4485


Join date

: 2012-03-27


Location

: pennsylvania



Turns out they were both 40th aneversiary, bought one may go back for the other. Thanks for the info Ken.

JPvelo

Diamond Member





Posts

: 1962


Join date

: 2011-12-02


Age

: 53


Location

: Phoenix



---
Permissions in this forum:
You
cannot
reply to topics in this forum