Cox Engine of The Month
October-2021
MauricioB's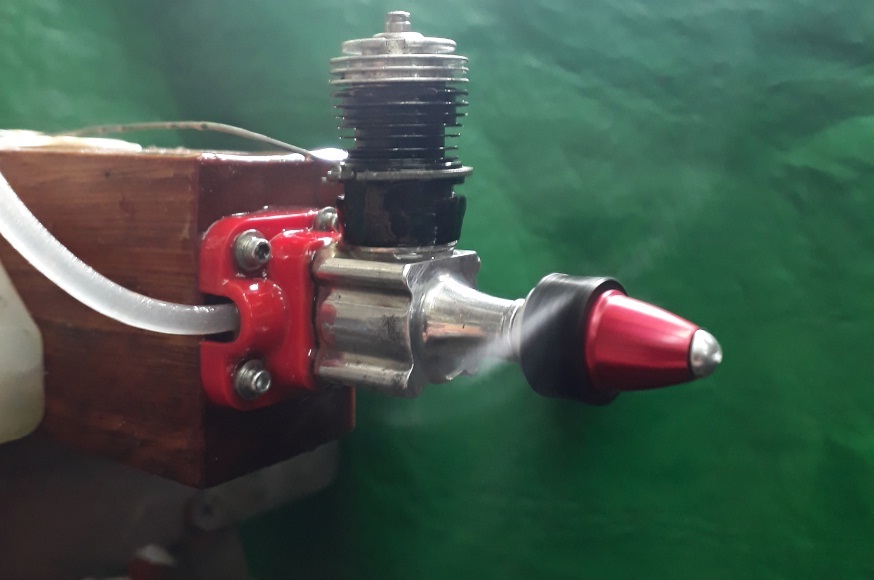 "Babe Bee .049 r/c"
---

---
PAST WINNERS
Page 2 of 2 •
1, 2
Choose the next engine of the month!
How I got the engine…
I met Dale Kirn in 1992 while running an errand for a friend. I was to meet with Dale to pick up an Aurora B-25 and ship it to Texas.
From that first visit we developed a friendship.

Dale's garage was the coolest. Every time I visited he had something new to show me. At the time he was restoring/ building several models
for the Victor Stanzel museum in Texas. I saw firsthand the extraordinary skill he developed for model building. (I wish I had my IPhone!)
It would take pages to describe the items from his past that he shared with me. His garage was a museum rather than a place to park a car.
In fact it was packed with boxes, so a car was out of the question. I used to refer to his garage as the "hobby shop of history."

At the time I was new to collecting. Dale, knowing my growing interest in Cox began sharing with me some rare engines that he collected over the years.
Among them was this Space Bug. As my interest grew, so too did my fascination with prototype/experimental products. To me they were more than something to put on a shelf.
The items actually gave you a glimpse into the minds and talent it took to reach the prototype stage, and eventually production.
Seeing the ideas take physical shape, the inventiveness, the ability to overcome difficulties, the boldness to step out, and the hand-made precision with which they were fashioned.
All these things enthralled me. The Space Bug was a perfect glimpse into the Thimble Drome minds.
As Esther Z. Robin, author of the article, "The Man Who Never Quit," had observed, 'This time his [Roy's] reasoning bordered on the radical.
Cox's decision was to suspend production in order to devote a year to research and development. His goal was to produce a low priced engine-powered airplane,
[The TD-1,] which would appeal the hobbyist and the toy industry, thereby broadening his market. The final result was a high performance engine
with interchangeable parts which fit in the palm of your hand.'" All that history was in a tiny little box, in a tiny little garage, in Anaheim California.

I decided to "step out" with Dale. I made an open-ended proposition. I asked him that if he decided to sell any of these products would he at least consider an offer from me.
He agreed. Sometime later he asked if I was interested in the Space Bug. I put a big smile on my face and answered, "Yes!"
Our tradition was to sit across from each other and "negotiate." It wasn't haggling per se. Dale knew the minimum he wanted.
He asked me if I had a price in mind. "Yes…do you?" "Yes," he said. "What's your number," he asked. I said, "Seven fifty." He said," Well I had three fifty, but I like your number better."
So I joyfully paid him $750.00 and have been the proud owner ever since. To me it's worth so much more.

Mudhen

Gold Member





Posts

: 484


Join date

: 2011-09-19



That was a great story mud. Especially liked the part about "negotiations"

KariFS

Diamond Member





Posts

: 1841


Join date

: 2014-10-10


Age

: 49



Page 2 of 2 •
1, 2
---
Permissions in this forum:
You
cannot
reply to topics in this forum