Cox Engine of The Month
August-2017
balogh's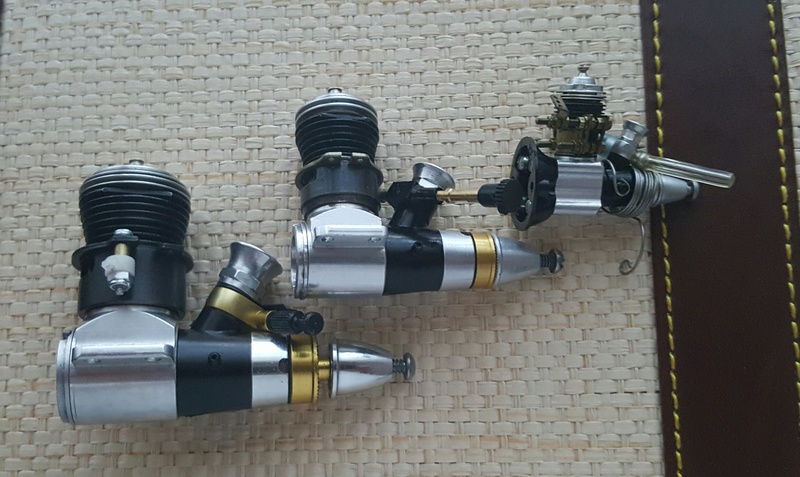 Throttle-Dees
---
PAST WINNERS
Hi. I'm returning o planes after a 40 year break and I found a McCoy No.2 with a red 3 blade prop in my box of things. It was seized up but is now free with good compression. I managed to blow the glow head by putting too much voltage through it and now I'm trying to find a replacement low head that would be suitable for it.

It took me a couple of days after phoning around UK engine guys to find out that its probably a Canadian or American engine. It also seems its similar to a Wen Mac or Testors version but I cant tell from the info I can find whether they are the same and or are compatible.

I'm looking for help on this if anyone has knowledge on this and I'm also looking to see if anyone on your side of the pond knows where I can get hold of a replacement glow head. Id love to get it running again rather than retire it to the workbench.

Its a McCoy No.2 .049 (does not have Testors on the crank and appears t have slightly shorter fins)
It has a closed spring starting mechanism, no fuel tank and a flexible needle.

Any help, guidance or otherwise would be great and thanks in advance.

Jamie
Jamie. You'e right.  The McCoy .049 was an "evolution" model and came inbetween the Wen Mac and Testors engines.  There were some slight variations, but the heads are basically the same & will fit.  If you do a search on ebay for Testors heads you should well come up with something.  They tend to command a pretty high price.  The alternative is to use a head adaptor and glow plug by tapping out your old head, or by getting one of these from MECOA.  http://www.mecoa.com/acc/adaptors/index.htm
Scroll to the bottom.

The variations I mentioned amount to different sealing methods of the head.  The late Wen Macs (which came before the McCoy) had a machined-in ridge on the head rather than a head gasket. Use a gasket with this head & you will kill the compression.  There may have been different thickness gaskets used on some later engines, but any of the Testors heads that you should find now are generally those which use a rather thick aluminium gasket.

Rod.
Sorry, the MECOA adaptor is currently showing sold out. Some heads on ebay though.
Old Engine Rod .... that's great ... thanks for taking the time. I know where to start. You know I was referred to Mecoa earlier today by a chap on the Isle of Wight (small island off the south coast of England) and I saw these heads but also noted that they were out of stock too. Not an engineer but you made it sound very easy to ream out the head and whack in a new plug. Maybe Ill have a go. Size of the plug? More research needed there I think.

Ok ... so I'm on eBay now for glow heads ... cant wait.

Thanks again.

Jamie
It's not difficult to drill out and tap the old head to take a standard plug.  You'll probably need to use a long plug.  The problem arises when it comes to finding the correct tap.  Standard plugs are 1/4" UNEF at 32 TPI.  1/4" UNF is only 28 TPI.
These are a good price.
http://www.ebay.co.uk/itm/S-2pcs-1-4-32-UNEF-HSS-TAP-TAPS-Right-helix-Inch-MACHINE-TAP-1-4-32UNEF-/302037730703?hash=item4652da058f:g:BzcAAOSwaB5XqqDw
That's a great help. I'm obliged.
Du-Bro also sells those as a set with the correct drill bit.
A bit more expensive, I think around 10€, but if the imperial system is not mainstream around your neck of the woods it is the easiest way

Platinum Member





Posts

: 1082


Join date

: 2014-10-10


Age

: 45


Location

: Finland




Similar topics
---
Permissions in this forum:
You
cannot
reply to topics in this forum