Cox Engine of The Month
April-2019
MauricioB's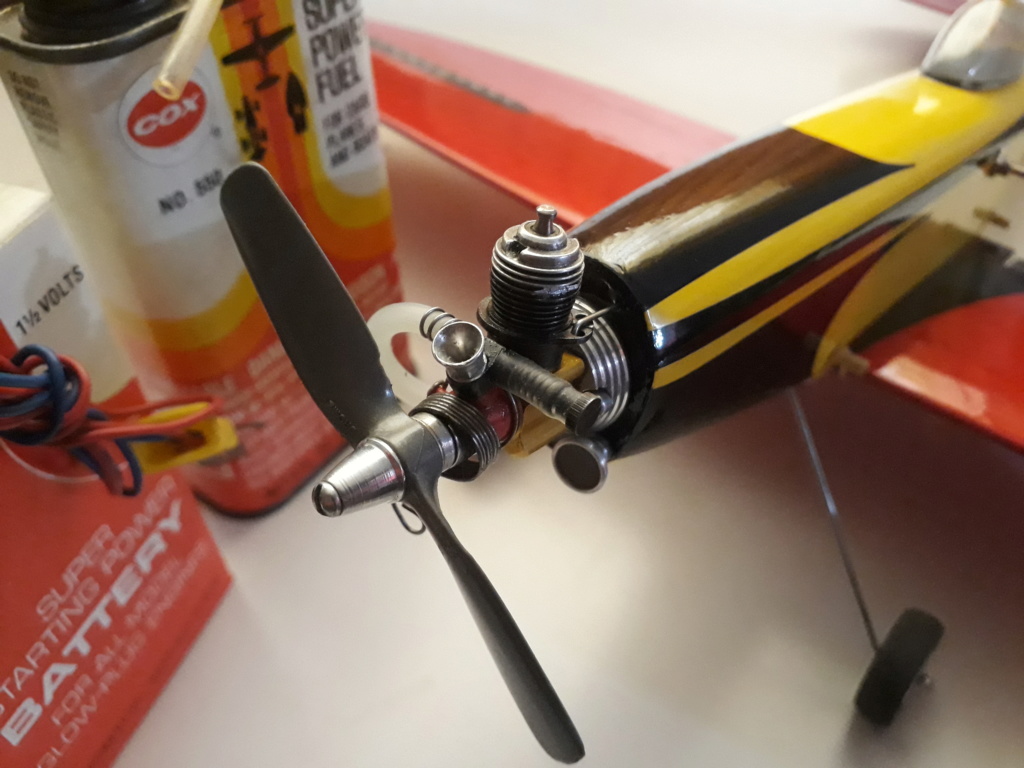 "Tee Dee .010 r/c"
---
PAST WINNERS

Gentlemen,
I need help with my Golden Bee. Today, it flat sucked!
It would run for about 45 seconds just fine, and then start stumbling.
It had been rebuilt some time ago for my Wido Satan scratch-build. The piston was originally upright to protect the needle, and flew just fine.
I turned the piston down so IF it could pull my Scientific P-40, then the engine shroud would cover most of the engine.
However, I think I rebuilt it with a 5cc kit. I believe the fuel pickup tube is too short, and possibly floats in the tank like a short clunk tank pickup would...thus preventing full, strong, tank-emptying runs.
I think the pickup would be held in place by the venturi tube in a shorter Babe Bee tank.
I also believe the venturi tube oring to be in good shape.
Questions follow...all suggestions welcome!

1) Should the tank fill/vent lines in the stunt tanks be inboard the flight circle, or outboard? I think if outboard, then they would trap the fuel pickup tube in the small walled "corner" at 7 o'clock in the backplate.
2) What size aluminum tube is used to make a hard fuel pick-up as described in the Paul Gilbert Mouse Racer hop-up guide?

If I can get my Golden Bee running right, then there is no need for me to install a *gasp* AP engine.

Thanks in advance!
Gold Member





Posts

: 425


Join date

: 2017-02-08



Hard to say for sure, but I would still personally change out the venturi 0-ring first. As for the tubing, I would just get something as close to the inner diameter of the original fuel line, then connect it to the backplate with a small piece of fuel tubing. As for fuel tank line length, by the pictures I see of the rebuild kits online, I would say that the tubing supplied with the 5cc engines is slightly shorter, however, they list fuel tubing for sale as for all .049 tanks and backplates. So, I will leave this one for someone more knowledgeable.
Diamond Member





Posts

: 2051


Join date

: 2011-08-13


Age

: 40


Location

: oakbank, mb



For the cause, I went and dug around my hangar to find some evidence. I dismantled a Babe Bee that I recently came in posession to and was lucky it was not ever tampered with, then followed up by disassembling my Golden Bee. The length of tubing on the Babe Bee is 1 1/8", while that of the Golden Bee was right at 1 5/8" long. Both tubes measured are factory originals. These were measured by applying tape to the outside of the fuel tube, then cut at the very tip of the 'v' on the end. These were then taped onto my ruler for measurements. However, I do not think that the length is the biggest issue, as is the correct placement of the tube without ANY kinks or sharp bends. Meaning at the 6 o'clock position for RC and free flight, and at the 8 - 9 o'clock position for control line. This is not scientific by any means, but I hope thsi helps some.
Diamond Member





Posts

: 2051


Join date

: 2011-08-13


Age

: 40


Location

: oakbank, mb



If it runs good for 45 seconds I'd be making sure you don't have an air leakat either the fuel nipple where the pick-up tube fits on or as New suggests, the o-ring could be leaking air. Both of these issues would only show up after the fuel level had dropped after a while. If it starts to stumble after a period of time in a bench run, but can be re-adjusted to run ok, then I think either of these things will be your problem. You could try just half filling your tank (3-4ml- keep level lower than the venturi tube) and seeing if it still happens.
Diamond Member





Posts

: 2430


Join date

: 2012-06-15


Age

: 56


Location

: Victoria, Australia



Thanks Gents!

New, I appreciate the measurements. Now I really think the last rebuild was with a 5cc kit. The fuel line length is probably what got me!
I though the only difference in the 5cc and 8cc kits were the screw lengths.

I'll collate data and share.
Time to find some aluminum tube!

This engine may go back on my Wido Satan instead of the P-40.
More to follow.
Again, thanks!
Gold Member





Posts

: 425


Join date

: 2017-02-08





Similar topics
---
Permissions in this forum:
You
cannot
reply to topics in this forum