Cox Engine of The Month
June-2019
robot797's
"cox 049 gasoline"
More info on this engine!
---
PAST WINNERS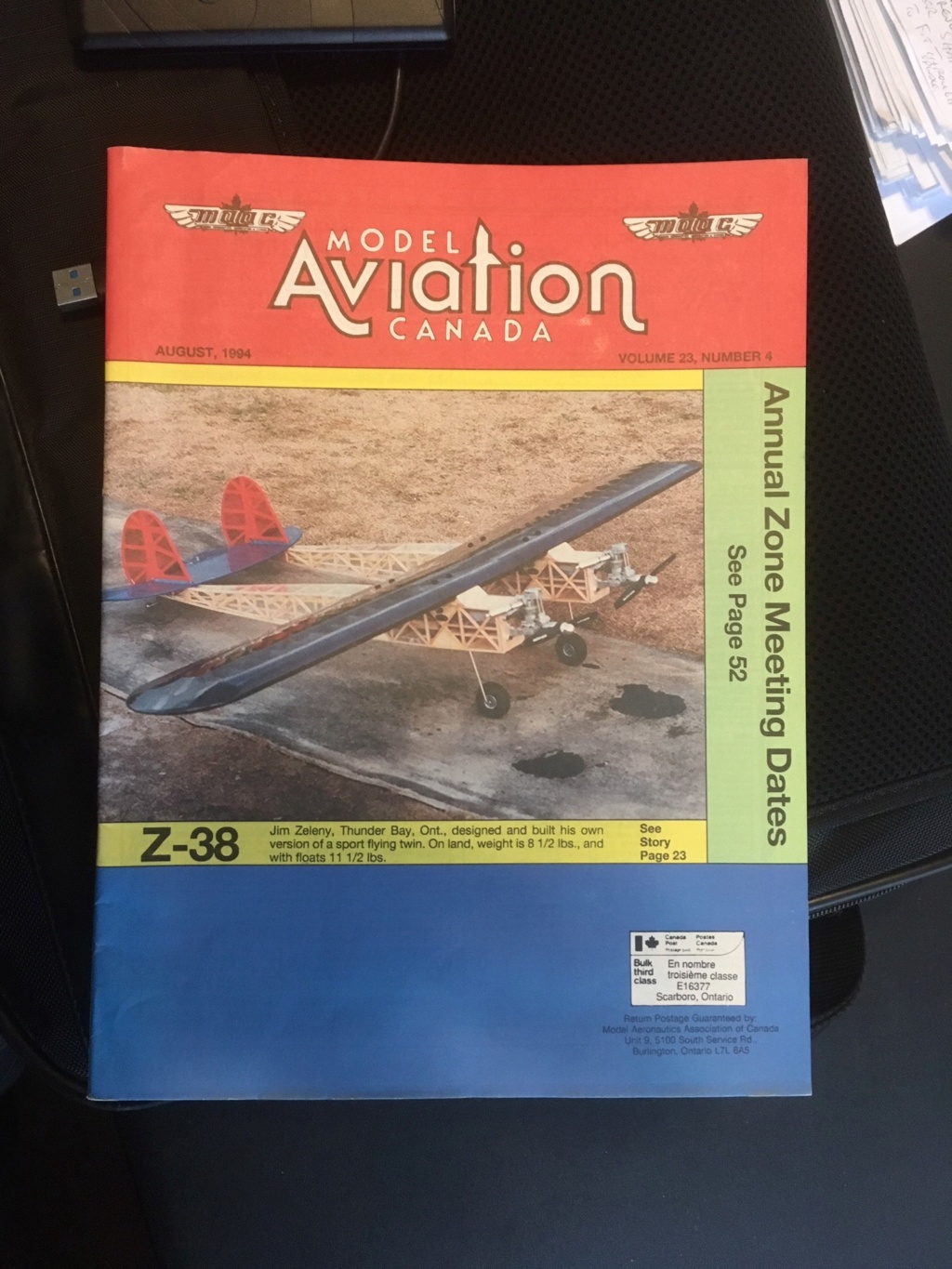 Something different for this group, my original design 4 stroke twin. Powered by two Surpass 40's with one reverse rotation. 8 Futaba S133's and two Futaba receivers. Will happily fly one either engine once airborne. I designed this with two long fuselages and twin rudders to give it directional stability and the result was successful. My project from 20+ years ago.
Gold Member





Posts

: 213


Join date

: 2013-11-29



Jim, that's the darnedest thing I have ever seen.

Surpass 40's with one reverse rotation???????????

Same frequencies on both systems, sounds confusing.

Guess you could set the trim on one engine to cut out mid flight if you wanted. Interesting flight possibilities.

Bob
Top Poster





Posts

: 4133


Join date

: 2014-08-18


Location

: West Virginia



That's Cool !! man you made the Mag. way back then , Good looking airplane ! That Baby has some weight to is at 8-11 lbs. I didn't know you ran one engine in rev. on RC twin planes thats interesting  
Got any video of her flying ?
Top Poster





Posts

: 5864


Join date

: 2013-01-18


Age

: 61


Location

: julian



No video of her flying, maybe sometime later. Video cameras on phones didn't exist when I flew in in the 90's. The airplane as shown here was involved in a mid air at a float fly with a Notforsale. Chopped the wing in half, so I rebuilt it with a new wing (it's basically from a Goldberg Cub) and at that time installed a reverse cam in one of the engines. This required setting up a Sullivan starter to allow it to run in reverse or forward to get both engines running. Using two receivers solved a lot of wiring problems and unlike modern radios, both operated nicely from the same transmitter. I built it because I wanted to actually be able to fly a twin. Most DC3's Marauders etc are heavy detailed scale models that rarely make it to the field. This one was purpose built to fly easily.

Modelers flying twins worry too much about engine synchronization. Even if you get them running at the same WOT rpm, guess what? They will never be the same at part throttle or idle. It it matters not a bit! One of the magic things about a twin is the sound of the engines coming in and out of synchronization. Two engines gave this model a really short takeoff run, maybe 20'-30' on floats. And roll rate is slow kind of like a bomber. And with those long fuselages and double rudders, the plane will fly on either engine.

Of note is turning performance. Whether you realize it or not, we tend to favour right turns due to gyroscopic forces that tend to lift the nose during a turn. Turning the other way, the nose is pushed down, so a left turn is less 'comfortable" if you turn mostly with ailerons. Having the engines run in opposite rotation completely eliminated this effect.

All in all it was a fun project and getting on a magazine cover was a bonus.

(BTW, Maac sent me 10 copies just like in that song "Cover of the Rolling Stone" by Dr Hook)
Gold Member





Posts

: 213


Join date

: 2013-11-29



That is very neat. I like it.
Diamond Member





Posts

: 2166


Join date

: 2011-08-13


Age

: 40


Location

: oakbank, mb




---
Permissions in this forum:
You
cannot
reply to topics in this forum