Cox Engine of The Month
January-2022
Mark Boesen's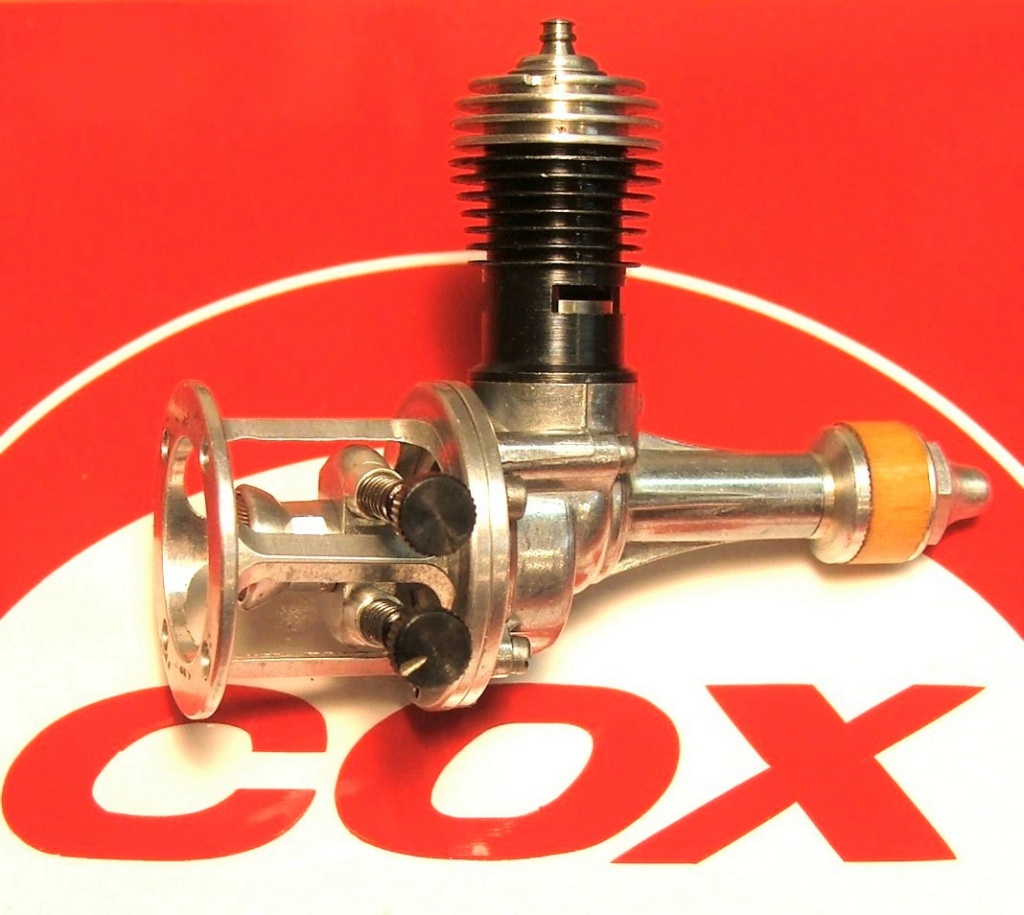 Twin Needle Thermal Hopper with a Cage Mount.
---

---
PAST WINNERS
I have a black widow tank that someone had butchered and pulled out the vent tube and drilled the hole larger for a hose. Not the filler tube but the vent tube pointing down. I slipped in a 1/8 aluminum pipe as a sleeve and then inserted a 3/32 tube inside that with some super glue to seal it.
It looks good but when  fill the tank the overflow/vent pipe weeps every time the fuel sloshes around it and for a few seconds when the tank is freshly filled. This is likely just a simple physics question. How to stop the vent pipe from allowing the fuel to weeps out when it sloshes by? I inserted a small plastic pipe inside the 3/32 pipe I inserted inside the 1/8" to restrict the flow. It still allows air to pass. I will try it tomorrow to see if this stops the weeping. Might the restricted vent pipe stop the weeping? I hope so.

I've run the tank/widow motor today about 5 times and because it is weeping only get 30 -32 rounds but would normally get 45-50. I want the additional 50% more (15 rounds)!

Other than inserting the plastic pipe I have done is there any other trick someone might have? Maybe because the 3/32 I inserted inside the 1/8" is larger than the filler tube it automatically weeps like this (that is the physics I don't know) ?

Thanks for scratching your head on this one for a minute.

Iceberg

Iceberg

Gold Member





Posts

: 353


Join date

: 2018-11-03


Location

: Bangkapi Thailand



The solution is to use a external tank. In this situation though cap the top with a tight fitting cap after fueling. This is what you would do with a external tank anyhow. Even using a external tank, I leave the cap on during flight as it improves fuel draw and it doesn't allow for prop siphoning. It doesn't impede inverted flight. It may just do so on a integral Bee tank though if left on, experimenting is everything. So once it's running, pull the cap. It won't siphon when the engine is running.

Ken Cook

Top Poster





Posts

: 4630


Join date

: 2012-03-27


Location

: pennsylvania



Sounds like the previous owner used a bladder or remote tank before. Not necessarily a butcher. You might be able to find a piece of silicone or rubber tubing that is a squish fit like a grommet while using some 1/16" or 3/32" tubing. Or as Ken mentioned, a separate tank.

aspeed

Platinum Member





Posts

: 605


Join date

: 2013-01-18


Location

: Leamington Ont. Can.



You can try flipping the tank so the original tube becomes the vent.

coxaddict

Gold Member





Posts

: 410


Join date

: 2013-01-27


Location

: north shore oahu, Hawaii



Thanks addict if I flip the tank then I'll have space conflict with the pickup tube orientation.
When I opened the tank again this morning I found that the filler tube was short and had been cut about half length also. I still feel butcher comes to mind
I removed and inserted a new 3/32 tube that is normal length for the filler tube also. I will try later today. Now that both inlet and vent tube are the same diameter and same length more or less I hope the silly siphoning is over. I'll update later.
Thanks
Ice

Iceberg

Gold Member





Posts

: 353


Join date

: 2018-11-03


Location

: Bangkapi Thailand



Lengthened the filler tube to original length. The syphonic action has stopped now. Seems that the shorter filler tube was aggravating this and made the vent tube keep siphoning. Got my 50% longer run time!

Just want to mention the solution for anyone else with a similar headache.
Thanks
Ice

Iceberg

Gold Member





Posts

: 353


Join date

: 2018-11-03


Location

: Bangkapi Thailand



---
Permissions in this forum:
You
cannot
reply to topics in this forum