Cox Engine of The Month
March-2019
Jason_WI's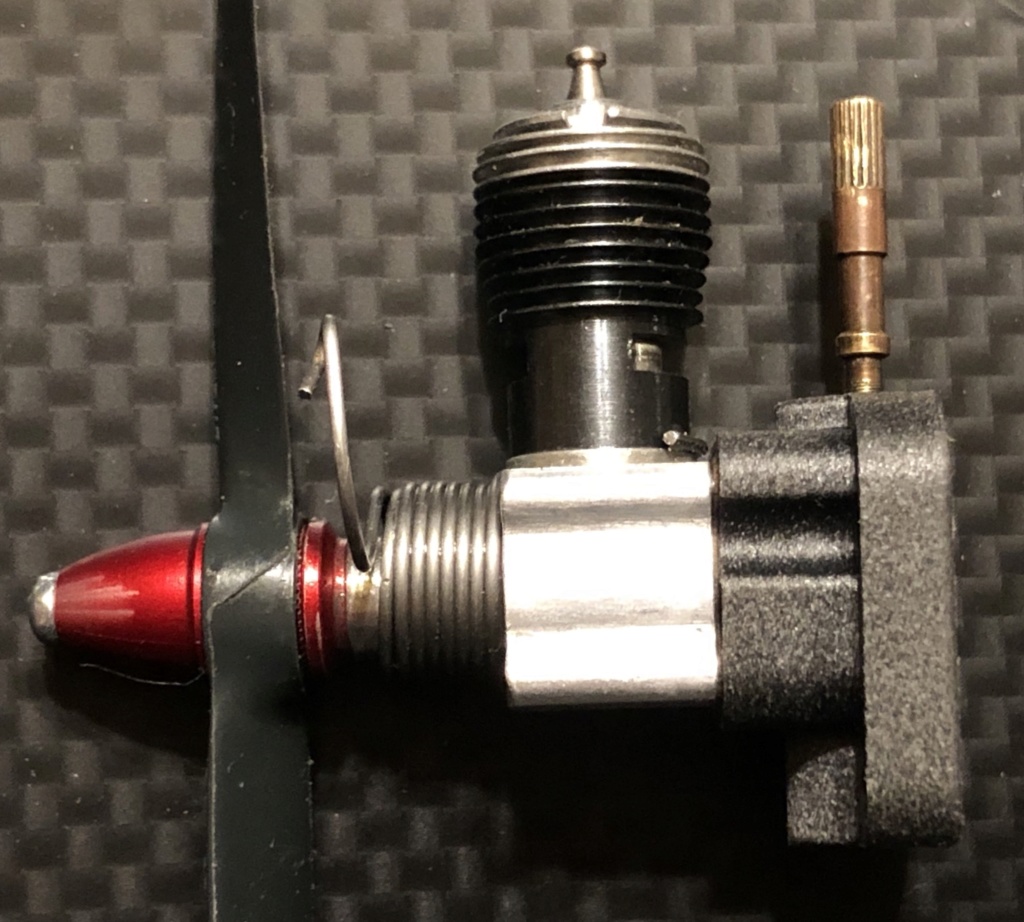 "Cox Pee Wee .020 with 3D printed horseshoe backplate"
More info on this engine!
---
PAST WINNERS

When I found this McCoy 35 it had a strange glow plug, I thought someone just had it installed in a model that had poor access so they added an extension.
Wrong.....When I removed it I found that the heater coil had been removed.
Looking closer I noticed there is a restrained ball bearing embedded in the end. Some sort of compression tester maybe but when I added a propeller and turned it over the ball did not move although there is compression in the engine.
Any ideas as to what this might be or the motivation of the perpetrator?
The McCoy herd grows.....
Thanks - Bob
My guess would be Co2 powered free flight.
Moderator






Posts

: 10246


Join date

: 2011-10-24


Age

: 45


Location

: Tuttle, OK



I'm thinking it was an attempt at a small homemade air compressor. Maybe for air-brushing?
Top Poster





Posts

: 6319


Join date

: 2013-07-17


Age

: 59


Location

: N. Smithfield, Rhode Island



Possible pneumatic conversion (someone tried to run it on air). if you haven't pulled the head I would pull it to make sure a peg hasn't been added to the piston. Pegs used to push the check ball off its seat at top dead center in air powered or Co2 as Ron stated. (bandit)
Thanks, Maybe air compressor or co2.

I will disassemble tomorrow and look for that peg, also see if I can loosen up that ball bearing. It seems to be such a simple mechanism though to perform the more complicated task of co2 operation. Seems like a more robust pressure tank would be involved to operate anything bigger than an .049??

Head scratcher.....
It is, all it does is forms a valve when pressure is added when the peg hits this ball it lifts it off its seat allowing pressurized air to flow in, pushing the piston back down closing the valve in the process and the air escapes out the exhaust and the process repeats, but yup it would probably take a paint ball sized Co2 tank to run it for any length of time. lubrication is an issue though. I would check this engine over thoroughly paying spechle attention to the crank bushing and rod. that's if this engine was used for this process.it sure looks like it though and hopefully there is no pin not sure how you would get it off with out killing the piston.
(Bandit)
Disassembled it this morning, came apart easy indicating some sort of previous take-down.  Everything looks normal (no peg) but the pistons baffle is on the exhaust port side where my other .35's was on the opposite side.
Guess I will just clean it up, sandblast the case, re-blue the cylinder, paint the head, install new gaskets and a normal glow plug and see how she runs.  
I still need to look at that modified glow plug and see if the ball will move.  So, which side is correct for that baffle?
Baffles always go opposite of the exhaust. The cylinder of a Mccoy can only go on one direction. and have the case holes line up.  The piston and rod assembly can be installed 180 deg as you have. I just wonder how many times someone moved the piston up and down in the cylinder like that. This can really do damage as the piston was lined up 180 to it's current situation. These engines are not very high tolerance engines therefore the cylinder in a exaggerated sense can be shaped like an egg. Putting it in the other way and forcing it over now takes the high spot off of the piston and or cylinder. Both which are quite soft. Putting it back together and running it will certainly let you know. Ken
Top Poster





Posts

: 3425


Join date

: 2012-03-27


Location

: pennsylvania



Cool just make sure when you reassemble that you put the baffle back on the intake side. It has to be on the intake side to run. (Bandit)

(Edit)
Looks like Ken beat me sorries


Similar topics
---
Permissions in this forum:
You
cannot
reply to topics in this forum