Cox Engine of The Month
August-2019
fredvon4's
"Tee Dee .049"
---
PAST WINNERS
Page 2 of 2 •

1, 2

Diamond Member





Posts

: 2454


Join date

: 2011-11-16


Age

: 64


Location

: England



Great minds think alike Ian.

When I built this loft above the garage in three years ago at the young age of 75 I thought there might be a need for extra storage places.  Then this forum came along.

 Hanging 4X8' sections of sheet rock (dry wall) above your head wasn't easy, but with a ladder and a 8' T bar made out of 2X4's I did it.  Today, looking back I have no idea how......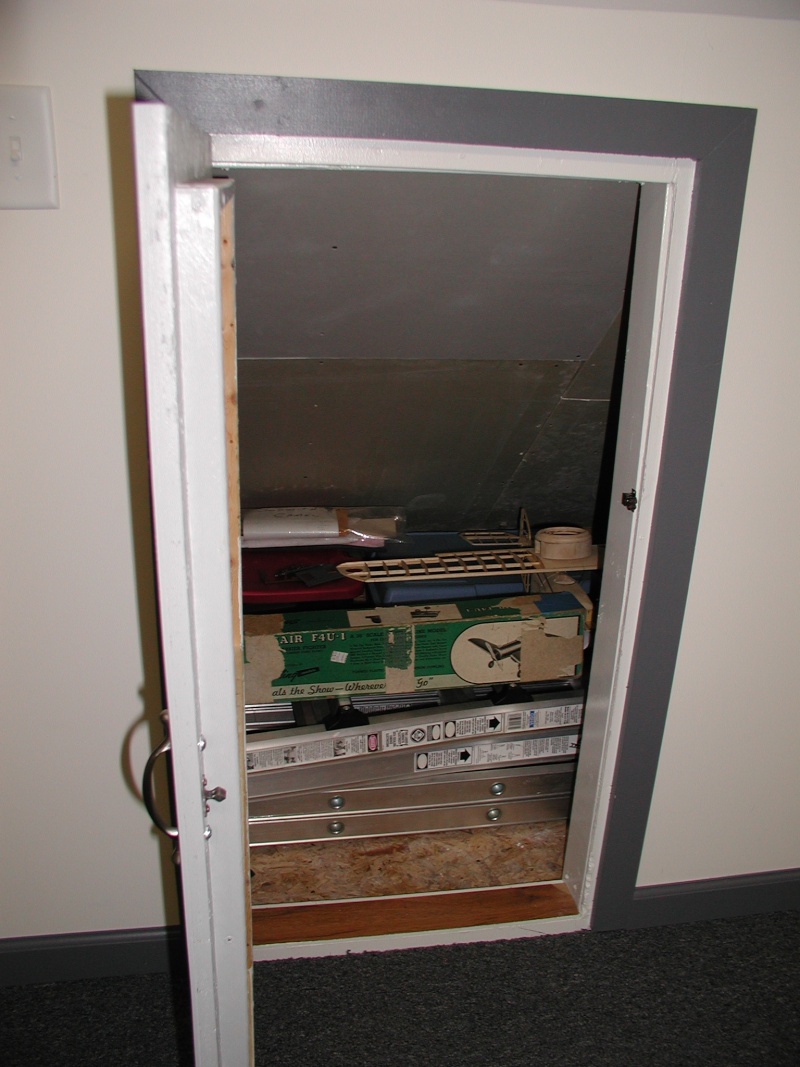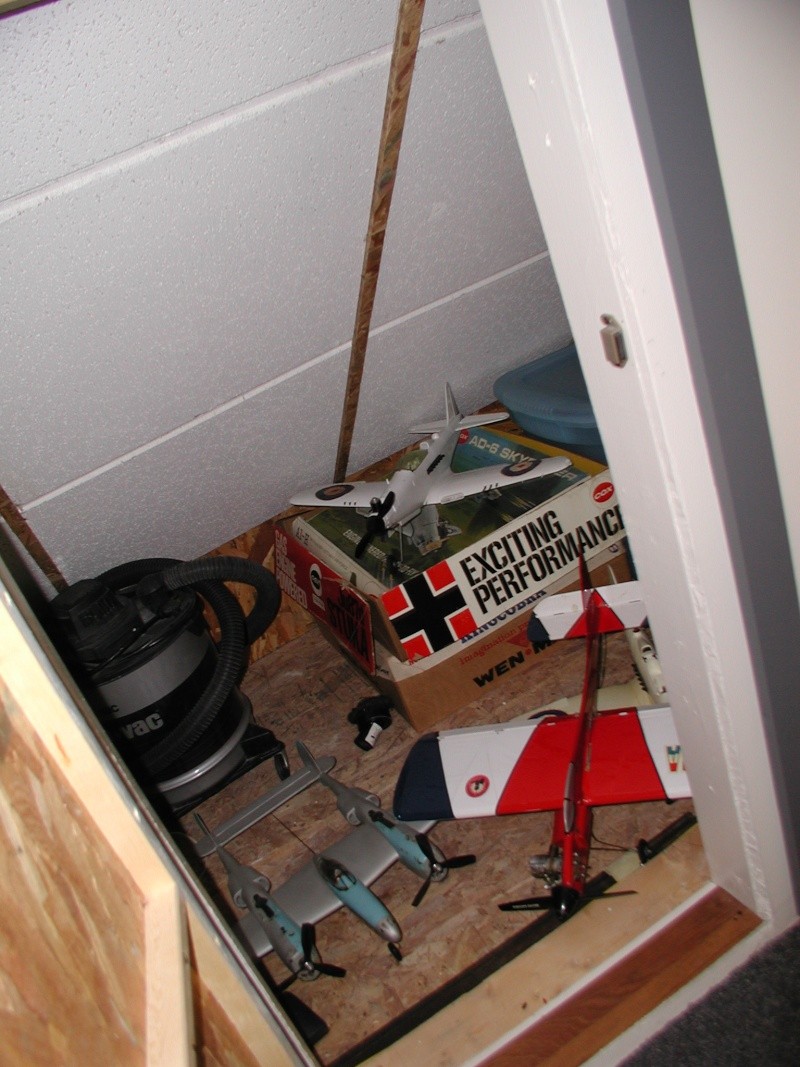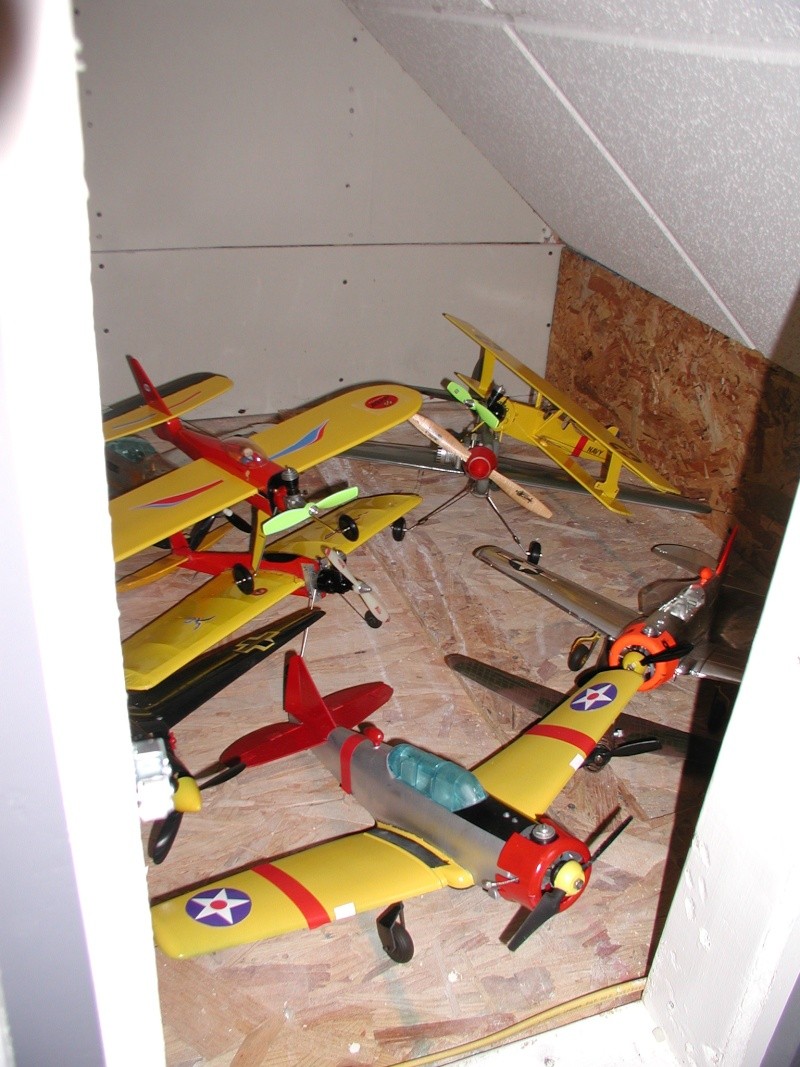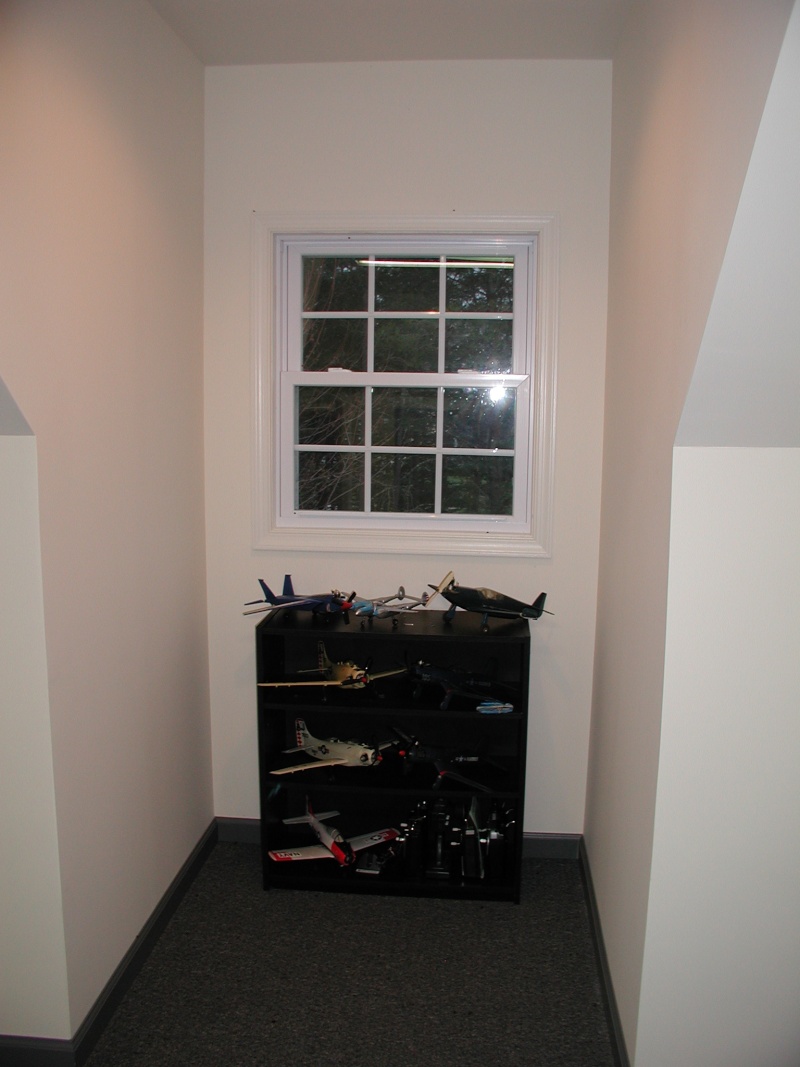 Top Poster





Posts

: 4410


Join date

: 2014-08-18


Location

: West Virginia



Attic storage. You really can't beat it for non-evasive protection. On the other hand.. out of sight.. out of mind. That's ok.. because you'll always have a model in waiting.. or else you wouldn't have stowed it safely away.

I had an apartment attic that had full access to the ridge-line. It was cold-storage in the winter and hot storage in the summer for 10 years. Open-bays between the rafters.. I strung string through screw-eyes about 2ft. down on both sides. Two 12ft. lengths.. 7 bays ea. in which held small flying models. Stick-models deserve to be stored hanging in a nook where nothing would knock into them. String slings with bungee cords for the airframes.
Top Poster





Posts

: 6594


Join date

: 2013-07-17


Age

: 59


Location

: N. Smithfield, Rhode Island



When we built our house 17 years ago, I placed a heap of particle board flooring in the roof prior to plastering, planning to construct attic storage. Eventually I did manage to construct the floor & proceeded to hoard stuff up there to get it out from under my feet. The trouble being that under a corrugated iron roof in Australia, roof cavity temperatures can be extreme. Also, I have no way to get up there apart from a step ladder to the man-hole. Needless to say, it's been so long since I've been up there I can't remember what's stored there. The roof trusses are intrusive so it's difficult to line & insulate, but that really needs to be done to make the space usable, along with an air conditioner and access ladder. Oh well, seemed like a good idea at the time.

Diamond Member





Posts

: 2618


Join date

: 2012-06-15


Age

: 56


Location

: Victoria, Australia



I have thought about building shelves for my models, but string is a good idea too.  I will have to look at that.
While Ians, cubbies are nicely finished, mine are cobbled together from left over OSB board, drop ceiling tiles, dry wall, and lumber.  It's a crazy quilt in there.  
I'm most proud of my stairs which replace pull-downs.   Only thing new are the 2X10's, everything else is left over lumber and carpet.
Also I'm pretty happy with the door made out of solid core bi-folds glued and clamped together.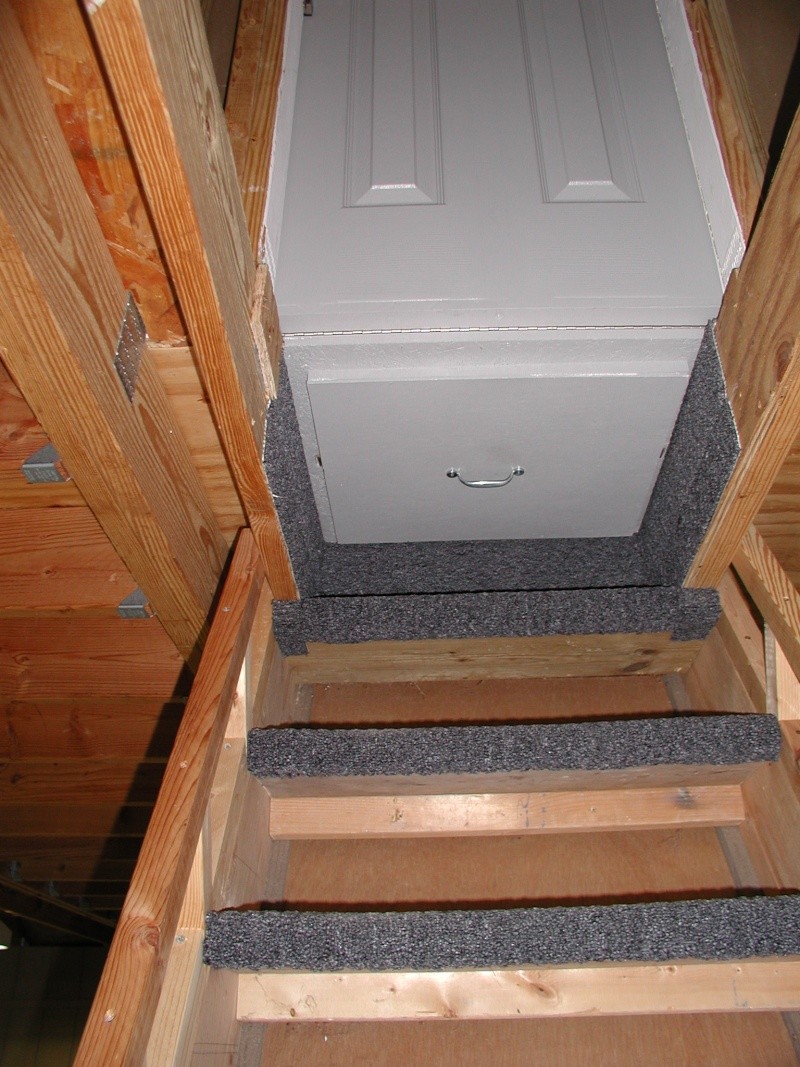 A flap on a piano hinge keeps me and the dog from falling through.  Magnets keep it up.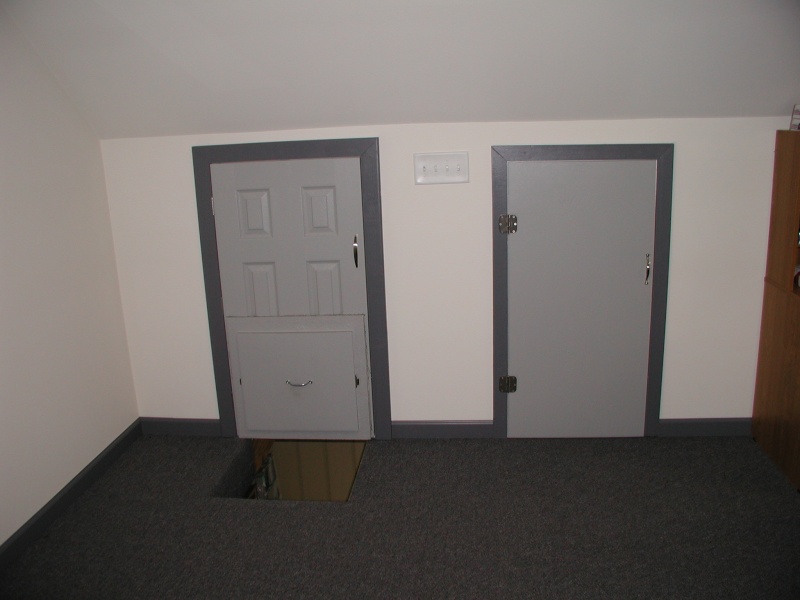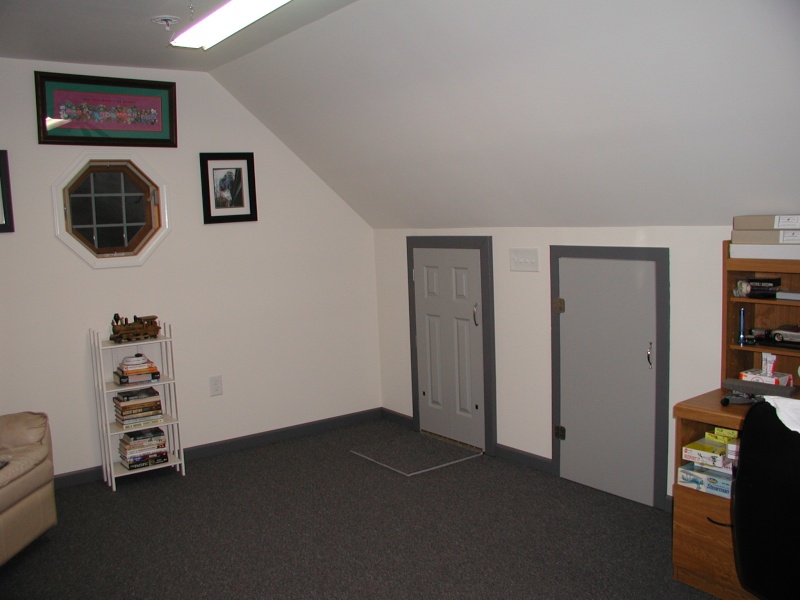 It's a steep decent down there, especially when carrying airplanes, etc. Taking a header would really hurt.

Thanks Kim for letting me (I hope) step all over your thread.....

Bob
Top Poster





Posts

: 4410


Join date

: 2014-08-18


Location

: West Virginia



Heck, I've been enjoying it. I've arraigned and re-arraigned my storage shed and back room more times than I can remember--trying to get just a tiny bit more space AND have everything somewhat accessible. So, around the globe, we're all still trying to save our stuff.

I've joked that if I were to move into a gymnasium, in a few weeks, there'd be stuff stacked to the rafters.

Love My Toys Kim
Top Poster








Posts

: 6674


Join date

: 2011-09-06


Location

: South East Missouri



Page 2 of 2 •

1, 2


Similar topics
---
Permissions in this forum:
You
cannot
reply to topics in this forum