Cox Engine of The Month
March-2019
Jason_WI's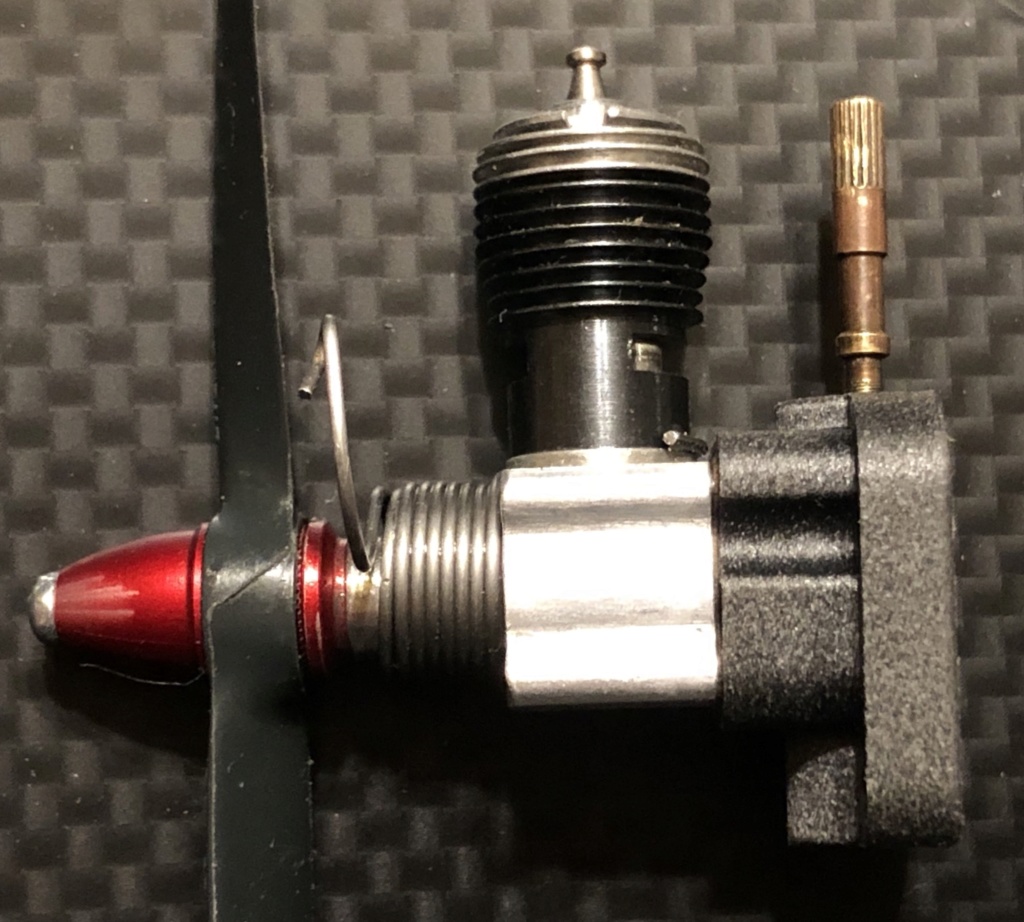 "Cox Pee Wee .020 with 3D printed horseshoe backplate"
More info on this engine!
---
PAST WINNERS

This is a 1972 AMC Matador sedan from the tv show 'Adam 12'.
Originally built by Cox as a gas powered free-run car with interchangable steering cams that made it drive patterns. Originally owned by my dad, stored for quite a while.
Let's try to ruin the collector value! i mean try to improve on it a bit.
Stripped the chassis
She may not be the new Bluesmobile, but i think it's going to work out ok. As found it was missing 2 headlight lenses, and a lightbar lens. But I can work aound that...
I wasn't around when these were, so i needed some help on lighting patterns. I grew up mostly with CrownVics with a red/blue lightbar up to the current lumen-wars night-blindness causing dangerous walls of light.
Learned that the forward facing red roof lights come on solid, the rear amber lights wigwag around 1 Hz. Nothing else fancy with the lights.
Anyway, some research later i found out the tail lights are wrong. 1972 should have 9 segments, 4 red, 1 white, 4 red. This has 7 segment all red, so i guess it should probably be 3-1-3. Or i'll leave it all red and pretend it's not wrong because i'm not a rivet counter. Don't look at me like that!
Roof lights are chrome version of either: Trio sales T-2, S&M lamp 757, Highway Safety 1757. Siren is a Federal Signal PA20A, through a Federal Signal CP-25 speaker.
Start off doing the *really* important work on this soon to be radio controlled car that doesn't move...
A pair of 3mm leds, magnet wire, a 0.028 drillbit, and an excessive amount of patience later, i
have exhausted the swear words i know.
Copy 1-adam-12, code 3
Needs more flashy lights!
But you're probably asking yourself, why would i make a 1/14 scale RC police car?
That was in Jan 2018. At that meet, my friend with the gmc crackerbox holmes 550 wrecker took some parts back with him and machined the adapters to mate my donor transaxle to original wheels.
Several failed mount ideas later...
6 channel rx, 10a esc, micro servo, 6cell nimh. Hacked servo board running the led body lights.
Then in August we were patrolling the warehouse district at the Lebabon IN "Back to the Fifties'' festival
1adam12, 1adam12 vehicle accident with roll-over, entrapment.
Then one day I took it to work one day to show a friend and managed to lose one of my tail light lenses, hopefully it's somewhere in the house or real car.
I need to pick up a radio switched channel circuit, so i can setup the roof lights correctly. When activated Reds to be on solid, Ambers alternate flash.
Also needing to get a sound module, which might need seperate remote switch. Thinking i need this one
https://www.modeltrainsoftware.com/products/police-siren-diecast
I've thought about trying to fit a full light controller system that runs turnsignals, brake lights, and other stuff correctly while driving, but i'm probably not going to so i can avoid installing front signals, reverse lights, high beams, plate light. Plus the chassis is getting a little tight
I need a taillight lens if anyone has a Matador parts car.
I also have parts that came off it, in case anyone needs them.
Last edited by Frizzen on Mon Jan 07, 2019 9:05 pm; edited 1 time in total (Reason for editing : Title)
The lights look terrific, you did a great job making that realistic. Nicely done I must say. Ken
Top Poster





Posts

: 3422


Join date

: 2012-03-27


Location

: pennsylvania



"
Let's try to ruin the collector value! I mean try to improve on it a bit.
"
My motto.

Interesting bit of technology. Looks like fun times.
Bob
Top Poster





Posts

: 3797


Join date

: 2014-08-18


Location

: West Virginia



Thanks guys,
'Ruin the collector value' is usually more fun, plus if you do it right even some of the collectors can appriciate the changes. Plus i try not to go after New In Box or Good condition stuff.

Little high revving 2-stroke constantly trying to smoke the tires didn't really seem to fit the police car all that much. It's now running a 130 size Electric motor through a gearbox with a spool diff, which is still more than able to put out more power than the old tires can take, or to drive it hard enough it just understeers. I've got the throttle end point adjustment set down below 50% to keep it controllable foor indoor events.

The body needs some of the White redone, nitro wasn't kind to it. Unfortunately i don't want to ditch the door decals, so i can't hit all the paint together. I'm going to touch up the chrome with a Molotow liquidchrome pen. I'm aiming for as close to realistic as possible.

Once i get the rest of my electronics all squared away, I've also been considering modifiing the chassis to add front suspension, or atleast putting an H-plate in the rear. I'm also thinking about making a cross-brace between rear fenders to help support the back of the body, probably with some velcro so the body doesnt jump.

Also been thinking an Action Van, Baja Bug, or Jeep would be fun to mess with too. I know the van was same chassis but with side-pipes and different wheels, and i like custom vans.
Last edited by Frizzen on Wed Jan 02, 2019 7:55 pm; edited 1 time in total (Reason for editing : Forgot)
Took it up to the RC Truck and Construction meet.
I let my ambulance steal the show in that pic because it's got a more impressive lighting setup, and since i run both of them from the same transmitter i couldn't power up both recievers. Besides the ambulance may need to leave in a hurry, while Adam-12 would be out of service on the scene until the incident was over and paperwork was done.
At one point there was a police chase involving a blue Semi that was going on a rampage. The chase ended without incident when the perpitrators father took the transmitter away from him and took him into custody.

---
Permissions in this forum:
You
cannot
reply to topics in this forum