Cox Engine of The Month
September-2021
crankbndr's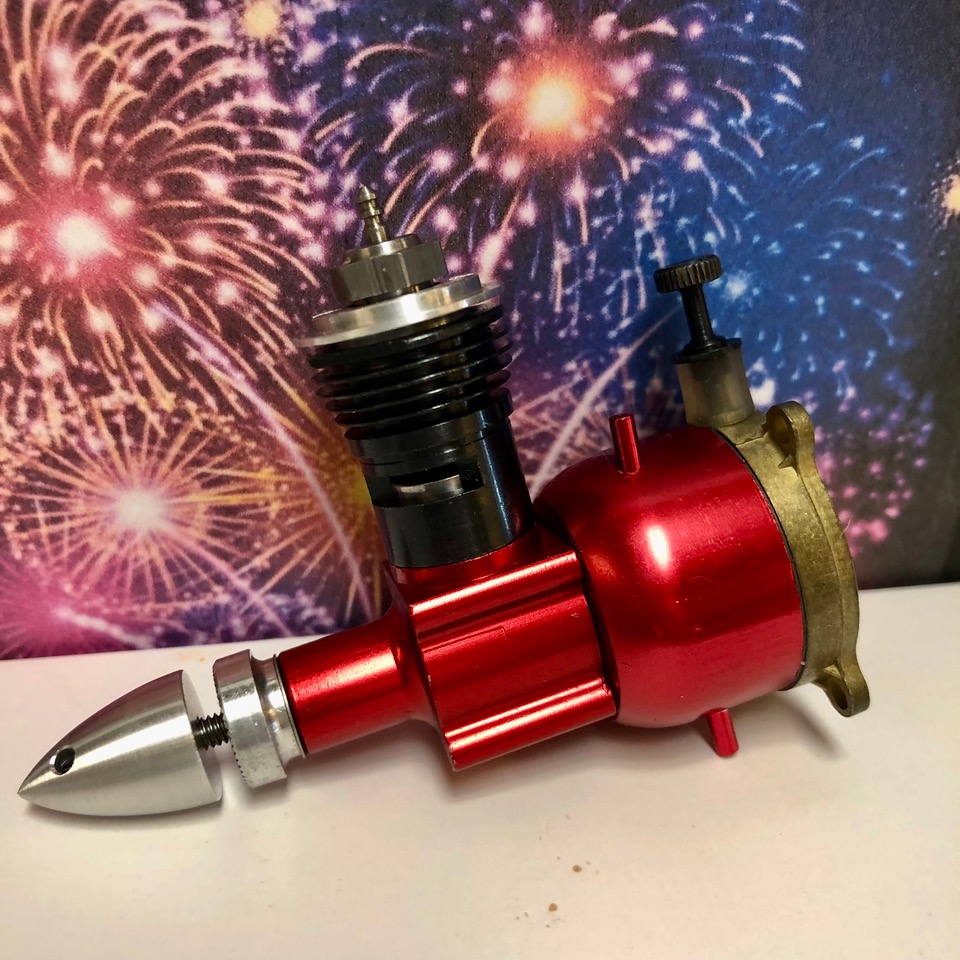 "Cherry Bomb" .051 engine
More info on this engine!
---

---
PAST WINNERS
I've had this kit for a long time and it's always been on my to do list. I've also built several Brodak kits and most were good flyers but they had some issues. This kit though needs a lot of help. Whenever I would get the urge to open the box, I would close it immediately and shelve it. Well I went for it the other night. This is a die cut kit which all the older kits they offered were. There's a chance that the newer versions are laser but in addition, most plastic mounted or radial mounted kits they offered have been switched to beam mount engine mounts with the option to go radial. So I start with the picture framing of this kit. Essentially, you fabricate the octagon and fill in from there. Precision is important as it maintains the shape of the model. This kit so far has been absolutely horrid. I remove the wood for the perimeter, half of it is junk, the other half iffy. I use the iffy as all I want to do is build the model.

I get out the balsa stripper and cut some new pieces, I use what I felt was salvageable and begin gluing up. I don't use CA so it's Sig -Bond for me which is essentially a quick tack carpenters glue. The iffy kit wood is now taking a major dump and I'm quickly disenchanted over the fact that I was being frugal and should've cut more pieces from my stock. I move onto the other areas, while it's drying. I dig out the engine nacelle, TOTALLY USELESS. OK, throw that out and cut new parts. The die cutting was so bad that I would've sanded almost 3/16" off of it to make it useable. Not impossible but it was cupped badly. The kit uses a 1/8" x 1/ 16" perimeter band to offer the edges thickness for covering attachment, these pieces also overlap all framing joints giving glue area and strength to the perimeter frame. USELESS pieces as well, I would pick them up out of the box and they would break in my hand. I wouldn't use this wood for a stick and tissue model.

Interest is declining fast, I go to cut the spars, to my suprise, the two in the box were of the correct wood choice and also straight. The future is looking bright, that is until I sized them up on the plan to discover they're 1/8" too short. This kind of stuff goes right up my rear end. OK, get out some spar stock cut new ones and begin the rib assembly. Surprisingly, the ribs were pretty good, fitment was also good. So here I am with a new kit. I have a booklets of info which are of no concern to me, no decal, just a Xerox copy of the letters spelling STOP, ribs, a bellcrank and wheels that are useless even to a rubber power model. All in all it seems like a terrific bargain doesn't it?

I think from a engineering point, it's well designed, from a quality point, it's really on the edge of the fence and I would hope the laser version are better. With the cost of kits today, I would think your getting less than what you received years ago and I find that concerning. It also seems to me that manufacturers do less now then ever and the end user accepts all the final fitment and issues to be had.

I'm still trying to keep a high outlook for the model and hope to have it flying soon as I have dozens of radial mount Black Widows and Golden Bees sitting on shelves.

Ken Cook

Top Poster





Posts

: 4484


Join date

: 2012-03-27


Location

: pennsylvania



Ken, your just to much of a darn perfectionist. 1/8" to short.........how did you get so lucky.
Kidding. Fred doesn't like Sterling kits, but I have had no problems with them. It's the luck of the draw with so many variables. Best kit's i have ever bought have been the cheap Blackhawk kits. Still have three or four unmade. Guarding them.
Waiting to see that stop sign fly. Maybe a toilet seat next......
Bob

rsv1cox

Top Poster










Posts

: 6658


Join date

: 2014-08-18


Location

: West Virginia



---
Permissions in this forum:
You
cannot
reply to topics in this forum