Cox Engine of The Month
June-2018
Davenz13's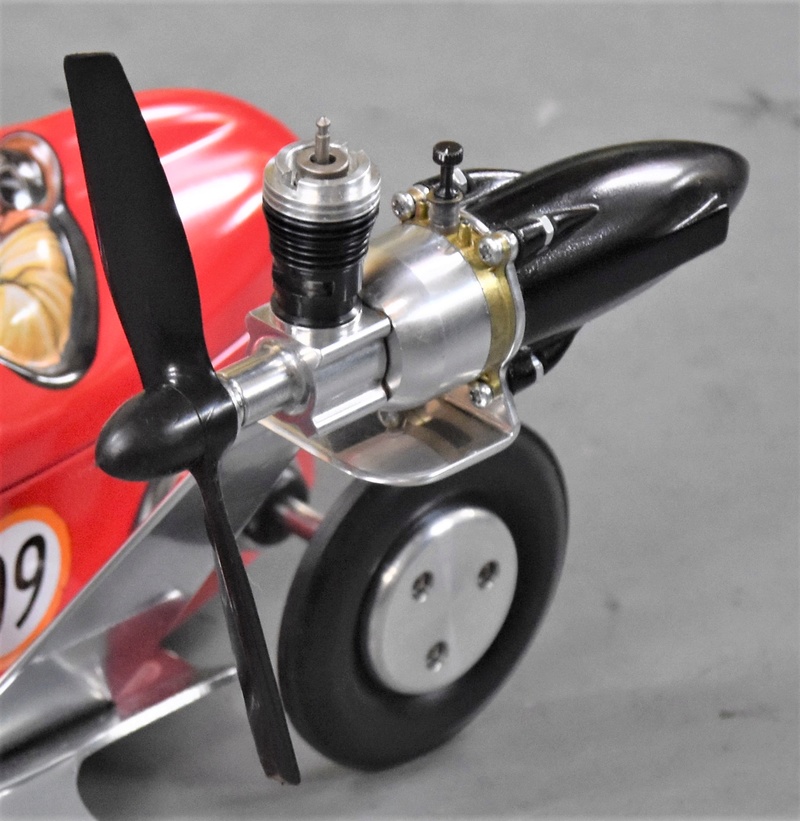 ".049 Bee"
---
PAST WINNERS

Thought this was picture worthy. Made me laugh, and the model is fine.
2 wheels and a tail skid.... The tailskid is the orange dot center right of the picture.
I just crashed my Zinger (flaps are coming off, they don't help) the wheel rubber went for a roll on its own, and the new motor mount broke.

At least the new intake body is intact, aluminum is a bit more durable. I need to bathe the engine though. There is dirt everywhere.

Phil
Crashes are inevitable while beginning or training. Don't expect to keep anything nice for a while, I can't believe you broke another mount! Those things are tough, you must be hammering it in!!!

I ended up coming out of a wing over really low, subterranean about 5 ft, down the hillside. I leveled off and didn't get it to climb up before the hill came up to meet.

Yea, hammered.

The flaps sucked all the life out of the plane. I need to cut them off and make it like it was. This airframe is...durable. I guess being 2 oz overweight is good for being tough. I almost could believe I used white oak for spars in this thing (no I didn't, hard balsa with a bass LE.)

I am considering doing further surgery to the nose and making it beam mount, but haven't figured how to get it apart without destroying everything...

Phil
Flap movement is usually much less than elevator perhaps you have too much deflection and it's stalling the plane?

Who knows, i'll take a pic of mine. They are working well.

Epoxy literally falls apart when heated. I use a soldering pencil to release epoxied pieces.

Ron
I'm pretty sure I used wood glue for the doublers. The wing is held in with epoxy, and removing it would allow for making a new fuse to go on it. Having longer span on a more narrow elevator would be nice I think...

Now I'm thinking too much.

I think I should take the flaps off and just put on the spare motor mount.

Phil
Here is my flap/elevator deflection.
Cribbs74 wrote:Here is my flap/elevator deflection.
The KK Radian I am building will have flaps - now this is going to be another of my RTP controlline/RC jobbies. The reason for electing flaps is so that I can operate them linked to the elevator (stunt control line style) and also use them independently as flaps for slowing the plane down.
The little gem in this post is the flaps not moving quite as much as the elevator.
How much is not as much? I will be able to alter this with the transmitter when finished but I didn't realise there was some sort of ratio.
Diamond Member





Posts

: 2425


Join date

: 2011-11-16


Age

: 63


Location

: England



Depends on the model Ian. For now I would just go 1:1

In the beginning of all this I set my models up for massive deflection. After flying for a while I realized this is not desireable for consistant stunts so I go for minimums now and adjust from there.

Ron
Thanks for the info. It will be easier for me to make adjustments and I will be able to do it while the plane is in the air!
Diamond Member





Posts

: 2425


Join date

: 2011-11-16


Age

: 63


Location

: England





Similar topics
---
Permissions in this forum:
You
cannot
reply to topics in this forum