Cox Engine of The Month
November-2021
MauricioB's
".049 Babe Bee "in action""
---

---
PAST WINNERS

ian1954

Diamond Member





Posts

: 2682


Join date

: 2011-11-16


Age

: 67


Location

: England



I have one of those with the cl venturi. I haven't flown it but it screams on the test stand. Jim Hoffman has one on his carrier plane, says he can leave it sit for months and it will start right up every time.

Jim

JPvelo

Diamond Member





Posts

: 1962


Join date

: 2011-12-02


Age

: 54


Location

: Phoenix



A major drawback on the control line version is the plastic banjo fitting where the fuel line hooks to. I see the same fitting on this r/c version. A leak can result on either side of it causing problematic engine runs. On the control line version, I switched out the needle and spraybar and replaced with a OS #1 A ( No longer produced) which screws directly into the venturi. The only needed modification was to shorten the tip slightly where it entered the venturi. Aside from that it offered a very leak free and fine adjustment for the engine. Ken

Ken Cook

Top Poster





Posts

: 4593


Join date

: 2012-03-27


Location

: pennsylvania



I am lucky that I can now make NVAs - I usually do this to make replicas for collectors items. I have trouble though making the "spring" ones where the serrations on the needle are held tight and cutting the fine slot on any of them. The spring clip is difficult to replicate.
My preference is the MVVS or the ST needle for 2.5cc engines if they are to be runners. I like the way they seal and can be locked, they are also the easiest to make. 2.4 x 0.4 mm tapes and dies. No soldering and the can be made from round bar or hex stock.
My latest batch, apart from the ones on the Stalker Modusa(e)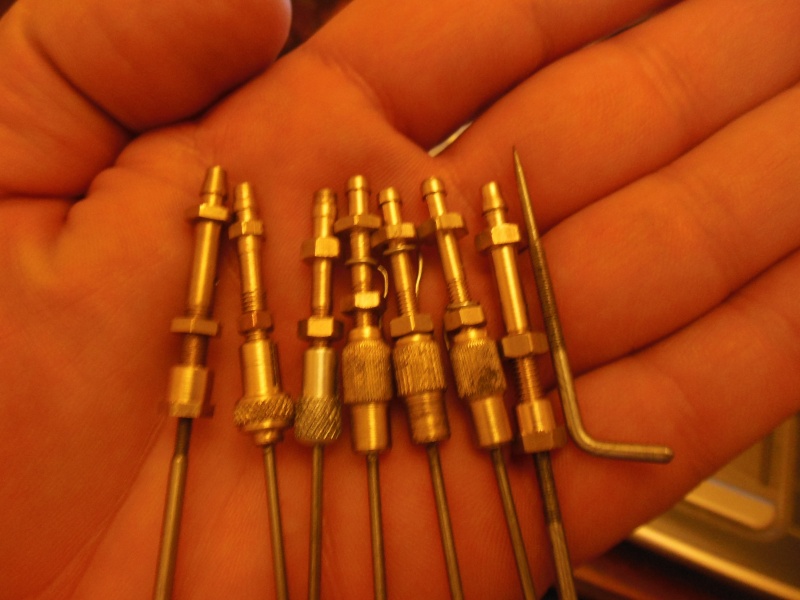 I will have to do a topic on making them.
I have two LA 15s to convert to CL. Ken gave me the venturi opening size and I have made these. Just waiting now for time to set up the lathe for a couple of NVAs. None of the ones I have made have the "hole" in the right place!

ian1954

Diamond Member





Posts

: 2682


Join date

: 2011-11-16


Age

: 67


Location

: England



If you are after a high power there are a few things to look out for.
- some mufflers has baffles inside that limits the power, I think you have that version, while later one-piece mufflers are without baffles.
- there can be a missmatch between the exhaust port height and the crankcase,in that case remove some material to raise the crankcase opening.
- the RC carb is very restrictive in its stock form. The bore it self is fine but the spray-bar is very large and that limits the effective area. This gives a good fuel draw and superb idle, but it reduces the top-end power. The RC carb from a MVVS .15 engine is direct drop-in though and it really improves the top-end (about 1400rpm boost on a 8x4 prop).
If you will run it as a CL engine, I guess the MVVS ventury will also fit, if you have one lying around.
Here is another model, the ball bearing version, with the later one-piece muffler and an MVVS carb on it. These are one of the best engines I have in terms of power too weight. It spins an APC 8x4 prop at around 15800rpm, while being close to an ASP .12 in terms of weight.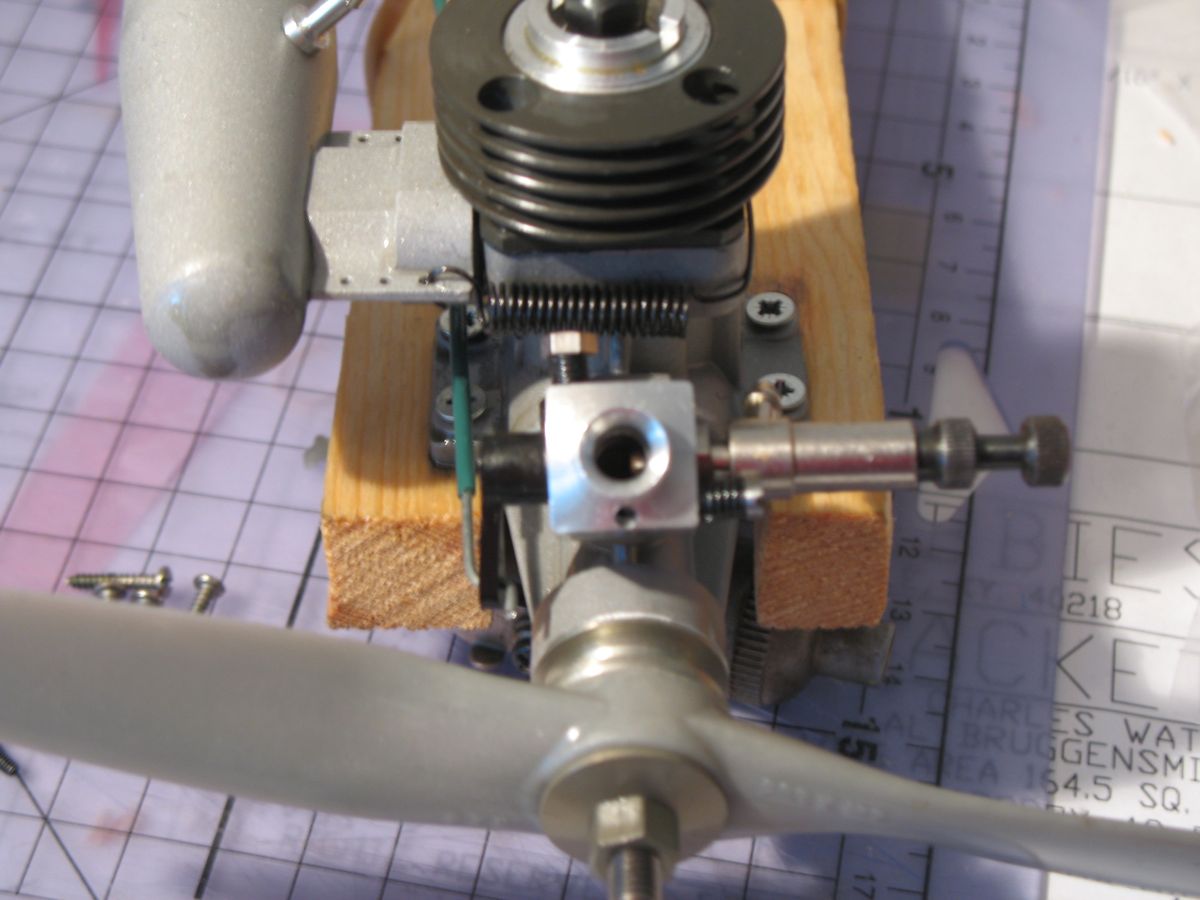 Surfer_kris

Diamond Member





Posts

: 1814


Join date

: 2010-11-20


Location

: Sweden



I always like reading the engine tips and modifications based on "real life" experience. It saves hours of fiddling about!

I like to say that I tend to keep my engines as original as possible rather than eke out more power unless the engine isn't fit for purpose. With this engine, I bought it because Norvels are quite difficult to get in the UK and I wanted a good look at one.

The casting on this is superb - casting lines and webs are all straight, no dings or casting faults and the surfaces are all even. It is on a par with the Stalkers I am putting together - very crisp.

The machining inside is very fine. As soon as anyone says it is a Russian engine - I think of my collection of the lumpy, bumpy and very utilitarian engines and grimace.

The Norvels are fine pieces of machining - I am on the lookout now for the AX40 and the GX40BB.

Distributors are very tight lipped on their engine sources but I am convinced that the Ukrainian engines - Profi, Fora and Stalker come fromm the same source. The Norvel castings have very similar characteristics. Then again, I look at a lot of engines from a builders point of view.

ian1954

Diamond Member





Posts

: 2682


Join date

: 2011-11-16


Age

: 67


Location

: England



Ian, If you like the Norvel .15 You need to try to get your hands on an.074.They will fly quite a big airplane for their size.

akjgardner

Platinum Member








Posts

: 1102


Join date

: 2014-12-28


Age

: 62


Location

: Milan Indiana



---
Permissions in this forum:
You
cannot
reply to topics in this forum