Cox Engine of The Month
September-2023
balogh's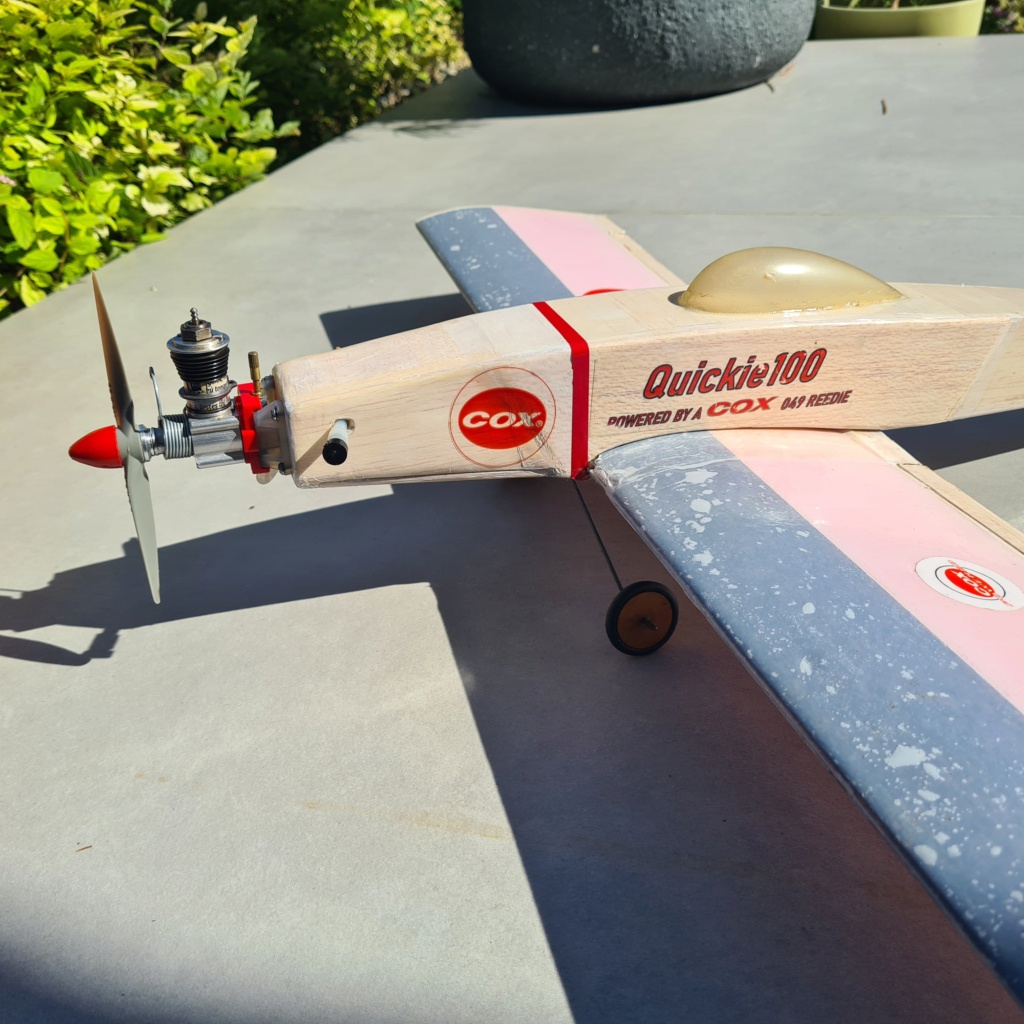 "Beefed up old stock 290 on my Quickie100 RC after plenty of airtime hours..."
---

---
PAST WINNERS
I have watched most of Windy's videos now that have been uploaded to YouTube. I have watched him extol the virtues of the "take apart plane" but never see how he disconnected the push rod so that he could remove the wing and the tail plane.
The perfection he seeks building models is inspirational - I would never have the patience to achieve or even attempt the perfect finishes he strives for. Flawless finishes, constant rejection of minor blemishes - all served on video with an unsurpassed enthusiasm.
However, the recent uploads by CL Guy showing Windy building the "Tribute" made me realise that I had missed the point altogether.
There was I thinking that this would be a great way to pack a rather large aeroplane in a Mini and ............
It is actually a "Put together plane". The sections - Wing, fuselage, tail plane and fin/rudder assembly are built to be assembled for ease of finishing. He mentions this several times but I missed it.
In the Build of the Tribute, I watched him assembling and reassembling the sections. Meticulously trimming them to fit. Making allowances for paint thickness, painting them and time and time again making adjustments for the perfect fit and finish.
Then I saw him assemble the pushrod in great detail using piano wire and carbon tube, getting the fit perfect and allowing for some slack in the elevator.
Then ......... the pushrod that has been soldered to the aileron horn - meticulously cleaned and the washer safety wire wrapped is then JB welded to the elevator horn.
So not "Take Apart"!

ian1954

Diamond Member





Posts

: 2688


Join date

: 2011-11-16


Age

: 69


Location

: England



Ian, Windy is a great in the hobby. He's also very forward in offering his opinions and suggestions. Typically when I would see him he's never without a video camera with the exception of flying. Windy has sidelined the hobby and fixated on motorcycle restoration. I truly enjoyed seeing him fly at the contests I was able to attend. In the event you had a crash, he had a great comment " If it's repairable you didn't build it light enough".

Ken Cook

Top Poster





Posts

: 5258


Join date

: 2012-03-27


Location

: pennsylvania



If you want to sit back, relax and be entertained by a Windy adventure, this is a good one:
https://youtu.be/x3V_qTynxDY
I watched up to 1:15:00 last night and will finish it in the next night or two. If you pay attention when he's talking to other modelers at the fields he visits, he will teach you some important flyability symptoms and trimming techniques. And you get to watch a lot of fabulous stunt pilots in action. All the people I recognize are 17 years younger, and I wish I knew the names of more, including some faces I'm familiar with.
The whole show is 2:35:45.
Rusty

RknRusty

Rest In Peace





Posts

: 10869


Join date

: 2011-08-10


Age

: 67


Location

: South Carolina, USA



---
Permissions in this forum:
You
cannot
reply to topics in this forum