Cox Engine of The Month
September-2018
Davenz13's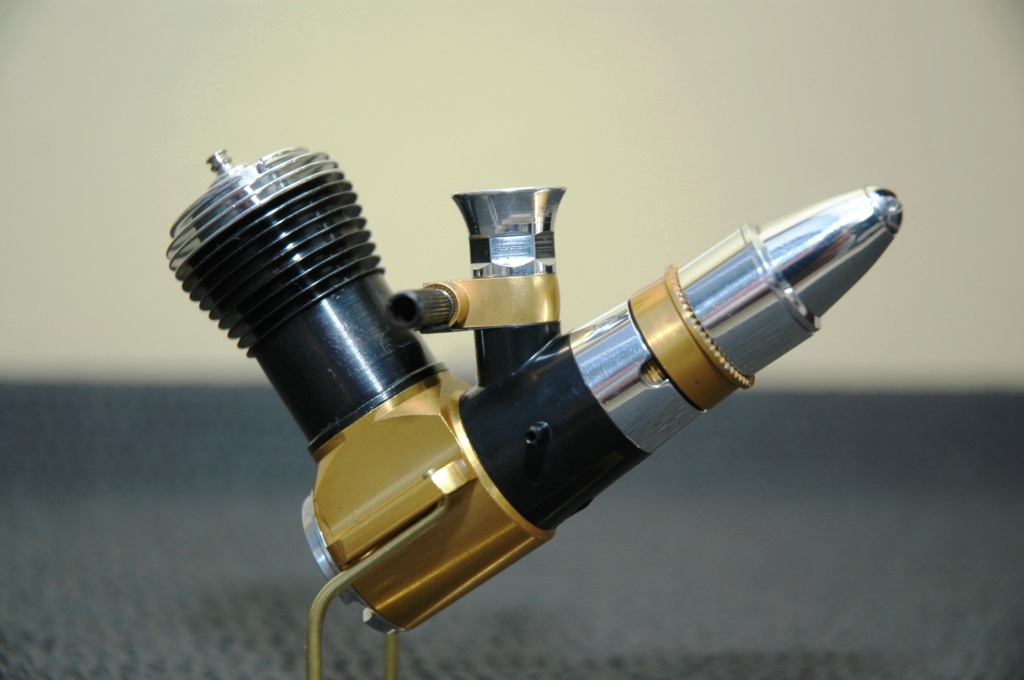 "Cox Special MKII .15"
---
PAST WINNERS

I have a standard Tee Dee .09 and would like to make an exhaust system for it.  There would be a header tube at the engine connected to a long tube to dump oil and exhaust near the tail of the plane, and I would like to have some sort of controllable restriction in the system for throttling.  The header tube would be 5/16" OD thin wall aluminum tube and the longer tube going to the tail would be 3/8" od.  I'd have some sort of silicone or tygon tube to connect them and I'd use a servo controlled tube pincher on the soft tubing for the throttle.
I don't care about being able to putt around on the ground, but I would at least like to be able to cruise my little patch of sky at something less than full speed at times.

Can it work somewhat as imagined, or is this just a bad idea with this engine?
It's going to bee hard for a servo to pinch a heat traded hose in my opinion ,, since it is a TD why not go with a carb. up front and the tuned pipe ?? I am sure there will be some others popping in with other advice... you can buy tuned pipes for them 1/2A Nut has the address and cancatchem on the Bay now and then .
Top Poster





Posts

: 4980


Join date

: 2013-01-18


Age

: 61


Location

: julian



Think more along the lines of a slider or ball/cylinder valve. A roll-your-own exhaust valve is pretty doable.

Phil
Diamond Member





Posts

: 2965


Join date

: 2012-10-02


Location

: Ohio



Yeah the servo load might be a bit much unless I can find a super thin silicone tube.  The valve idea will take a bit more work to fab but probably worth the effort.  Or go with the carb instead, but what carb?  I've been watching Ebay for a few weeks and haven't seen a "Tee Dee .09 carb" yet. I could adapt just about any sensible carb to fit though, since I work in a machine shop.  I saw the Queen Bee .074 carb available on Ex Model Engines site but I suspect it won't flow enough for my engine.  Maybe something like an
OS .10 Carb
?
The OS 10 would bee a good choice at the least you may have to sleeve the ventura ?? Check this out ..
https://www.rcgroups.com/forums/showthread.php?1910069-1-of-1000-ever-made-Cox-Tee-Dee-09-R-C-engine-NIB
I know there are carb.s out there ,, origianal or not . What the heck is this for ...
https://coxengines.ca/cox-.09-tee-dee-rc-carburetor-arm.html
getback
Top Poster





Posts

: 4980


Join date

: 2013-01-18


Age

: 61


Location

: julian



I was watching one of those RC Tee Dee .09's on ebay a week or so ago but it went for more than I wanted to pay!  Haven't seen a carb available but I did get that style of muffler from Ex Model Engines.  I don't know if I'll use it or not yet. Would like to run my exhaust pipe through the fuselage if I can manage it.  I'm not sure about the lever in your link there.  Is that something that snaps onto your needle valve or a replacement part for the original carb?

As for adapting a different make of carb, I suppose as long as it fits between the prop and cylinder I can probably make it work.  Problem is I'm not sure what is small enough but still flows the proper amount of air.  From what I've read, the Tee Dee .09 seems like it might actually prefer a .15 size carb?  Or shoot, maybe the .074 queen bee carb could be bored out a bit?  I'm kind of lost there.  That' s part of why I was thinking of exhaust throttling instead I suppose.  Not to mention that the exhaust restriction would let my Tee Dee still look like a Tee Dee on the front of my plane.
Diamond Member





Posts

: 1485


Join date

: 2010-11-20


Location

: Sweden





Similar topics
---
Permissions in this forum:
You
cannot
reply to topics in this forum