Cox Engine of The Month
September-2018
Davenz13's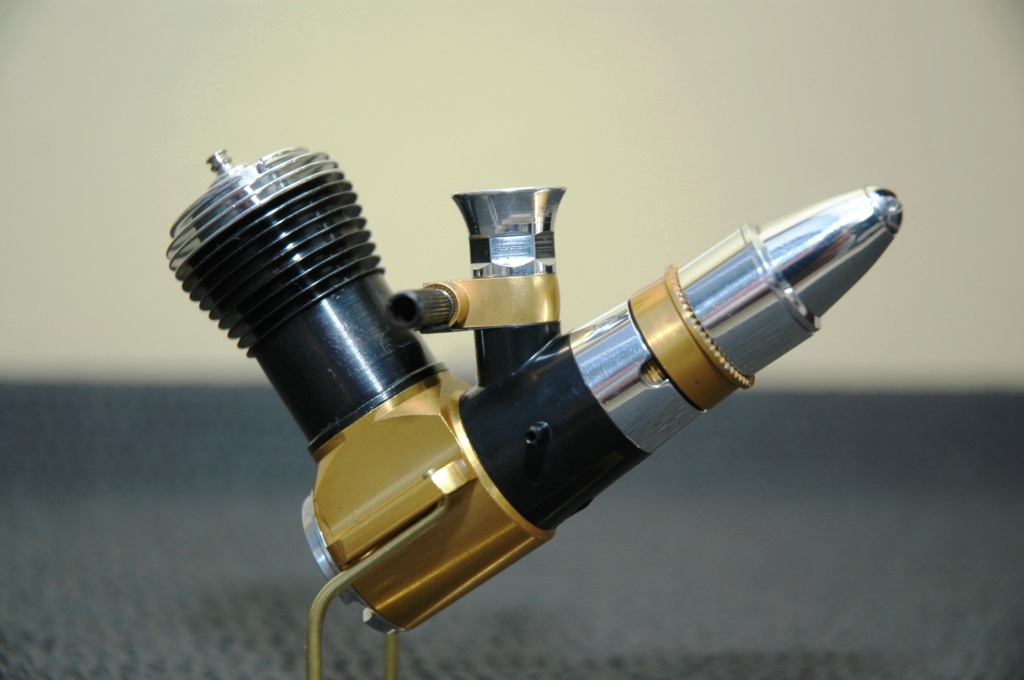 "Cox Special MKII .15"
---
PAST WINNERS

Well it has been 25+ years since I started or ran an .049 or any RC engine for that matter. Today I started my new Texaco. The sweet smell of 1/2A exhaust! Forgot how good it smells. I bought a fuel bulb, some spring starters, a Texaco, a few other items and a battery pack with clip from Cox.ca. The Texaco I started today was bought off the big auction site and is an Estes era Texaco.

At first I had problems getting it started and any rpm, then I saw a bubble around the glow head. Checked and head was loose. Tighten up the head, primed and it fired right up. I am using Sig Champion 25 with 10% synthetic and 10% castor oil. Prop is a Master Airscrew 7x3. RPM was 10,080. The needle valve does not seem very sensitive, as it is hard to find a real peak, so I ran it pretty rich. I had the engine starting backwards about 60% of the time.

I put the spring starter on and the plastic piece over the drive plate and used that to start the engine. No more starting in reverse! The needle valve still doesn't appear to be sensitive at all. 1/2 turn either way and no noticeable change. I have 10 tanks through it now. It still hesitates for a brief bit here and there. When I tip the engine up at 45 degrees it stays constant. I am still getting a little over 10,000 rpm with the Master Airscrew 7x3. According to the specs. that is good. Instructions say 9100 to 9600 with a 7x3.5. I also have some original Cox competition 8x3 props that I can try.

I hope this has enough oomph for a 16 ounce Ace Whizard.

Any suggestions on anything I am doing wrong or should try?
Bronze Member





Posts

: 35


Join date

: 2017-04-30


Location

: Peshtigo, Wisconsin



I think, just see how it flies before you change anything. If it seems underpowered, try prop changes first. There are other effective mods that will make a real difference, but you can't undo some of them. You have the right fuel, but 35% nitromethane is always an excellent option if you feel you need a boost, especially in hot weather when power is down a bit.
After the 14 rich runs, go ahead and peak it out and let it scream for a while. It should hold peak RPM just fine by now
Keep us posted,
Rusty
Moderator




Posts

: 10605


Join date

: 2011-08-10


Age

: 62


Location

: South Carolina, USA





Similar topics
---
Permissions in this forum:
You
cannot
reply to topics in this forum