Cox Engine of The Month
June-2022
balogh's
"COX Tee Dee .051 on duty"
---

---
PAST WINNERS
I have but one #16
Perfect-brand
wedge-tank. It's a 1/6oz. (4.9cc) capacity.. and I built a little flying-wing around it. I check-flushed it this afternoon to find one of the vents was barely flowing. It was an "unused" tank. I got out my soldering-iron and "roddie-built" tank-soldering jig...
and heated-up the iron......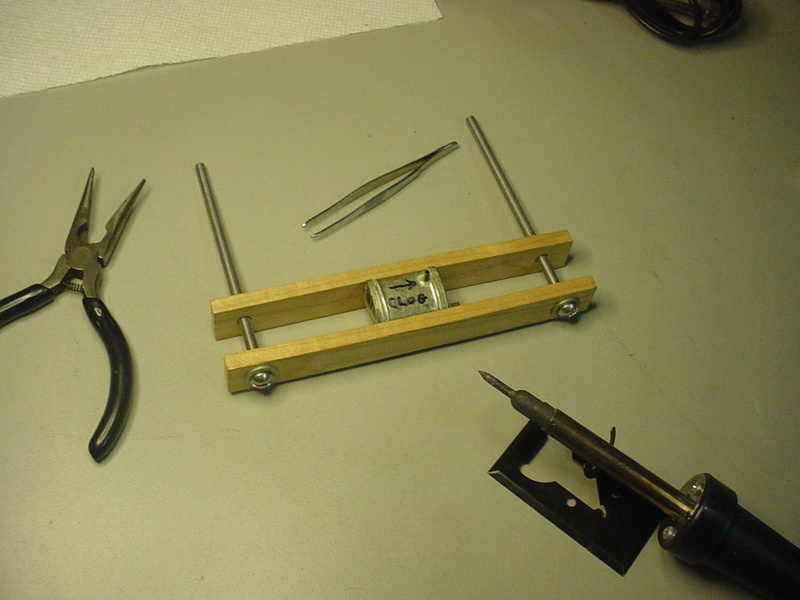 I placed the jig with tank in my bench-vise.. and heated-up the vent-tube. When the solder melted, I pulled the tube up a tad.. and rechecked the flow with my fuel-bulb. Much better now.
The tube must have been originally installed too far in.. and was likely contacting the inner tank wall. I'm glad that I checked the tank.. because it would surely have caused a problem. It was the "upright" stunt-vent.. and the air-flow would have been increased when inverted. Hopefully the vents are somewhat balanced now. I squirted some solvent through the feed-line into a glass-jar.. and both vents flowed equally.
I have never seen that happen. In fact I find that impossible. It would never touch the inside of the tank square enough to seal it. The tubing size on the Perfect tanks are incorrect and are too small. In addition due to this small tubing, it's more than likely it was filled with flux or oxidation due to Perfect not cleaning their tanks after assembly. When you heated it, you either melted off any residual flux or there may have been solder within that tube. Either or, the tank should've been opened up and inspected checked for oxidation and loose solder. The shake test is a good one if you hear anything don't use it.  The pickup tube isn't soldered in the rear of the tank. That should always be soldered and it should also be inspected to where it terminates and to see if it's properly centered. Some tanks where the pickup enters from the top of the tank or the bottom are terminated incorrectly inside.  Even age causes the crap tubing to split even without use. Therefore a new tank can already be no good. ( A pressure test won't reveal split tubing internally). The tubing is brass which offers you the wonderful green death. The tubing should be replaced with copper so that it doesn't work harden inside the tank. Many will tell you I have never had a problem with it and I could say that's probably a fair statement, but the tubing is not seamless and it  can last from 5 seconds to years.

As far as vents are concerned, you don't need two of them and your problem wouldn't of been a concern. It would've only been affected during filling if indeed it was blocked. During fuel up it would've pressurized the fuel line flooding the engine. Aside from that inverted or upright is not a issue.  The engine runs better with one. You fill through the pickup and let it overflow out of one pipe. Fuel draw is better with one vent and siphoning from atmospheric pressure and prop wash  is less of an issue. So that your aware, after you fill the tank, cap one of the vents off leaving the other open.

Ken Cook

Top Poster





Posts

: 4797


Join date

: 2012-03-27


Location

: pennsylvania



Ken, Thanks for your input. After reading your comments, I did the "shake-test" this morning and sure-enough; I can hear a faint rattle.. so I won't use the tank unless I open it up and re-plumb it. I may give that a try, being that I had pretty good luck building my tiny tin speed-tanks a while back.

In the meantime.. I've decided to run a balloon-tank on the model that was meant for this tank.



---
Permissions in this forum:
You
cannot
reply to topics in this forum