Cox Engine of The Month
September-2019
Levent Suberk's
CEF Magazine cover featuring the Ex Model Engines Harpy Eagle .049
---
PAST WINNERS

I got a backplate from an auction that had a cracked interior tank lug. I was trying to come up with something that might repair it. I lathed some brass inserts and opened the cracked lug to 6mm. Please see attached pictures. I hope this might work ok. I will uses numerous small washers to ensure the lug doesn't stick out proud from the backplate and have the ears break off or something silly like that.
Do others have suggestions for other methods of doing this kind of repair?
Thanks
Iceberg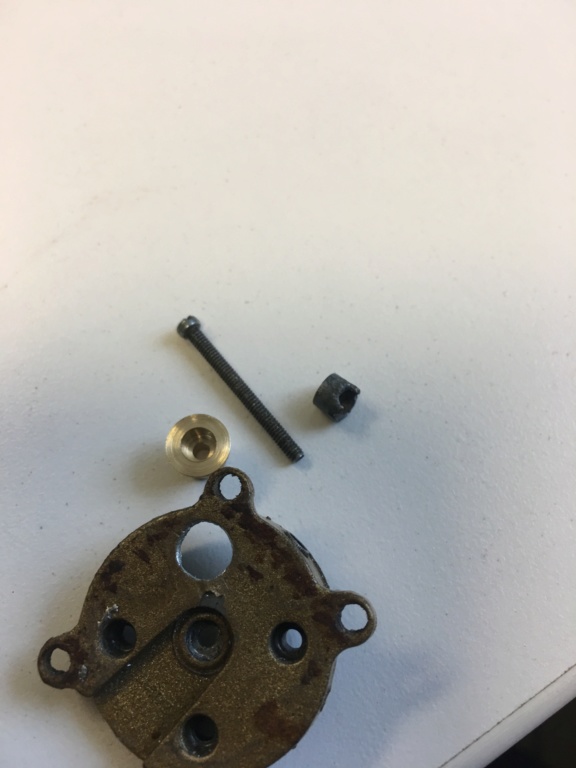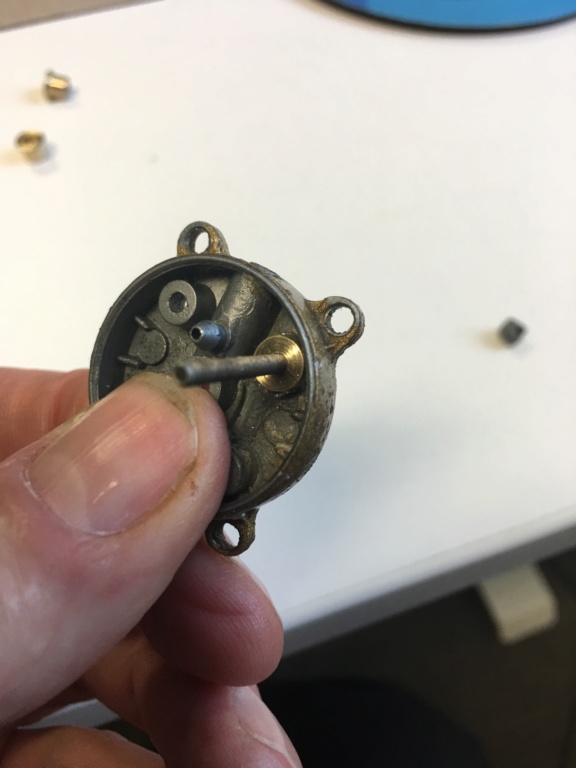 Gold Member





Posts

: 135


Join date

: 2018-11-03


Location

: Anseong Korea at the moment



I have one like that too.  I was thinking along the lines of making a big 1/8" aluminum washer the same shape as the backplate and drillingout the good holes, and countersinking the bad one and doing what you did.  I have enough parts engines anyway so it doesn't need to happen any time soon.
Gold Member





Posts

: 291


Join date

: 2013-01-18


Location

: Leamington Ont. Can.



I'd say the busted back plate would have been a good candidate for a tank drill out and plumbing for external tank. That's a lot of work you did there, but if it keeps you out of the GI hootchie cootchie dives I guess that's OK.
Platinum Member





Posts

: 822


Join date

: 2013-10-03


Location

: NC



That's a good repair, only thing I could suggest is to use some sort of sealer, JB, silicone etc. A backplate leak will never allow an engine to run right.
Moderator






Posts

: 10515


Join date

: 2011-10-24


Age

: 45


Location

: Tuttle, OK



Nice repair! Those non-vented stunt tank backplates are not the easiest to come across these days.
_________________
-Jacob
Rules
|
FAQ
|
Contact the Admin
|
Donate
|
Suggest a Feature

Administrator




Posts

: 5010


Join date

: 2010-07-27


Location

: Roseville, Minnesota



A lathe is a need for modelers. Good idea.
Gold Member





Posts

: 404


Join date

: 2017-12-24


Location

: Turkey



Yes, a lathe would be nice to have. And a mill

They would have to be quite high precision to be useful for modeling.
I think one of our European members (Pegin maybe?) repaired a backplate in a way that aspeed described. Looked pretty nice and functional for a runner.
Diamond Member





Posts

: 1555


Join date

: 2014-10-10


Age

: 47



When I was a kid, there was a guy around my age that ran a mouse racer with a backplate mount of some sort. He clipped the ears off the backplate. Never could figure out how he mounted it. I would have tried it because we had a lathe at school. I have a couple lathes now and a Bridgeport mill copy. Life would be a bich without them. Wishing for a digital readout though.
Gold Member





Posts

: 291


Join date

: 2013-01-18


Location

: Leamington Ont. Can.





Similar topics
---
Permissions in this forum:
You
cannot
reply to topics in this forum