Cox Engine of The Month
September-2023
balogh's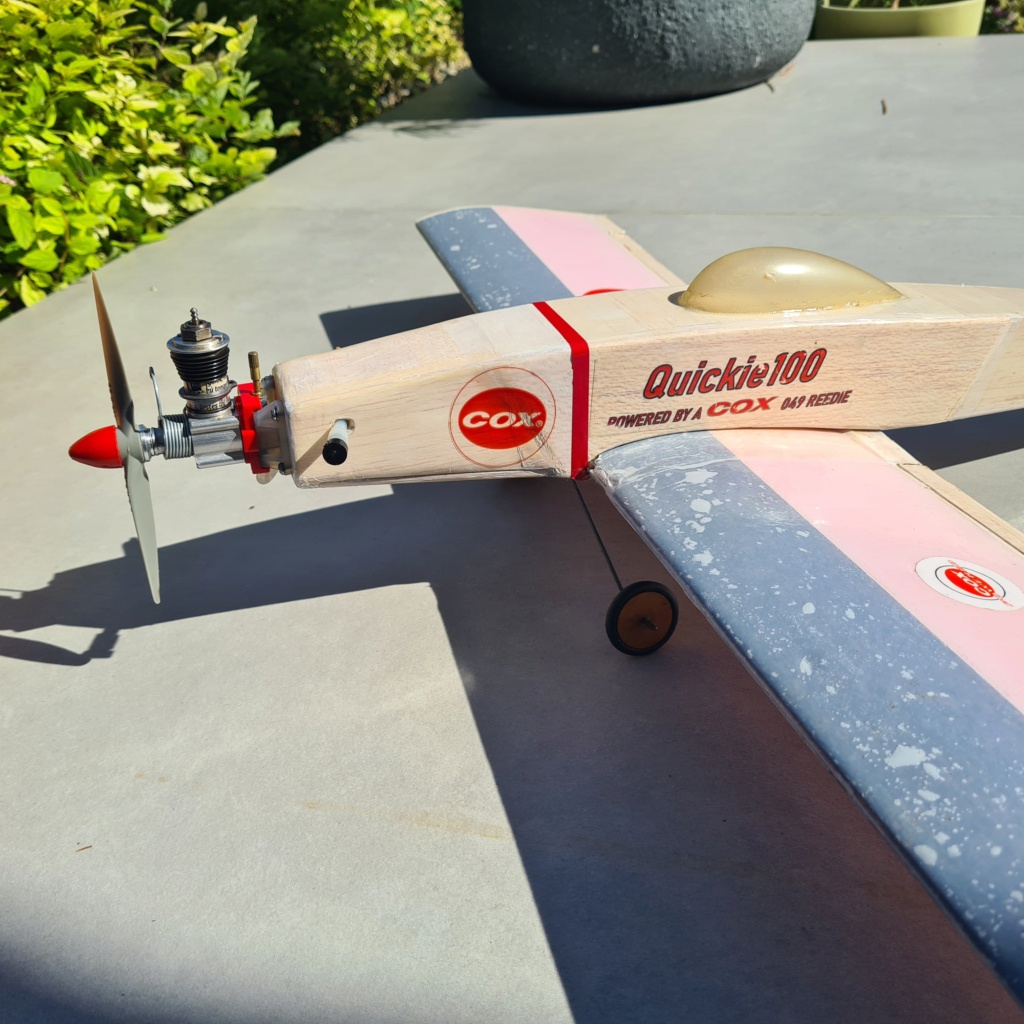 "Beefed up old stock 290 on my Quickie100 RC after plenty of airtime hours..."
---

---
PAST WINNERS
Page 6 of 6 •
1, 2, 3, 4, 5, 6
Yeah, no worries, I will get it running again. I was too frustrated then, so I decided to rebuild my old Killer Bee by re-fitting the original 5cc tank (instead of the 8cc one I put there) and removing the throttle. At least I know it runs and has adequate performance (11.7kRPM on a 6x4 prop with the exhaust throttle).

dirk gently

Gold Member





Posts

: 429


Join date

: 2012-02-03


Age

: 41


Location

: Poznań



I was very frustrated recently with both of my Bees failing to start. I was so mad I even briefly considered turning back to electric power (joke). The root cause turned out to be the same in both cases: the venturi gasket. I made new ones from a piece of fuel lines, and now both engines are running fine.

Unfortunately, the weather does not permit flying. I even tried to maiden my Balsa Sheet Fighter, but the PeeWee on it wouldn't start. Obviously, it started without a problem later that day in my basement, so I guess the problem was because of low temperature and high humidity.

dirk gently

Gold Member





Posts

: 429


Join date

: 2012-02-03


Age

: 41


Location

: Poznań



Below freezing temperature makes these pretty difficult to start. I have problems with the cold below 40F (4C) in the engines will start but they may not stay running because of too much cooling.

The 049 engines I wrap some yarn in the cooling fins of the head and have flown in 25F (-4C). There is a limit to how cold I am willing to try pushing these, this is pretty close to it.

I run 15% nitromethane, but I am unsure how that affects cold operation.

Phil

pkrankow

Top Poster





Posts

: 3025


Join date

: 2012-10-02


Location

: Ohio



Still no luck with glow engines
Either there is something really wrong with my Bee, or the plane is just to big for such tiny engine.
I ended up with a slightly damaged wing, but I don't know if I'm going to repair it just now, perhaps I will simply build a smaller plane.
In the
Balsa Sheet Fighter
, on the other hand, the aileron servo died (before the launch, so at least that's a good thing).
All in all, only electric flights for me today.

dirk gently

Gold Member





Posts

: 429


Join date

: 2012-02-03


Age

: 41


Location

: Poznań



Just to give you an update x4on my RPM problems - the engine was doing merely 10500RPM on a 6x4 prop. I switched to a 6x2 and woohoo! 14k

dirk gently

Gold Member





Posts

: 429


Join date

: 2012-02-03


Age

: 41


Location

: Poznań



Page 6 of 6 •
1, 2, 3, 4, 5, 6
Similar topics
---
Permissions in this forum:
You
cannot
reply to topics in this forum