Cox Engine of The Month
June-2019
robot797's
"cox 049 gasoline"
More info on this engine!
---
PAST WINNERS

Diamond Member





Posts

: 2529


Join date

: 2012-06-15


Age

: 56


Location

: Victoria, Australia



I guess it is a home breed engine...made of a Babe Bee, original No 2 stepped wall cylinder is swapped to a No 1 Black Widow thick wall/2 bypass design, tank is changed to a 8ccm extended volume one...Otherwise I do not see it too special.
Diamond Member





Posts

: 2267


Join date

: 2011-11-06


Age

: 60


Location

: Budapest Hungary



I have seen a picture of a NIB (the plastic bubble with the spider) Black Widow without the black anodizing. This engine is essentially a BW without anodizing
A bit expensive maybe unless there is some kind of reliable proof and documentation of the Dale Kirn connection. Without the shipping cost, however, I just might buy this one for the pristine metal backplate but then again I am a bit silly about these

EDIT: Whoa, hold the wedding! Am I seeing a late model Estes crankcase? No groove for the starter spring on the base of the cylinder
Homemade it seems... Could bee a late model product engine with a stunt tank kit.
Diamond Member





Posts

: 1498


Join date

: 2014-10-10


Age

: 47


Location

: Finland



I see absolutely no Kirn Kraft bits on that thing. Unless the cylinder is a KK, but really hard to tell from a photo.
Moderator






Posts

: 10365


Join date

: 2011-10-24


Age

: 45


Location

: Tuttle, OK



I noticed this engine has only 1 bid to date with only 3 days left. The fact there are no more bids might be a tipoff to its genuineness being doubtful from Dale Kirn. Description states, "Dual Bypass". Article in:
Wikipedia: Cox model engine
Refers to the pre-1996 Medallion and Black Widow .049 cylinder having 2 dual bypasses but no boost ports. Thin walled and no wrenching flats at cylinder top, my guess it is probably an earlier Medallion cylinder, may be 1960's to early 1970's. As KariFS points out, crankcase appears to be a later one. May be it's an Estes brewed engine? Someone intimate with years ought to be able to nail it down further.
If there are no more bidders, then it might make for a nice runner to first bidder.
Diamond Member





Posts

: 2119


Join date

: 2013-07-13


Age

: 65


Location

: Clovis, New Mexico



Here is something of interest. I found a photo of what looks like this engine in:
Facebook: Cox Model Engine Owners, Ramin Foghani's Post 20 Dec 2016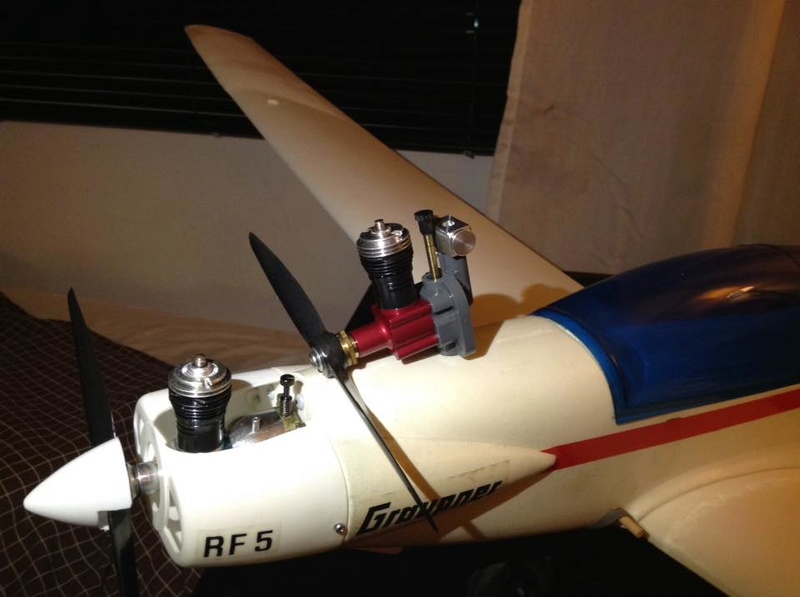 It looks like I may have stumbled onto what this engine might really be, a Cox production engine for an earlier model Cox Sportavia RTF.
Diamond Member





Posts

: 2119


Join date

: 2013-07-13


Age

: 65


Location

: Clovis, New Mexico




---
Permissions in this forum:
You
cannot
reply to topics in this forum